LevelOne 16-Port Gigabit Switch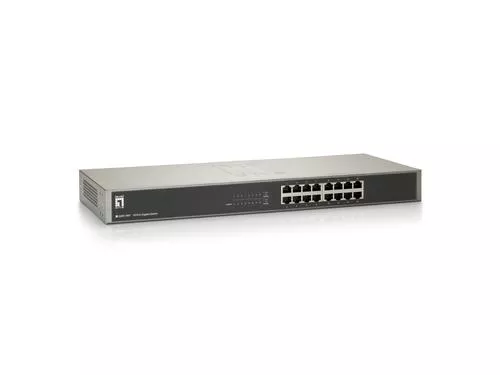 Manufacturer: LEVELONE
Category: Network Switches
Short Description: LevelOne 16-Port Gigabit Switch, Unmanaged, Gigabit Ethernet (10/100/1000), Full duplex, Rack mounting
Get it now
GSW-1657
Our Price: NZ$166.75 inc GST
Stock at this price: Out of stock!
No ETA available
Ships from: Albany, Auckland
Log in to use Stock Alerts
Price & stock last updated: 2022-05-19 04:20:02
We have 1 supplier for this product
For pickups, choose the closest location to you. Otherwise, choose the cheapest or one that is in stock
Supplier 1
Product Name: GSW-1657
Price 1: NZ$166.75 inc GST
Stock: Out of stock!
No ETA available
Available at: Albany, Auckland
Log in to use Stock Alerts
Price & stock last updated: 2022-05-19 04:20:02
+Price History:
| Date: | Price: |
| --- | --- |
| 2019-06-11 | NZ$173.91 |
| 2019-09-03 | NZ$182.49 |
| 2020-01-16 | NZ$188.49 |
| 2020-01-28 | NZ$182.49 |
| 2020-01-29 | NZ$179.92 |
| 2020-01-31 | NZ$179.06 |
| 2020-03-03 | NZ$188.67 |
| 2020-03-22 | NZ$198.29 |
| 2020-04-21 | NZ$208.73 |
| 2021-03-11 | NZ$188.49 |
| 2021-04-08 | NZ$139.15 |
| 2021-06-09 | NZ$145.48 |
| 2021-06-18 | NZ$139.15 |
Doolz ID:
245
Every effort is made to ensure the image(s) and/or product details are correct, but we cannot guarantee that they are. You should always check with us FIRST if you have specific requirements.
Info
16 x RJ-45, 10/100/1000 Mbps, 32 Gbps, 1.68 kg
LevelOne 16-Port Gigabit Switch. Switch type: Unmanaged. Basic switching RJ-45 Ethernet ports type: Gigabit Ethernet (10/100/1000), Basic switching RJ-45 Ethernet ports quantity: 16. Full duplex. MAC address table: 8192 entries, Switching capacity: 32 Gbit/s. Networking standards: IEEE 802.1p,IEEE 802.3,IEEE 802.3ab,IEEE 802.3u,IEEE 802.3x. Rack mounting
Description
Gigabit Speeds: Take Your Data to the Next Level GSW-1657 is a 16-port Gigabit Ethernet Switch that gives you a high-performance, low-cost, easy-to-use, seamless upgrade to boost your network to 1000Mbps. Increase the speed of your network backbone to a massive 32Gbps and bring Gigabit speeds all the way to your computers. Bandwidth hungry? Not a problem. What happens when you have several users accessing multimedia applications all at the same time? No need to worry as GSW-1657 allows you to move large files faster and easier. Transfer your CGI, CAD, video, or other large multimedia files over the network instantly and without lag. Standards-based GSW-1657 features a non-blocking switching architecture that forwards and filters packets at full wire-speed for maximum throughput. With MAC address auto-learning and auto-aging, IEEE802.3x flow control for full-duplex mode and backpressure for half-duplex mode, you have powerful features sending your data throughout the network. Plug and Play, Flexible and Easy GSW-1657 is plug-and-play so no configuration is required. Providing auto MDI/MDI-X cable detection on all ports eliminates the need for crossover cables or Uplink ports. Each port can be used as general ports or Uplink ports, and any port can be simply plugged into a server, a hub, a router or a switch, using a straight cable or crossover cable. Diagnostic LEDs which display link status and activity, allowing you to quickly detect and correct problems on the network.
Specs
| | |
| --- | --- |
| Switch type | Unmanaged |
| Quality of Service (QoS) support | Y |
| Basic switching RJ-45 Ethernet ports quantity | 16 |
| Basic switching RJ-45 Ethernet ports type | Gigabit Ethernet (10/100/1000) |
| Networking standards | IEEE 802.1p,IEEE 802.3,IEEE 802.3ab,IEEE 802.3u,IEEE 802.3x |
| 10G support | N |
| Copper ethernet cabling technology | 10BASE-T,100BASE-TX,1000BASE-T |
| Cable types supported | Cat5,Cat6,Cat7 |
| Full duplex | Y |
| Flow control support | Y |
| Auto MDI/MDI-X | Y |
| MAC address table | 8192 entries |
| Switching capacity | 32 Gbit/s |
| Store-and-forward | Y |
| Jumbo frames support | Y |
| Jumbo frames | 10000 |
| Packet forwarding rate (1 Gbps) | 1488000 pps |
| Packet forwarding rate (100 Mbps) | 148000 pps |
| Packet forwarding rate (10 Mbps) | 14880 pps |
| Packet buffer memory | 0.5 MB |
| Rack mounting | Y |
| Product colour | Black, Gray |
| LED indicators | Activity,Link |
| Certification | FCC, CE |
| AC input voltage | 100 - 240 V |
| AC input frequency | 50 - 60 Hz |
| Input current | 0.6 A |
| Power consumption (typical) | 13.3 W |
| Power over Ethernet (PoE) | N |
| Operating temperature (T-T) | 0 - 45 -C |
| Storage temperature (T-T) | -40 - 70 -C |
| Operating relative humidity (H-H) | 10 - 90% |
| Storage relative humidity (H-H) | 10 - 90% |
| Width | 44 mm |
| Depth | 208 mm |
| Height | 440 mm |
| Weight | 2.6 kg |
| Cables included | AC |
| Quick start guide | Y |
| Mounting brackets included | Y |
| Package width | 308 mm |
| Package depth | 94 mm |
| Package height | 550 mm |
| Package weight | 2.7 kg |
Lifetime Hits: 266 Doolz ID: 245 Price is subject to change without notice. Price and Stock last updated 19 May 2022