StarTech.com Micro-USB Charge-and-Sync Cable M/M - Left-Angle Micro-USB - 24 AWG - 2 m (6 ft.)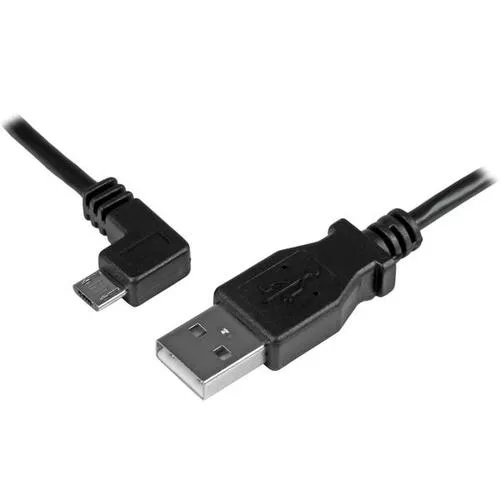 Manufacturer: STARTECH
Category: USB Cables
Short Description: StarTech.com Micro-USB Charge-and-Sync Cable M/M - Left-Angle Micro-USB - 24 AWG - 2 m (6 ft.), 2 m, USB A, Micro-USB B, 2.0, Male/Male, 480 Mbit/s
We have 1 supplier for this product
Supplier 1
Product Name: 6ft Angled Micro-USB Charge & Sync Cable
Price 1: NZ$10.26 inc GST
Stock: 315
Ships from: Manukau, Auckland
Price & stock last updated: 2020-10-30 05:02:05
+Price History:
| Date: | Price: |
| --- | --- |
| 2019-06-11 | NZ$7.86 |
| 2019-08-26 | NZ$7.85 |
| 2019-08-27 | NZ$7.86 |
| 2020-01-17 | NZ$8.12 |
| 2020-01-29 | NZ$7.86 |
| 2020-01-30 | NZ$7.75 |
| 2020-02-01 | NZ$7.72 |
| 2020-04-23 | NZ$10.26 |
Doolz ID:
85624
Every effort is made to ensure the image(s) and/or product details are correct, but we cannot guarantee that they are. You should always check with us FIRST if you have specific requirements.
Info
StarTech.com 2m 6 ft Micro-USB Charge-and-Sync Cable - Left-Angle Micro-USB - M/M - USB to Micro USB Charging Cable - 24 AWG
StarTech.com Micro-USB Charge-and-Sync Cable M/M - Left-Angle Micro-USB - 24 AWG - 2 m (6 ft.). Cable length: 2 m, Connector 1: USB A, Connector 2: Micro-USB B, USB version: 2.0, Connector gender: Male/Male, Maximum data transfer rate: 480 Mbit/s, Connector contacts plating: Nickel
Description
This Micro-USB cable features 24 AWG wire, to provide the full power you need to charge your mobile devices faster. Plus, the left-angled Micro-USB connector is great for charging your mobile devices in a car, or for accessing your mobile device while it-s connected to a wall charger or computer. Provide full charging power for your mobile devices Different phones and tablets require specific amounts of power to charge efficiently. A phone might only require 1.0A of power while a tablet may need 2.4A of power. This Micro-USB cable is designed to deliver full power to your mobile devices so that all of your devices can charge at the expected speed. Connect with ease The left-angled Micro-USB connector lets you connect to ports that are difficult to reach, which is perfect for charging your car-mounted mobile devices. Even while you-re charging your mobile device, you can use it to text, work or game, without the cable getting in the way. The angled connector also prevents the cable from bending awkwardly or from straining too much to make a connection. It offers a more natural fit at the connection point, preventing unnecessary stress and damage to the cable and device port. Charge and sync your USB mobile devices Charge your USB 2.0 Micro B-equipped phones and tablets with full charging power, with no increase in charge time -- even at a distance of 6 feet (2 meters) away from your charger. The long cable overcomes distance restrictions and lets you stay connected even while you're taking notes in a boardroom, catching up on emails in a hotel room, or reading in a coffee shop. The USBAUB2MLA 2-meter cable is backed by StarTech.com-s lifetime warranty for guaranteed reliability.
Specs
| | |
| --- | --- |
| Cable length | 2 m |
| USB version | 2.0 |
| Connector 1 | USB A |
| Connector 2 | Micro-USB B |
| Connector 1 gender | Male |
| Connector 2 gender | Male |
| Connector 1 form factor | Straight |
| Connector 2 form factor | Angled |
| Connector gender | Male/Male |
| AWG wire size | 24/30 |
| Connector contacts plating | Nickel |
| Cable jacket material | Polyvinyl chloride (PVC) |
| Cable shielding | Aluminum mylar foil |
| Maximum data transfer rate | 480 Mbit/s |
| Plug and Play | Y |
| RoHS compliance | Y |
| Weight | 46 g |
| Quantity per pack | 1 pc(s) |
| Package width | 125 mm |
| Package depth | 225 mm |
| Package height | 10 mm |
| Package weight | 52 g |
Lifetime Hits: 16 Doolz ID: 85624 Price is subject to change without notice. Price and Stock last updated 30 October 2020