StarTech.com USB-C Cable with Power Delivery (5A) - M/M - 1 m (3 ft.) - USB 3.1 (10Gbps) - USB-IF Certified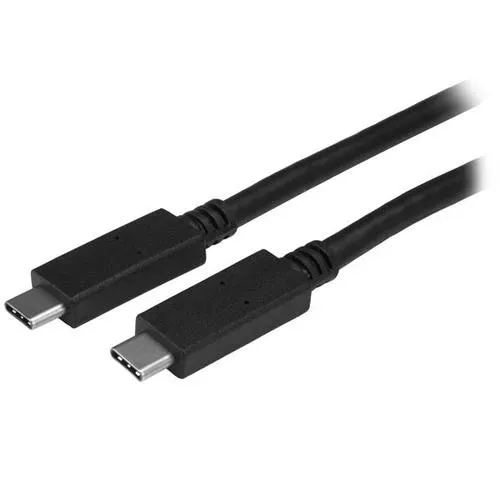 Manufacturer: STARTECH
Category: USB Cables
Short Description: StarTech.com USB-C Cable with Power Delivery (5A) - M/M - 1 m (3 ft.) - USB 3.1 (10Gbps) - USB-IF Certified, 1 m, USB C, USB C, 3.2 Gen 2 (3.1 Gen 2), Male/Male, Black
We have 1 supplier for this product
Supplier 1
Product Name: 1m USB C Cable w/ 5A PD - USB 3.1 10Gbps
Price 1: NZ$56.72 inc GST
Stock: 49
Ships from: Manukau, Auckland
Price & stock last updated: 2020-10-30 05:02:05
+Price History:
| Date: | Price: |
| --- | --- |
| 2019-06-11 | NZ$43.50 |
| 2019-08-26 | NZ$43.49 |
| 2019-08-27 | NZ$43.50 |
| 2020-01-17 | NZ$44.93 |
| 2020-01-29 | NZ$43.50 |
| 2020-01-30 | NZ$42.89 |
| 2020-02-01 | NZ$42.69 |
| 2020-04-23 | NZ$56.72 |
Doolz ID:
85646
Every effort is made to ensure the image(s) and/or product details are correct, but we cannot guarantee that they are. You should always check with us FIRST if you have specific requirements.
Info
StarTech.com 1m 3 ft USB C Cable with 5A Power Delivery - M/M - USB 3.1 (10Gbps) - USB-IF Certified - USB 3.1 Type C Cable - USB 3.1 Gen 2
StarTech.com USB-C Cable with Power Delivery (5A) - M/M - 1 m (3 ft.) - USB 3.1 (10Gbps) - USB-IF Certified. Cable length: 1 m, Connector 1: USB C, Connector 2: USB C, USB version: 3.2 Gen 2 (3.1 Gen 2), Connector gender: Male/Male, Connector contacts plating: Nickel, Product colour: Black
Description
This USB-C- cable with power delivery lets you power your USB Type-C- devices from your USB-C laptop or charge your USB-C laptop from a USB-C wall charger. The USB 3.1 Gen 2 cable is also capable of high-speed data transfers up to 10Gbps. It-s the all-in-one cable for both power and data. Power your USB-C devices With up to 5A (100W) of power output, you can use this USB Type-C cable to power your external drive from your USB-C laptop. The cable also lets you power and charge a USB-C laptop, such as your Apple MacBook or Chromebook Pixel- from a USB-C wall charger, car charger or power bank. Or, you can power your laptop from a USB-C docking station. Fast-charge your mobile devices The 5A of power delivery lets you charge your mobile devices faster than with a regular USB-C 3.0 cable. The cable is perfect for people on the move - decrease your charge times and make sure your mobile devices are ready, whenever you need them, while you-re on the road. Deliver full 4K video The cable supports full 4K 60Hz video and DisplayPort 1.2 and is compatible with existing DisplayPort displays. It's ideal for connecting your docking station or laptop to a monitor with astonishing resolution, contrast, and color depth for amazing detail. Provide superior connections with USB-IF certified cables The cable has undergone rigorous compliance testing and is certified by USB-IF (USB Implementers Forum) to meet all USB 3.1 specifications. This includes all environmental, electrical and mechanical standards, which ensures a reliable and high-quality cable for all of your USB-C devices. The USB31C5C1M from StarTech.com is backed by a 2-year warranty for guaranteed reliability.
Specs
| | |
| --- | --- |
| Cable length | 1 m |
| USB version | 3.2 Gen 2 (3.1 Gen 2) |
| Connector 1 | USB C |
| Connector 2 | USB C |
| Connector 1 gender | Male |
| Connector 2 gender | Male |
| Connector 1 form factor | Straight |
| Connector 2 form factor | Straight |
| Product colour | Black |
| Connector gender | Male/Male |
| AWG wire size | 26/32 |
| Connector contacts plating | Nickel |
| Cable jacket material | Polyvinyl chloride (PVC) |
| Cable shielding | Aluminum mylar foil |
| Plug and Play | Y |
| RoHS compliance | Y |
| Output current (max) | 5 A |
| Weight | 43 g |
| Quantity per pack | 1 pc(s) |
| Package width | 125 mm |
| Package depth | 225 mm |
| Package height | 17 mm |
| Package weight | 59 g |
| Output power description | 100 W |
Other Multimedia
Some of these may not exist; we do not manage these files
Lifetime Hits: 26 Doolz ID: 85646 Price is subject to change without notice. Price and Stock last updated 30 October 2020