StarTech.com USB 3.0 to Gigabit Network Adapter - Silver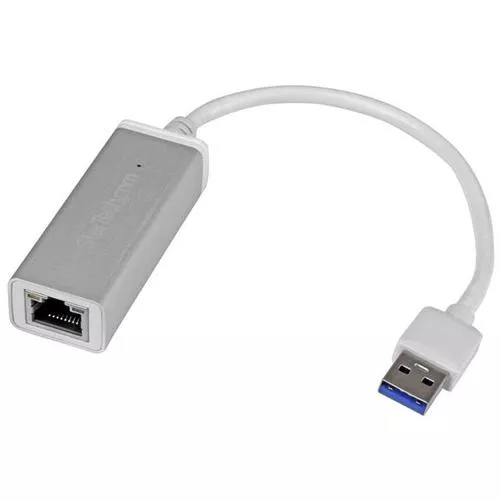 Manufacturer: STARTECH
Category: Networking Cards
Short Description: StarTech.com USB 3.0 to Gigabit Network Adapter - Silver, Wired, USB, Ethernet, 2000 Mbit/s, Silver
We have 1 supplier for this product
Supplier 1
Product Name: USB 3 to Gigabit Network Adapter -Silver
Price 1: NZ$56.48 inc GST
Stock: 2
Ships from: Manukau, Auckland
Price & stock last updated: 2020-10-26 05:02:08
+Price History:
| Date: | Price: |
| --- | --- |
| 2019-06-11 | NZ$47.37 |
| 2019-08-26 | NZ$50.75 |
| 2019-08-27 | NZ$47.37 |
| 2020-01-17 | NZ$48.93 |
| 2020-01-29 | NZ$47.37 |
| 2020-01-30 | NZ$46.71 |
| 2020-02-01 | NZ$46.48 |
| 2020-04-23 | NZ$61.76 |
| 2020-10-02 | NZ$56.48 |
Doolz ID:
85622
Every effort is made to ensure the image(s) and/or product details are correct, but we cannot guarantee that they are. You should always check with us FIRST if you have specific requirements.
Info
StarTech.com USB 3.0 to Gigabit Network Adapter - Silver - Sleek Aluminum Design for MacBook, Chromebook or Tablet - Native Driver Support
StarTech.com USB 3.0 to Gigabit Network Adapter - Silver. Connectivity technology: Wired, Host interface: USB, Interface: Ethernet. Maximum data transfer rate: 2000 Mbit/s. Product colour: Silver
Description
Gain fast, reliable network access for your MacBook, Chromebook- or tablet, even if it doesn-t have an Ethernet port. This USB 3.0 to Gigabit network adapter adds a single RJ45 Ethernet port to your computer through your USB 3.0 port. It installs instantly - with no driver required. Sleek, silver design looks great with MacBook or Chromebook Engineered with a quality aluminum housing in a silver finish, the network adapter is the perfect companion for your MacBook, Chromebook or tablet. Compact and portable, this USB network adapter is the ideal laptop accessory. You don-t have to carry a power adapter with you to use it, because it-s powered directly from the host USB port. Powerful Gigabit network connections Ideal for office or home use, the USB 3.0 network adapter supports full Gigabit bandwidth by harnessing the performance of USB 3.0 (5 Gbps). You can quickly access very large files over a Gigabit network, saving valuable time every day. The Realtek chipset gives you the assurance of reliable performance. Native driver support makes installation easy Get up and running quickly. Simply plug this Ethernet cable adapter into the USB port on your laptop and connect to your network. The network adapter chipset provides native driver support, so you don't have to worry about installing additional software. The USB31000SA is backed by a StarTech.com 2-year warranty and free lifetime technical support.
Specs
| | |
| --- | --- |
| Connectivity technology | Wired |
| Host interface | USB |
| Interface | Ethernet |
| Ethernet LAN (RJ-45) ports | 1 |
| USB version | 3.2 Gen 1 (3.1 Gen 1) |
| Maximum data transfer rate | 2000 Mbit/s |
| Networking standards | IEEE 802.1Q,IEEE 802.3,IEEE 802.3ab,IEEE 802.3az,IEEE 802.3u,IEEE 802.3x |
| Ethernet LAN | Y |
| Ethernet LAN data rates | 10,100,1000 Mbit/s |
| Cabling technology | 10/100/1000BaseT(X) |
| Auto MDIX IEEE | Y |
| Full duplex | Y |
| Jumbo frames support | Y |
| VLAN tagging | Y |
| Maximum operating distance | 100 m |
| Internal | N |
| Product colour | Silver |
| Chipset | Realtek RTL8153 |
| LED indicators | Activity,Link,Power |
| Operating temperature (T-T) | 0 - 70 -C |
| Storage temperature (T-T) | -55 - 125 -C |
| Operating relative humidity (H-H) | 20 - 90% |
| Windows operating systems supported | Windows 10,Windows 10 Education,Windows 10 Education x64,Windows 10 Enterprise,Windows 10 Enterprise x64,Windows 10 Home,Windows 10 Home x64,Windows 10 IOT Core,Windows 10 Pro,Windows 10 Pro x64,Windows 10 x64,Windows 7,Windows 7 Enterprise,Windows 7 Enterprise x64,Windows 7 Home Basic,Windows 7 Home Basic x64,Windows 7 Home Premium,Windows 7 Home Premium x64,Windows 7 Professional,Windows 7 Professional x64,Windows 7 Starter,Windows 7 Starter x64,Windows 7 Ultimate,Windows 7 Ultimate x64,Windows 7 x64,Windows 8,Windows 8 Enterprise,Windows 8 Enterprise x64,Windows 8 Pro,Windows 8 Pro x64,Windows 8 x64,Windows 8.1,Windows 8.1 Enterprise,Windows 8.1 Enterprise x64,Windows 8.1 Pro,Windows 8.1 Pro x64,Windows 8.1 x64,Windows 98SE,Windows ME,Windows Vista Business,Windows Vista Business x64,Windows Vista Enterprise,Windows Vista Enterprise x64,Windows Vista Home Basic,Windows Vista Home Basic x64,Windows Vista Home Premium,Windows Vista Home Premium x64,Windows Vista Ultimate,Windows Vista Ultimate x64,Windows Vista x64,Windows XP,Windows XP Home,Windows XP Home x64,Windows XP Professional,Windows XP Professional x64 |
| Mac operating systems supported | Mac OS X 10.10 Yosemite,Mac OS X 10.11 El Capitan,Mac OS X 10.12 Sierra,Mac OS X 10.13 High Sierra,Mac OS X 10.14 Mojave,Mac OS X 10.7 Lion,Mac OS X 10.8 Mountain Lion,Mac OS X 10.9 Mavericks |
| Linux operating systems supported | Y |
| Other operating systems supported | Chrome |
| Server operating systems supported | Windows Server 2003,Windows Server 2008 R2,Windows Server 2012,Windows Server 2016,Windows Server 2019 |
| Width | 24.9 mm |
| Depth | 66.1 mm |
| Height | 16.9 mm |
| Weight | 36 g |
| Package width | 112 mm |
| Package depth | 204 mm |
| Package height | 21 mm |
| Package weight | 84 g |
| Housing material | Aluminum |
| Quick start guide | Y |
| Flow control support | Y |
| Jumbo frames | 9000 |
Other Multimedia
Some of these may not exist; we do not manage these files
Lifetime Hits: 27 Doolz ID: 85622 Price is subject to change without notice. Price and Stock last updated 26 October 2020