StarTech.com Dual-Port USB Car Charger - 24W/4.8A - Black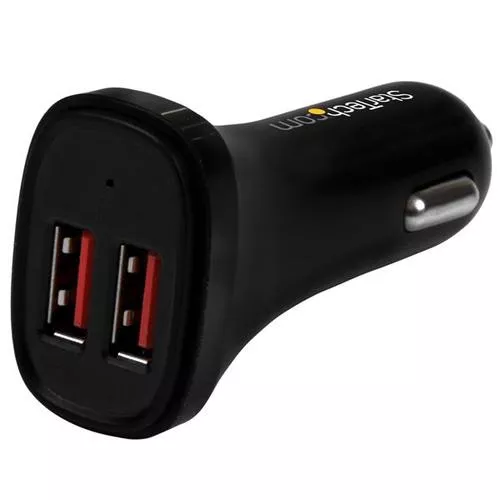 Manufacturer: STARTECH
Category: Mobile Device Chargers
Short Description: StarTech.com Dual-Port USB Car Charger - 24W/4.8A - Black, Auto, Cigar lighter, 5 V, Black
Get it now
Dual Port USB Car Charger - 24W / 4.8A
Our Price: NZ$28.25 inc GST
Stock at this price: 30
Ships from: Manukau, Auckland
Price & stock last updated: 2021-01-26 07:02:19
We have 1 supplier for this product
For pickups, choose the closest location to you. Otherwise, choose the cheapest or one that is in stock
Supplier 1
Product Name: Dual Port USB Car Charger - 24W / 4.8A
Price 1: NZ$28.25 inc GST
Stock: 30
Available at: Manukau, Auckland
Price & stock last updated: 2021-01-26 07:02:19
+Price History:
| Date: | Price: |
| --- | --- |
| 2019-06-11 | NZ$23.69 |
| 2019-08-26 | NZ$25.36 |
| 2019-08-27 | NZ$23.69 |
| 2020-01-17 | NZ$24.47 |
| 2020-01-29 | NZ$23.69 |
| 2020-01-30 | NZ$23.35 |
| 2020-02-01 | NZ$23.24 |
| 2020-04-23 | NZ$30.88 |
| 2020-10-02 | NZ$28.25 |
Doolz ID:
86912
Every effort is made to ensure the image(s) and/or product details are correct, but we cannot guarantee that they are. You should always check with us FIRST if you have specific requirements.
Info
StarTech.com Dual Port USB Car Charger - High Power 24W/4.8A - Black - 2-Port USB Car Charger - Charge two tablets at once
StarTech.com Dual-Port USB Car Charger - 24W/4.8A - Black. Charger type: Auto, Power source type: Cigar lighter, Charger compatibility: Universal. Input voltage: 12 - 24 V, Maximum output voltage: 5 V. USB 2.0 ports quantity: 2. Product colour: Black
Description
This 2-port car charger lets you charge two mobile devices simultaneously, while you-re driving. High-powered charging The charger can deliver 24 watts of power in total, sharing 4.8 amps of power between both ports. This means that you can charge two tablets at the same time. Shared power output The dual-port charger features Smart IC technology, which enables it to identify what type of device is connected to each port. By recognizing the attached device, the charger delivers the optimal charge that's specific to each device. One charger for all of your mobile devices, compatible with most phones and tablets The charger supports USB Battery Charging Specification 1.2, which ensures compatibility with a broad range of mobile devices, including the Apple iPhone and iPad, the Microsoft- Surface- tablet, the Samsung Galaxy Tab-, Nexus- phones and more. When you-re traveling with a passenger, you can charge their device as well as yours, and ensure that both of your mobile devices are ready when you arrive. The USB2PCARBKS is backed by StarTech.com's 2-year warranty to ensure dependable performance.
Specs
| | |
| --- | --- |
| Charger type | Auto |
| Charger compatibility | Universal |
| Power source type | Cigar lighter |
| USB 2.0 ports quantity | 2 |
| Operating principle | Contact |
| Basic device type | Smartphone |
| RoHS compliance | Y |
| Certification | CE, FCC |
| Product colour | Black |
| Input voltage | 12 - 24 V |
| Input current | 1 - 2 A |
| Maximum power | 24 W |
| Maximum output voltage | 5 V |
| Port 1 output current | 2.4 A |
| Port 2 output current | 2.4 A |
| Width | 38 mm |
| Depth | 75 mm |
| Height | 25 mm |
| Weight | 26 g |
| Package width | 70 mm |
| Package depth | 130 mm |
| Package height | 30 mm |
| Package weight | 44 g |
Other Multimedia
Some of these may not exist; we do not manage these files
Lifetime Hits: 39 Doolz ID: 86912 Price is subject to change without notice. Price and Stock last updated 26 January 2021