StarTech.com USB-C to Micro-B Cable - M/M - 2 m (6 ft.) - USB 2.0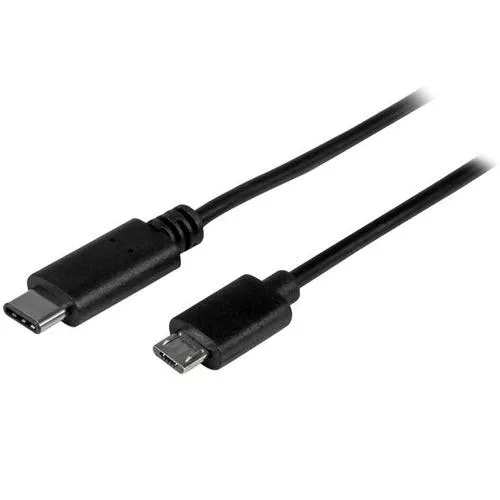 Manufacturer: STARTECH
Category: USB Cables
Short Description: StarTech.com USB-C to Micro-B Cable - M/M - 2 m (6 ft.) - USB 2.0, 2 m, USB C, Micro-USB B, 2.0, Male/Male, Black
We have 1 supplier for this product
Supplier 1
Product Name: 2m 6ft USB C to Micro USB Cable USB 2.0
Price 1: NZ$23.95 inc GST
Stock: 32
Ships from: Manukau, Auckland
Price & stock last updated: 2020-10-26 05:02:08
+Price History:
| Date: | Price: |
| --- | --- |
| 2019-06-11 | NZ$30.21 |
| 2020-01-17 | NZ$31.21 |
| 2020-01-29 | NZ$30.21 |
| 2020-01-30 | NZ$29.79 |
| 2020-02-01 | NZ$29.65 |
| 2020-04-23 | NZ$23.95 |
Doolz ID:
85649
Every effort is made to ensure the image(s) and/or product details are correct, but we cannot guarantee that they are. You should always check with us FIRST if you have specific requirements.
Info
StarTech.com USB C to Micro USB Cable 2m 6ft - USB-C to Micro USB Charge Cable - USB 2.0 Type C to Micro B - Thunderbolt 3 Compatible
StarTech.com USB-C to Micro-B Cable - M/M - 2 m (6 ft.) - USB 2.0. Cable length: 2 m, Connector 1: USB C, Connector 2: Micro-USB B, USB version: 2.0, Connector gender: Male/Male, Maximum data transfer rate: 480 Mbit/s, Connector contacts plating: Nickel, Product colour: Black
Description
This USB-C- to Micro-B cable lets you charge and sync a USB 2.0 Micro-USB mobile device from a USB Type-C- laptop. You can also charge your device using a USB-C wall charger, car charger or power bank, or connect an external Micro-USB drive for easy data backups. Charge and sync your mobile devices over longer distances The 2-meter cable gives you the length you need to overcome distance restrictions and stay connected. You can charge and sync your Micro-USB mobile device, in almost any environment. Even while you-re taking notes in a boardroom, catching up on emails in your hotel room, or reading in a coffee shop, the connection to your mobile device will reach your computer or wall charger more comfortably. Position your USB 2.0 devices as needed You can also use the USB-C to Micro-USB cable to back up data to an external Micro-USB 2.0 drive from your USB-C or Thunderbolt- 3 computer. The longer cable lets you organize your desk to match your needs, enabling you to connect your device up to 2-meters away from your computer. The USB2CUB2M from StarTech.com is backed by a lifetime warranty for guaranteed reliability.
Specs
| | |
| --- | --- |
| Cable length | 2 m |
| USB version | 2.0 |
| Connector 1 | USB C |
| Connector 2 | Micro-USB B |
| Connector 1 gender | Male |
| Connector 2 gender | Male |
| Connector 1 form factor | Straight |
| Connector 2 form factor | Straight |
| Product colour | Black |
| Connector gender | Male/Male |
| AWG wire size | 22/30 |
| Connector contacts plating | Nickel |
| Cable jacket material | Polyvinyl chloride (PVC) |
| Maximum data transfer rate | 480 Mbit/s |
| Plug and Play | Y |
| RoHS compliance | Y |
| Weight | 58 g |
| Quantity per pack | 1 pc(s) |
| Package width | 125 mm |
| Package depth | 225 mm |
| Package height | 10 mm |
| Package weight | 58 g |
Other Multimedia
Some of these may not exist; we do not manage these files
Lifetime Hits: 27 Doolz ID: 85649 Price is subject to change without notice. Price and Stock last updated 26 October 2020