StarTech.com USB to IDE SATA Standalone HDD Hard Drive Duplicator Dock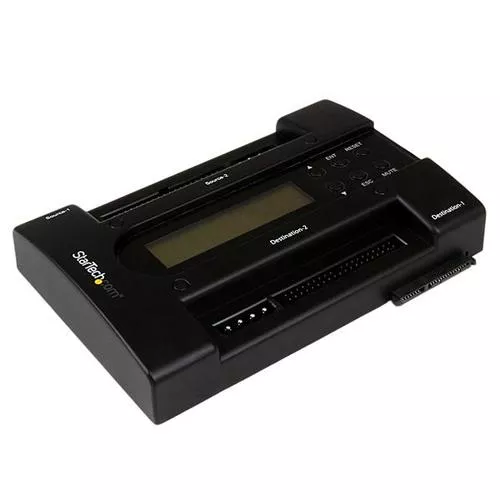 Manufacturer: STARTECH
Category: Notebook Docks & Port Replicators
Short Description: StarTech.com USB to IDE SATA Standalone HDD Hard Drive Duplicator Dock, Black, 235 g, 133 mm, 164 mm, 132 mm, 1.04 kg
We have 1 supplier for this product
Supplier 1
Product Name: USB to IDE SATA Hard Drive Duplicator
Price 1: NZ$301.18 inc GST
Stock: Out of stock!
ETA is the 5th May 2020
Ships from: Manukau, Auckland
Log in to use Stock Alerts
Price & stock last updated: 2020-09-20 05:01:45
+Price History:
| Date: | Price: |
| --- | --- |
| 2019-06-11 | NZ$291.60 |
| 2019-08-26 | NZ$354.08 |
| 2019-08-27 | NZ$291.60 |
| 2020-01-17 | NZ$301.18 |
| 2020-01-29 | NZ$291.60 |
| 2020-01-30 | NZ$287.49 |
| 2020-02-01 | NZ$286.12 |
| 2020-04-23 | NZ$301.18 |
Doolz ID:
85240
Every effort is made to ensure the image(s) and/or product details are correct, but we cannot guarantee that they are. You should always check with us FIRST if you have specific requirements.
Info
USB to IDE SATA Standalone HDD Hard Drive Duplicator Dock
StarTech.com USB to IDE SATA Standalone HDD Hard Drive Duplicator Dock. Product colour: Black. Weight: 235 g. Package width: 133 mm, Package depth: 164 mm, Package height: 132 mm. Dimensions (WxDxH): 110 x 151 x 27 mm, Interface: USB, Power requirements: 115 - 230 AC
Description
Clone any combination of 2.5in or 3.5in IDE or SATA hard drives
The UNIDUPDOCK Universal SATA/IDE Dual Hard Drive Duplicator functions as both a convenient solid state (SSD) or hard drive (HDD) copying/imaging solution or an external SATA/IDE SSD or HDD docking station for 2.5in or 3.5in drives (SATA, SATA II, SATA III).
Providing quick, yet complete hard drive cloning functionality, this universal dock can operate as a standalone HDD duplicator with no connection to a host computer, delivering an exact 1 to 1 clone of the target hard drive including partition and boot sector information, the Host Protected Area (HPA) as well as user data at a copy rate of 72 MB/sec. A built in LCD screen then allows for tracking the duplication progress , as well as reporting errors on the drives.
Supporting both IDE and SATA, this universal duplicator dock enables duplication from SATA to SATA, IDE to SATA or SATA to IDE, and IDE to IDE, as long as the source drive does not exceed the size of the destination drive. Or the docking station can even be used to quickly erase hard drives, for reuse in the future.
Functioning as a universal IDE and SATA HDD docking station, the hard drive duplicator can be connected to a computer through USB with support for simple plug-and-play installation, allowing users to access hard drive contents without having to mount in an external drive enclosure or open the computer case for conventional drive installation. Large capacity drives (tested with up to 4TB 3.5" and 1TB 2.5" drives per bay) can be used to greatly enhance your computer''s storage/backup capabilities.
Contained in a small form factor design that makes it a suitable addition to desktop and laptop operating environments, this hard drive duplicator/external HDD docking station is a versatile storage and hard drive cloning utility that also features a host of other built in utilities that are accessible via a built in menu system.
Menu Options:
The StarTech.com Advantage
- Push-button controls and an LCD display makes creating exact 1-to-1 hard drive clones or erasing drives without a host computer easy, for both SATA and IDE drives.
- On-the-fly switching from Duplicator mode to USB 2.0 connectivity with the push of a few buttons allows for any connected computer to access the drives.
- A small form factor design ensures maximum heat dissipation for the exposed drives, while fast Plug-and-Play installation enables quick, convenient access to the data.
Specs
| | |
| --- | --- |
| USB 2.0 ports quantity | 1 |
| DC-in jack | Y |
| Product colour | Black |
| Weight | 235 g |
| Package width | 133 mm |
| Package depth | 164 mm |
| Package height | 132 mm |
| Package weight | 1.04 kg |
| Operating temperature (T-T) | 5 - 80 -C |
| Storage temperature (T-T) | -40 - 70 -C |
| Operating relative humidity (H-H) | 0 - 90% |
| Dimensions (WxDxH) | 110 x 151 x 27 mm |
| Interface | USB |
| Power requirements | 115 - 230 AC |
| Compatible operating systems | Windows 2000/ XP(32/64bit)/ Server 2003(32/64bit)/ Vista(32/64bit)/ 7(32/64bit)/ Server 2008 R2, Linux, MAC OS X |
| I/O ports | 2 x SATA, 2 x EIDE |
Lifetime Hits: 27 Doolz ID: 85240 Price is subject to change without notice. Price and Stock last updated 20 September 2020