DELL UltraSharp U2720Q 68.6 cm (27") 3840 x 2160 pixels 4K Ultra HD LCD Black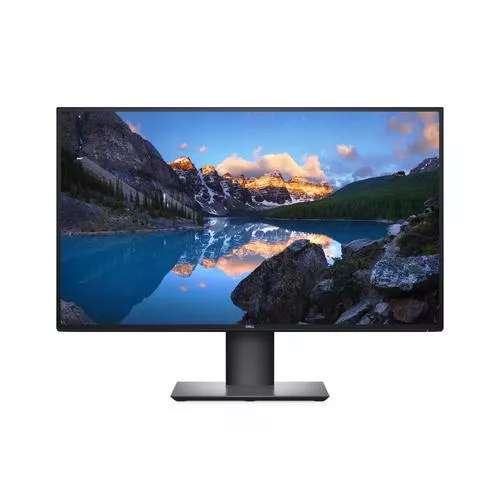 Product Code: U2720Q
Manufacturer: DELL
Category: Computer Monitors
Short Description: DELL UltraSharp U2720Q, 68.6 cm (27"), 3840 x 2160 pixels, 4K Ultra HD, LCD, 8 ms, Black
We have 2 suppliers for this product
Supplier 1
Product Name: DELL U-SERIES 27" (16:9) UHD IPS WLED 3840x2160 8MS HDMI DP USB mDP H/ADJ 3YR
Price 1: NZ$972.79 inc GST
Stock: Out of stock!
ETA is the 30th October 2020
Ships from: Mount Wellington, Auckland
Log in to use Stock Alerts
Price & stock last updated: 2020-09-22 06:01:04
+Price History:
| Date: | Price: |
| --- | --- |
| 2020-02-10 | NZ$948.18 |
| 2020-02-13 | NZ$918.14 |
| 2020-03-02 | NZ$984.23 |
| 2020-03-05 | NZ$920.54 |
| 2020-04-21 | NZ$948.18 |
| 2020-07-20 | NZ$915.86 |
| 2020-09-05 | NZ$972.79 |
Doolz ID:
95514471
Supplier 2
Product Name: ULTRASHARP 27 4K USB-C MONITOR: U2720Q
Price 2: NZ$1,010.74 inc GST
Stock: Out of stock!
ETA is the 26th October 2020
Ships from: Manukau, Auckland
Log in to use Stock Alerts
Price & stock last updated: 2020-09-22 05:01:44
+Price History:
| Date: | Price: |
| --- | --- |
| 2020-02-13 | NZ$918.74 |
| 2020-02-25 | NZ$949.38 |
| 2020-03-17 | NZ$920.54 |
| 2020-04-23 | NZ$1,124.24 |
| 2020-04-24 | NZ$990.36 |
| 2020-05-13 | NZ$1,042.02 |
| 2020-07-06 | NZ$948.75 |
| 2020-07-17 | NZ$1,010.74 |
Doolz ID:
96169522
Every effort is made to ensure the image(s) and/or product details are correct, but we cannot guarantee that they are. You should always check with us FIRST if you have specific requirements.
Info
68.6cm (27") 4K Ultra HD 3840 x 2160 LED IPS, 16:9, 350cd/m-, 1.073B, 8ms, 178-/178-, 1300:1
DELL UltraSharp U2720Q. Display diagonal: 68.6 cm (27"), Display resolution: 3840 x 2160 pixels, HD type: 4K Ultra HD, Display technology: LCD, Display surface: Matt, Response time: 8 ms, Native aspect ratio: 16:9, Viewing angle, horizontal: 178-, Viewing angle, vertical: 178-. Built-in USB hub. VESA mounting, Height adjustment. Energy Star certified, Product colour: Black
Key Features
Colour like no other

Exceptional colour: Get wide colour coverage with 95% DCI-P3 - which covers approximately 25% more colour space than sRGB - for true colour reproduction. This monitor also offers 99% sRGB and 99% Rec 709 colour coverage.

Outstanding colour depth: With and outstanding colour depth of 1.07 billion colours (that-s 64 times more colour depth than standard monitors), excellent peak brightness and a high contrast ratio of 1300:1, images are displayed in true-to-life colour with clear details even in dark shadows or brightly lit areas. Be prepared for better colour gradation and precision in more shades on this VESA DisplayHDR- 400 monitor.

True-to-life details: 4K UHD (3840 X 2160) resolution with a high pixel density of 163ppi gives you four times more details than Full HD.

Accurate colour, out of the box: Your monitor is factory calibrated at 99% sRGB to an accuracy of Delta-E less than 2 for accurate colours right from the start.

The power of USB-C

USB-C connectivity: Get up to 90W of power delivery (the highest power delivery in its class) via USB-C, so you can keep your laptop battery charged and enjoy uninterrupted productivity. Also, speed up the time it takes to transition from your desk with a single cable that transmits power, data and video-all at once.

Get to work faster: Conveniently placed, quick access side ports let you easily charge and connect to a variety of devices.

Improved Dell Display Manager

Productive at every level: Dell Display Manager-s (DDM) Easy Arrange feature lets you quickly tile and view your applications side by side across one or more connected screens for multitasking efficiency. And with the improved DDM, you-ll get even more preset layouts.

Seamless transitions: The auto-restore feature remembers where you left off, so applications will go back to where you left them, even after you-ve unplugged.

The key to convenience: Shortcut keys can save you even more time, letting you easily configure your display management settings so you can get to work faster.

More ways to manage: Asset management reports allow IT managers to quickly capture and track monitor information as well as configure multiple monitors at once through a single setup.

Crafted for productivity

More room to work: Make the most of your limited desk space with this compact base.

InfinityEdge design: Work with an uninterrupted view across multiple screens with this virtually borderless design. And, when you use a Dell dual monitor setup, you can increase your productivity by up to 21%.

Flexibility for all-day comfort: With the ability to tilt, swivel, pivot and adjust the height of your monitor to fit your needs, you can stay comfortable all day.

Peace of mind, guaranteed

Our products are engineered with care and precision, so we guarantee support and peace of mind.

A brand you can rely on

Dell monitors are #1 worldwide for six consecutive years (2013 to 2019), we take pride in our unyielding commitment to quality and the utmost satisfaction of our customers.

Premium Panel Exchange

Our Dell Premium Panel Exchange allows a free monitor replacement during the Limited Hardware Warranty period even if only one bright pixel is found.

Advanced Exchange Service

Your monitor comes with a 3-year Advanced Exchange Service so that if a replacement becomes necessary, it will be shipped to you the next business day during your 3-year Limited Hardware Warranty. Upgrade to 24x7 specialized technical phone support with Dell ProSupport option.

Green thinking for today and tomorrow

Environmental standards: These monitors meet the latest regulatory and environmental standards.

Eco-conscious packaging: To reduce our impact on the environment, we promote responsible disposal of our packaging through recycling. What's more, this monitor is shipped in Styrofoam-free packaging.

Energy conservation: Save energy when your monitor-s not in use with PowerNap, a feature that dims or puts your monitor to sleep when it-s not in use.

Recycled plastics: We reduce our environmental impact with over 75% of our select monitors containing at least 25% post-consumer recycled plastics through Dell-s closed loop recycling program.
Description
Experience true color reproduction on this brilliant 27" 4K monitor with a wide color coverage.
Specs
| | |
| --- | --- |
| Display diagonal | 68.6 cm (27") |
| Display resolution | 3840 x 2160 pixels |
| Native aspect ratio | 16:9 |
| Panel type | IPS |
| Display brightness (typical) | 350 cd/m- |
| Response time | 8 ms |
| HD type | 4K Ultra HD |
| Display technology | LCD |
| Screen shape | Flat |
| Supported graphics resolutions | 640 x 480 (VGA),720 x 400,800 x 600 (SVGA),1024 x 768 (XGA),1152 x 864 (XGA+),1280 x 1024 (SXGA),1680 x 1050 (WSXGA+),1920 x 1080 (HD 1080),1920 x 1200 (WUXGA),2048 x 1152,2048 x 1280,2560 x 1440,3840 x 2160 |
| Contrast ratio (typical) | 1300:1 |
| Maximum refresh rate | 60 Hz |
| Viewing angle, horizontal | 178- |
| Viewing angle, vertical | 178- |
| Display number of colours | 1.073 billion colors |
| Backlight type | LED |
| Display surface | Matt |
| 3D | N |
| Response time (fast) | 5 ms |
| Pixel pitch | 0.1554 x 0.1554 mm |
| Pixel density | 163 ppi |
| Viewable size, horizontal | 59.7 cm |
| Viewable size, vertical | 33.6 cm |
| Viewable size diagonal | 68.5 cm |
| Display sRGB | Y |
| sRGB coverage (typical) | 99% |
| NVIDIA G-SYNC | N |
| AMD FreeSync | N |
| Built-in speaker(s) | N |
| Built-in camera | N |
| Market positioning | Graphics design |
| Product colour | Black |
| Energy Star certified | Y |
| Front bezel colour | Black |
| Feet colour | Black |
| RoHS compliance | Y |
| Compliance industry standards | - ENERGY STAR Certified Monitor - EPEAT registered where applicable - RoHS Compliant - TCO Certified Display - BFR/PVC Free ( Halogen-free) (excluding external cables) - Meets NFPA 99 leakage current requirements - Arsenic-Free glass and Mercury-Free for the panel only |
| Built-in USB hub | Y |
| DVI port | N |
| HDMI | Y |
| DisplayPorts quantity | 1 |
| Audio input | N |
| Headphone out | Y |
| USB upstream port type | USB Type-C |
| Number of upstream ports | 1 |
| USB Type-A downstream ports quantity | 3 |
| USB Type-C downstream ports quantity | 1 |
| USB Type-C DisplayPort Alternate Mode | Y |
| HDMI ports quantity | 1 |
| HDMI version | 2.0 |
| DisplayPort version | 1.4 |
| Audio output | Y |
| Headphone outputs | 1 |
| Headphone connectivity | 3.5 mm |
| HDCP | Y |
| VESA mounting | Y |
| Cable lock slot | Y |
| Height adjustment | Y |
| Panel mounting interface | 100 x 100 mm |
| Height adjustment | 13 cm |
| Pivot | Y |
| Swivelling | Y |
| Swivel angle range | -45 - 45- |
| Tilt adjustment | Y |
| Tilt angle range | -5 - 21- |
| Power consumption (typical) | 33 W |
| Power consumption (standby) | 0.3 W |
| Power consumption (off) | 0.3 W |
| AC input voltage | 100 - 240 V |
| AC input frequency | 50/60 Hz |
| Operating temperature (T-T) | 0 - 40 -C |
| Storage temperature (T-T) | -20 - 60 -C |
| Operating relative humidity (H-H) | 10 - 80% |
| Storage relative humidity (H-H) | 5 - 90% |
| Operating altitude | 0 - 5000 m |
| Non-operating altitude | 0 - 12192 m |
| Width | 611.3 mm |
| Depth | 49.7 mm |
| Height | 356 mm |
| Weight | 4.4 kg |
| Width (with stand) | 611.3 mm |
| Depth (with stand) | 185 mm |
| Height (with stand) | 525.2 mm |
| Weight (with stand) | 6.6 kg |
| Cables included | AC,DisplayPort,USB Type-C,USB Type-C to USB Type-A |
| Package weight | 9.6 kg |
| AC adapter included | Y |
| Power consumption (max) | 200 W |
| On/off switch | Y |
| Colour gamut DCI-P3 | 95% |
| TV tuner integrated | N |
| Quick start guide | Y |
| Daisy chain | Y |
| PVC free | Y |
Other Multimedia
Some of these may not exist; we do not manage these files
Lifetime Hits: 603 Doolz ID: 95514471 Price is subject to change without notice. Price and Stock last updated 22 September 2020