QNAP TX-800P disk array Black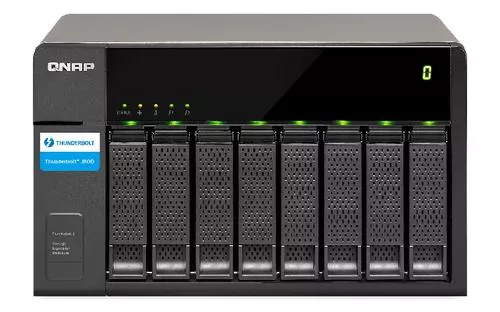 Manufacturer: QNAP
Category: Disk Arrays
Short Description: QNAP TX-800P, 2.5/3.5", Serial ATA II,Serial ATA III, Black, Fan fail,Status,System, 2 fan(s), 22.1 dB
Get it now
TX-800P
Our Price: NZ$1,844.37 inc GST
Stock at this price: Out of stock!
No ETA available
Ships from: Albany, Auckland
This product is not currently available while out of stock. Subscribe to Stock Alerts below to get notified when it is available
Log in to use Stock Alerts
Price & stock last updated: 2021-10-21 16:15:02
We have 1 supplier for this product
For pickups, choose the closest location to you. Otherwise, choose the cheapest or one that is in stock
Supplier 1
Product Name: TX-800P
Price 1: NZ$1,844.37 inc GST
Stock: Out of stock!
No ETA available
Available at: Albany, Auckland
This product is not currently available while out of stock. Subscribe to Stock Alerts below to get notified when it is available
Log in to use Stock Alerts
Price & stock last updated: 2021-10-21 16:15:02
+Price History:
| Date: | Price: |
| --- | --- |
| 2019-06-11 | NZ$1,899.59 |
| 2019-08-08 | NZ$1,763.64 |
| 2019-09-14 | NZ$1,856.72 |
| 2020-01-16 | NZ$1,917.74 |
| 2020-01-28 | NZ$1,856.72 |
| 2020-01-29 | NZ$1,830.57 |
| 2020-01-31 | NZ$1,821.85 |
| 2020-02-24 | NZ$1,752.15 |
| 2020-04-21 | NZ$1,844.37 |
| 2021-06-09 | NZ$1,928.21 |
| 2021-06-18 | NZ$1,844.37 |
Doolz ID:
179
Every effort is made to ensure the image(s) and/or product details are correct, but we cannot guarantee that they are. You should always check with us FIRST if you have specific requirements.
Info
8 x 3.5" or 2.5", 8 x Hot-swappable tray, Two Thunderbolt 2, 2 x fan, 100-240V AC, 50/60Hz, black
QNAP TX-800P. Storage drive size: 2.5/3.5", Supported storage drive interfaces: Serial ATA II,Serial ATA III. Product colour: Black, LED indicators: Fan fail,Status,System, Number of fans: 2 fan(s). Width: 298.2 mm, Depth: 235.4 mm, Height: 185.2 mm. Cables included: AC
Description
Flexibly expand your Thunderbolt NAS storage. Fast and easy. When expanding data storage capacity, deploying multiple servers can lead to complexity in management and dramatically increased costs. QNAP TX-800P expansion enclosure provides a flexible expansion alternative designed with easy setup in mind for scaling up Thunderbolt NAS storage space via high-speed Thunderbolt 2 (20Gbps) cables. The TX-800P provides an additional 8 hard drives providing up to 64 TB expanded capacity for the Thunderbolt NAS, making it ideal for data backup, 4K digital media collection and video surveillance storage with blazing-fast data transmission performance. Easily add additional drive capacity to a Thunderbolt NAS Simply connect the TX-800P to a Thunderbolt NAS via Thunderbolt 2 cables and power it on. The Thunderbolt NAS will automatically detect the hard drives in the TX-800P as newly-installed local drives. The Thunderbolt NAS capacity can then be seamlessly expanded as a large volume by using the powerful QTS Storage Manager. Missing mode protection If your TX-800P is accidentally disconnected, the Thunderbolt NAS enters missing mode and blocks I/O access to protect the stored data. The system can then recover from the missing mode to the normal state with data staying intact. Powerful QTS Storage Manager The QTS Storage Manager neatly presents tools and options for managing system storage with a modern & intuitive graphical user interface, which greatly simplifies the process of NAS capacity expansion and TX-800P management. IT administrators can easily monitor the health status of TX-800P and the disks within it. When multiple expansion enclosures are connected, the Locate Disk and Locate Enclosure functions assist you in quick maintenance. Efficient backup solution for Thunderbolt NAS In addition to expanding an existing volume, you can use the TX-800P as a flexible external storage to perform speedy and secure backup tasks for the Thunderbolt NAS. The QNAP RTRR (Real-Time Remote Replication) or rsync service lets IT administrators back up Thunderbolt NAS data to the TX-800P on a real time or scheduled basis. Smart power design The TX-800P automatically powers on and off with your Thunderbolt NAS, allowing for total convenience and energy saving. Flexible drive selection The TX-800P offers high flexibility in hard drive selection. IT administrators can choose low-cost but high-capacity SATA HDDs for large data archiving, or high-speed and high-stability SSDs for I/O intensive operations. Excellent hardware design The TX-800P includes a full 350W internal PSU to provide ample power even under sustained full load. The well-ventilated chassis and smart fan helps to provide efficient cooling for better stability and reliability, with the fan enabling efficient heat removal even when all 8 drives are under full operation simultaneously.
Specs
| | |
| --- | --- |
| Number of storage drives supported | 8 |
| Storage drive size | 2.5/3.5" |
| Supported storage drive interfaces | Serial ATA II,Serial ATA III |
| USB connectivity | N |
| Product colour | Black |
| LED indicators | Fan fail,Status,System |
| Number of fans | 2 fan(s) |
| Noise level | 22.1 dB |
| Fan diameter | 12 cm |
| Width | 298.2 mm |
| Depth | 235.4 mm |
| Height | 185.2 mm |
| Weight | 7.3 kg |
| Package weight | 8.6 kg |
| Cables included | AC |
| Screws included | Y |
| Operating temperature (T-T) | 5 - 35 -C |
| Operating relative humidity (H-H) | 5 - 95% |
Lifetime Hits: 667 Doolz ID: 179 Price is subject to change without notice. Price and Stock last updated 21 October 2021