StarTech.com Thunderbolt 3 to Dual HDMI Adapter - 4K 60Hz - Mac and Windows Compatible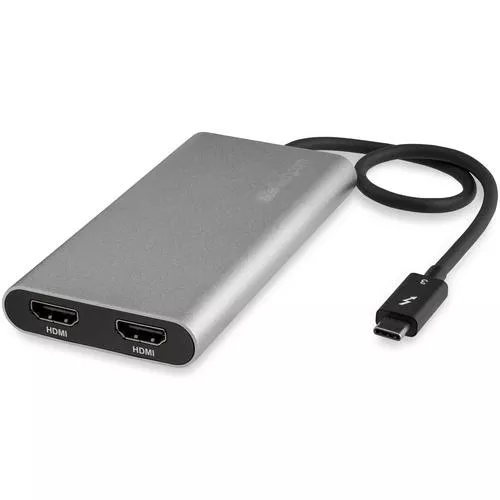 Manufacturer: STARTECH
Category: USB Graphics Adapters
Short Description: StarTech.com Thunderbolt 3 to Dual HDMI Adapter - 4K 60Hz - Mac and Windows Compatible, USB Type-C, HDMI output, 4096 x 2160 pixels
Get it now
Thunderbolt 3 to Dual HDMI - 4K 60Hz
Our Price: NZ$209.56 inc GST
Stock at this price: 1
Ships from: Manukau, Auckland
Price & stock last updated: 2020-12-01 05:02:09
We have 1 supplier for this product
For pickups, choose the closest location to you. Otherwise, choose the cheapest or one that is in stock
Supplier 1
Product Name: Thunderbolt 3 to Dual HDMI - 4K 60Hz
Price 1: NZ$209.56 inc GST
Stock: 1
Available at: Manukau, Auckland
Price & stock last updated: 2020-12-01 05:02:09
+Price History:
| Date: | Price: |
| --- | --- |
| 2019-06-11 | NZ$160.74 |
| 2019-08-26 | NZ$185.43 |
| 2019-08-27 | NZ$160.74 |
| 2020-01-17 | NZ$166.02 |
| 2020-01-29 | NZ$160.74 |
| 2020-01-30 | NZ$158.47 |
| 2020-02-01 | NZ$157.72 |
| 2020-04-23 | NZ$209.56 |
Doolz ID:
86091
Every effort is made to ensure the image(s) and/or product details are correct, but we cannot guarantee that they are. You should always check with us FIRST if you have specific requirements.
Info
StarTech.com 4K 60Hz Thunderbolt 3 to Dual HDMI 2.0 Display Adapter - MacBook Pro and Windows Compatible - Dual Monitor 4K HDMI Video (TB32HD24K60)
StarTech.com Thunderbolt 3 to Dual HDMI Adapter - 4K 60Hz - Mac and Windows Compatible. USB connector type: USB Type-C, USB connector gender: Male, Maximum resolution: 4096 x 2160 pixels. Product colour: Silver. Windows operating systems supported: Windows 10,Windows 10 Education,Windows 10 Education x64,Windows 10 Enterprise,Windows 10..., Mac operating systems supported: Mac OS X 10.12 Sierra. Width: 60 mm, Depth: 114 mm, Height: 16 mm
Description
This high-performance Thunderbolt- 3 adapter lets you add two 4K 60Hz HDMI monitors to your Windows- or Mac computer through a single Thunderbolt 3 port. The Thunderbolt video adapter is compatible with computer systems that support Thunderbolt 3, such as models of MacBook Pro, Dell- Precision and Dell XPS. Thunderbolt 3 is a protocol that uses the USB-C- connector, but your computer system must support Thunderbolt 3 in order for the adapter to function as expected. If you connect the adapter to a USB-C port that does not support Thunderbolt 3, the adapter will not function. Connect two UHD 4K displays to your computer at 60Hz With an unprecedented 40Gbps of throughput, Thunderbolt 3 enables you to achieve the previously impossible feat of using a single port on your laptop to output dual 4K resolution at 60Hz to two independent displays. This performance lets you run the most resource-demanding applications imaginable. You can output independent content to each display at resolutions of up to 4096 x 2160p (60Hz), which is perfect for editing 4K video or performing other Ultra HD tasks such as creating CAD drawings or reviewing medical imagery. Supports dual 4K displays to work more efficiently Functioning as an external 2-port graphics adapter with audio support, this is a compact and convenient alternative to a laptop dock when you don-t need full docking capability. With two UHD 4K displays, you can work more efficiently from your laptop, so you can accomplish more in the same amount of time. With each display delivering 4K performance, you can have four times the screen space compared to 1080p. Creative professionals can be more productive with the freedom to edit 4K video on one display while previewing raw video playback on the second 4K display. Won't drain system resources This adapter helps to keep your system running at peak performance. Unlike USB external video solutions, Thunderbolt 3 lets you run Ultra HD 4K resolution at 60Hz on both displays without draining system resources. Because it-s backward compatible with your high-definition 1080p displays, this is a great accessory for home, office or other desktop workspace applications. The TB32HD24K60 is backed by a 2-year StarTech.com warranty and free lifetime technical support. Your computer-s Thunderbolt 3 ports might not function properly until you update one or more of the following on your computer: - BIOS - Thunderbolt firmware - Thunderbolt 3 controller drivers - Thunderbolt 3 software The required updates will vary depending on your computer. For an up-to-date list of affected computers and instructions, visit thunderbolttechnology.net/updates. If your manufacturer isn-t listed on the Thunderbolt website, contact your manufacturer. Note: In order to connect to two displays at 4K 60Hz, your computer system must have a fully enabled Thunderbolt 3 port that supports up to 40Gbps or the host must support dual displays over Thunderbolt 3.
Specs
| | |
| --- | --- |
| DVI output | N |
| HDMI output | Y |
| DisplayPort output | N |
| Number of displays supported | 2 |
| USB connector type | USB Type-C |
| USB connector gender | Male |
| Maximum resolution | 4096 x 2160 pixels |
| Refresh rate at maximum resolution | 60 Hz |
| Supported graphics resolutions | 1280 x 720 (HD 720),1920 x 1080 (HD 1080),1920 x 1200 (WUXGA),2560 x 1600 (WQXGA),3840 x 2160,4096 x 2160 |
| Data transfer rate (max) | 40 Gbit/s |
| RoHS compliance | Y |
| Certification | CE, FCC |
| Product colour | Silver |
| Windows operating systems supported | Windows 10,Windows 10 Education,Windows 10 Education x64,Windows 10 Enterprise,Windows 10 Enterprise x64,Windows 10 Home,Windows 10 Home x64,Windows 10 Pro,Windows 10 Pro x64,Windows 8,Windows 8 Enterprise,Windows 8 Enterprise x64,Windows 8 Pro,Windows 8 Pro x64,Windows 8 x64,Windows 8.1,Windows 8.1 Enterprise,Windows 8.1 Enterprise x64,Windows 8.1 Pro,Windows 8.1 Pro x64,Windows 8.1 x64 |
| Mac compatibility | Y |
| Mac operating systems supported | Mac OS X 10.12 Sierra |
| Width | 60 mm |
| Depth | 114 mm |
| Height | 16 mm |
| Weight | 103 g |
| Package width | 144 mm |
| Package depth | 210 mm |
| Package height | 40 mm |
| Package weight | 224 g |
Other Multimedia
Some of these may not exist; we do not manage these files
Lifetime Hits: 58 Doolz ID: 86091 Price is subject to change without notice. Price and Stock last updated 01 December 2020