StarTech.com DC Power Adapter - 5V, 3A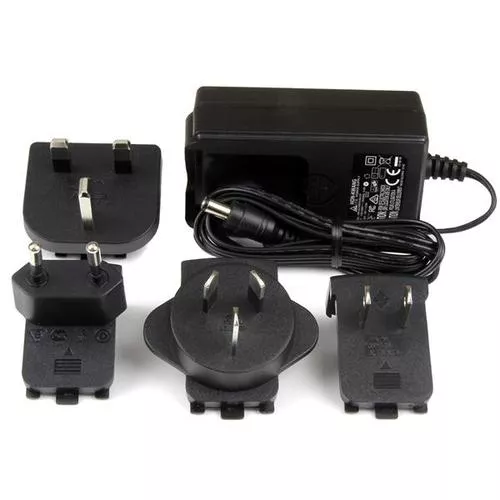 Manufacturer: STARTECH
Category: Power Adapters & Inverters
Short Description: StarTech.com DC Power Adapter - 5V, 3A, Universal, Indoor, 100-240 V, 5 V, Black, 3 A
We have 1 supplier for this product
Supplier 1
Product Name: Replacement 5V DC Power Adapter - 5V 3A
Price 1: NZ$27.94 inc GST
Stock: 8
Ships from: Manukau, Auckland
Price & stock last updated: 2020-09-27 05:01:52
+Price History:
| Date: | Price: |
| --- | --- |
| 2019-06-11 | NZ$21.43 |
| 2019-08-26 | NZ$22.95 |
| 2019-08-27 | NZ$21.43 |
| 2020-01-17 | NZ$22.14 |
| 2020-01-29 | NZ$21.43 |
| 2020-01-30 | NZ$21.13 |
| 2020-02-01 | NZ$21.03 |
| 2020-04-23 | NZ$27.94 |
Doolz ID:
85458
Every effort is made to ensure the image(s) and/or product details are correct, but we cannot guarantee that they are. You should always check with us FIRST if you have specific requirements.
Info
StarTech.com Replacement 5V DC Power Adapter - 5 Volts, 3 Amps
StarTech.com DC Power Adapter - 5V, 3A. Purpose: Universal, Power supply type: Indoor, Input voltage: 100-240 V. Connector(s): Type M. Width: 46 mm, Depth: 89 mm, Height: 36 mm. Package width: 16 mm, Package depth: 124 mm, Package height: 51 mm
Description
This replacement power adapter can provide a power source for any electronic device with an M-type barrel requiring up to 5 volts and 3 amps of power. Replace your failed or lost power adapter The adapter is a perfect replacement for the lost or damaged power adapter you've used to power your existing electronics. Keep a spare power adapter on hand When downtime isn't an option, keeping spare power adapters on hand ensures that you won't be left waiting for a replacement to arrive or have to replace your devices just for the sake of a compatible power source. The ideal travel power adapter For frequent travelers, this power adapter saves you from buying multiple adapters. To ensure it will work in your region and the region you're traveling to, the power adapter features 100-240V automatic switching and regional clips for North America, Europe, United Kingdom and Australia. The SVA5M3NEAU is backed by a StarTech.com 2-year warranty and free lifetime technical support.
Specs
| | |
| --- | --- |
| Purpose | Universal |
| Power supply type | Indoor |
| Input voltage | 100-240 V |
| Output voltage | 5 V |
| Product colour | Black |
| Output current | 3 A |
| Certification | CE, FCC, UL |
| Connector(s) | Type M |
| Operating temperature (T-T) | 0 - 40 -C |
| Storage temperature (T-T) | -20 - 70 -C |
| Operating relative humidity (H-H) | 10 - 80% |
| Width | 46 mm |
| Depth | 89 mm |
| Height | 36 mm |
| Weight | 160 g |
| Package width | 16 mm |
| Package depth | 124 mm |
| Package height | 51 mm |
| Package weight | 238 g |
Lifetime Hits: 98 Doolz ID: 85458 Price is subject to change without notice. Price and Stock last updated 27 September 2020