StarTech.com Mobile Sit-Stand Workstation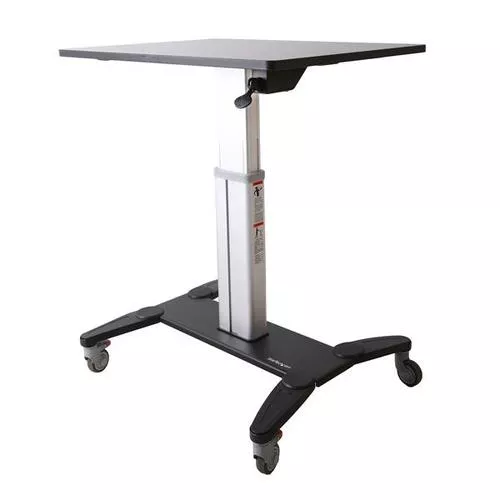 Manufacturer: STARTECH
Category: Desktop Sit-Stand Workplaces
Short Description: StarTech.com Mobile Sit-Stand Workstation, Black,Silver, 750 - 1150 mm, 4 wheel(s), 50 kg, 703.5 mm, 1150 mm
Get it now
Workstation - Mobile Sit Stand
Our Price: NZ$648.78 inc GST
Stock at this price: Out of stock!
ETA is the 8th November 2021
Ships from: Manukau, Auckland
Log in to use Stock Alerts
Price & stock last updated: 2021-01-19 07:02:01
We have 1 supplier for this product
For pickups, choose the closest location to you. Otherwise, choose the cheapest or one that is in stock
Supplier 1
Product Name: Workstation - Mobile Sit Stand
Price 1: NZ$648.78 inc GST
Stock: Out of stock!
ETA is the 8th November 2021
Available at: Manukau, Auckland
Log in to use Stock Alerts
Price & stock last updated: 2021-01-19 07:02:01
+Price History:
| Date: | Price: |
| --- | --- |
| 2019-06-11 | NZ$497.60 |
| 2019-08-26 | NZ$604.24 |
| 2019-08-27 | NZ$497.60 |
| 2020-01-17 | NZ$513.96 |
| 2020-01-29 | NZ$497.60 |
| 2020-01-30 | NZ$490.60 |
| 2020-02-01 | NZ$488.26 |
| 2020-04-23 | NZ$648.78 |
Doolz ID:
86819
Every effort is made to ensure the image(s) and/or product details are correct, but we cannot guarantee that they are. You should always check with us FIRST if you have specific requirements.
Info
StarTech.com Sit Stand Mobile Workstation - Rolling Desk - One-Touch Height Adjustment with Lock - Standing Desk Converter - Mobile Desk
StarTech.com Mobile Sit-Stand Workstation. Product colour: Black,Silver, Height adjustment range: 750 - 1150 mm, Number of wheels: 4 wheel(s). Width: 703.5 mm, Depth: 1150 mm, Height: 586 mm. Package width: 640 mm, Package depth: 840 mm, Package height: 170 mm. Wrench type: Hexagonal wrench, Number of keys included: 1 pc(s)
Description
Encourage interactive classrooms and engaged learning with StarTech.com mobile sit-stand workstations. These sit-stand desks allow students to set up their learning environments to suit their needs. The workstations can easily be adjusted from a sitting position to a standing position with no disruptions to the class. Teachers can arrange and rearrange their classrooms according to their lessons, they can set up individual desks for tests or lectures, or group two or more desks together for projects. The two front casters can be locked in place to prevent the workstations from moving. Simple height adjustments for individualized comfort Moving between sitting and standing throughout the day brings many health benefits, from increased circulation to reduced fatigue. The sit-stand workstations make it easy for students to change their positioning throughout the day, keeping them attentive and focused. Giving students the freedom to stand when needed can also help to reduce anxiety and restlessness. Students can adjust the desk to any height between 29.5- (750 mm) and 45- (1150 mm), they simply need to squeeze the lever located under the work surface, and then move the workstation up or down. The adjustment lever on the right side of the desktop can also be locked using the provided key, so that the height won-t accidentally change if a student knocks the lever. There are no preset heights, so each student can find the precise height they need to work most comfortably. Large work surface sized to fit student needs The large surface area of the desktop, 24" (600 mm) x 31.5" (800 mm), provides ample room for all schoolwork and supplies such as textbooks, pens, and other stationery. For laptop configurations, the workstations feature cable clips that run down the column in order to help keep cables organized. The workstations can also be combined with monitor mounts to add displays. The work surface also provides enough room for a keyboard and mouse. Note: If more than 10 lb. (4.5 kg) of weight is added to the work surface, some manual force will be needed to raise the desktop. Mobile desks, perfect for customizable classrooms Teachers can create dynamic environments to accommodate different needs. They simply need to unlock the two front casters and move the workstations around the classroom to: - Split students into groups for projects - Pull individuals aside for personalized one-on-one learning - Sit the students in a circle for presentations and to encourage group conversations - Set up a standard classroom configuration for lectures and tests Teachers can also use the workstations for presentation purposes. The mobile workstations are ideal for moving around from class to class with laptops and other tools, and the height can be adjusted and locked. The portable desks can also be used in the following settings: - Office training rooms - Warehouses and manufacturing sites where workstations are shared amongst many individuals and need to be moved between different testing areas - Home offices - IT departments as server crash carts The STSCART is backed by a StarTech.com 2-year warranty and free lifetime technical support.
Specs
| | |
| --- | --- |
| Product colour | Black,Silver |
| Number of displays supported | 1 |
| Height adjustment | Y |
| Height adjustment range | 750 - 1150 mm |
| Number of wheels | 4 wheel(s) |
| Castor wheels | Y |
| Locking wheels | Y |
| Number of cable clips | 4 |
| Maximum weight capacity | 50 kg |
| Cord management | Y |
| Built-in gas spring | Y |
| RoHS compliance | Y |
| Width | 703.5 mm |
| Depth | 1150 mm |
| Height | 586 mm |
| Weight | 20.5 kg |
| Package width | 640 mm |
| Package depth | 840 mm |
| Package height | 170 mm |
| Package weight | 27.5 kg |
| Screws included | Y |
| Manual | Y |
| Wrench type | Hexagonal wrench |
| Number of covers included | 4 |
| Number of keys included | 1 pc(s) |
Other Multimedia
Some of these may not exist; we do not manage these files
Lifetime Hits: 146 Doolz ID: 86819 Price is subject to change without notice. Price and Stock last updated 19 January 2021