StarTech.com 7-Port USB 3.0 Hub - Desktop or Wall-Mountable Metal Enclosure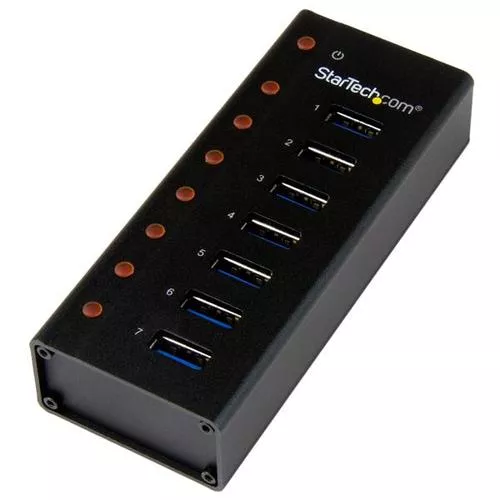 Manufacturer: STARTECH
Category: Interface Hubs
Short Description: StarTech.com 7-Port USB 3.0 Hub - Desktop or Wall-Mountable Metal Enclosure, USB 3.2 Gen 1 (3.1 Gen 1) Type-B, USB 3.2 Gen 1 (3.1 Gen 1) Type-A, 5000 Mbit/s, Black, Aluminum, Power
Get it now
7 Port USB 3.0 Hub - Desktop /Wall-Mount
Our Price: NZ$112.43 inc GST
Stock at this price: 15
Ships from: Manukau, Auckland
Price & stock last updated: 2020-11-26 05:02:07
We have 1 supplier for this product
For pickups, choose the closest location to you. Otherwise, choose the cheapest or one that is in stock
Supplier 1
Product Name: 7 Port USB 3.0 Hub - Desktop /Wall-Mount
Price 1: NZ$112.43 inc GST
Stock: 15
Available at: Manukau, Auckland
Price & stock last updated: 2020-11-26 05:02:07
+Price History:
| Date: | Price: |
| --- | --- |
| 2019-06-11 | NZ$86.23 |
| 2019-08-26 | NZ$101.03 |
| 2019-08-27 | NZ$86.23 |
| 2020-01-17 | NZ$89.07 |
| 2020-01-29 | NZ$86.23 |
| 2020-01-30 | NZ$85.02 |
| 2020-02-01 | NZ$84.62 |
| 2020-04-23 | NZ$112.43 |
Doolz ID:
86182
Every effort is made to ensure the image(s) and/or product details are correct, but we cannot guarantee that they are. You should always check with us FIRST if you have specific requirements.
Info
StarTech.com 7 Port USB 3.0 Hub - Desktop or Wall-Mountable Metal Enclosure - Compact Portable USB Hub - Upright Ports for Easy Plug-in
StarTech.com 7-Port USB 3.0 Hub - Desktop or Wall-Mountable Metal Enclosure. Host interface: USB 3.2 Gen 1 (3.1 Gen 1) Type-B, Hub interfaces: USB 3.2 Gen 1 (3.1 Gen 1) Type-A. Data transfer rate: 5000 Mbit/s, Product colour: Black, Housing material: Aluminum. Power consumption (max): 36 W, Input voltage: 100 - 240 V, Input current: 1.3 A. Width: 44 mm, Depth: 110 mm, Height: 24 mm. Package width: 105 mm, Package depth: 169 mm, Package height: 104 mm
Description
The StarTech.com 7-port USB 3.0 hub is your answer for a durable and compact hub that's ideal for desktop or travel usage. Enjoy desktop convenience or painless portability This hub is perfect for a permanent setup with a desktop computer, with a rugged metal housing that can withstand the wear and tear of daily use. Plus, you can attach it to a surface such as a desktop or wall using the included wall-mount bracket. The compact size and durability of the hub also make it perfectly portable. When you-re on the go, its robust design resists damage that can occur when travelling or from back-and-forth trips from home to office. Connect devices quickly and easily The ports on this hub are upright, which makes it perfect for IT professionals or anyone who needs to plug and unplug their USB devices regularly. You have lots of room to grip the connectors, without the worry of oversized plugs taking up too much space and reducing the number of available ports. With extra USB 3.0 ports, you can increase productivity and connect more devices to your computer, or simply avoid the hassle of swapping connected devices on your port-limited laptop. The hub makes your USB ports more accessible and can easily extend the range of your devices by acting as a mid-point repeater. Use with high-performance and older devices The ST7300U3M supports the latest USB 3.0 products including UASP-enabled storage devices. With data transfer speeds of up to 5 Gb per second using SuperSpeed USB 3.0 technology, this high-performance hub is the perfect accessory for your desktop, laptop, MacBook-, or UltraBook-. You can also use the hub with older peripherals and computers, with support for USB 2.0 and 1.x devices and no additional drivers or software required for installation. Backed by a StarTech.com 2-year warranty and free lifetime technical support.
Specs
| | |
| --- | --- |
| Ports quantity | 7 |
| Host interface | USB 3.2 Gen 1 (3.1 Gen 1) Type-B |
| Hub interfaces | USB 3.2 Gen 1 (3.1 Gen 1) Type-A |
| USB 3.2 Gen 1 (3.1 Gen 1) Type-A ports quantity | 7 |
| Data transfer rate | 5000 Mbit/s |
| Product colour | Black |
| Housing material | Aluminum |
| LED indicators | Power |
| Hot-swap | Y |
| Plug and Play | Y |
| Certification | CE, FCC, EESS, RoHS |
| Power consumption (max) | 36 W |
| Input voltage | 100 - 240 V |
| Input current | 1.3 A |
| Output voltage | 12 V |
| Output current | 3 A |
| Power plug type | Type M |
| Width | 44 mm |
| Depth | 110 mm |
| Height | 24 mm |
| Weight | 134 g |
| Package width | 105 mm |
| Package depth | 169 mm |
| Package height | 104 mm |
| Package weight | 599 g |
| AC adapter included | Y |
| Included power plug types | AU,EU,NA,UK |
| Cables included | USB |
| Wall mounting kit | Y |
| Manual | Y |
| Operating temperature (T-T) | 5 - 35 -C |
| Storage temperature (T-T) | -20 - 50 -C |
| Operating relative humidity (H-H) | 20 - 80% |
| Chipset | ASMedia - ASM1074 |
Other Multimedia
Some of these may not exist; we do not manage these files
Lifetime Hits: 25 Doolz ID: 86182 Price is subject to change without notice. Price and Stock last updated 26 November 2020