StarTech.com 4-port HDMI splitter and signal amplifier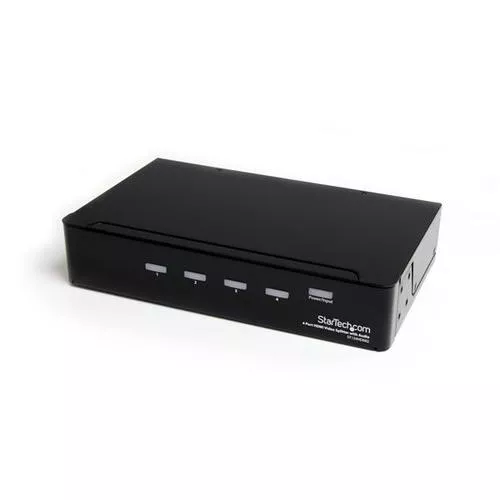 Manufacturer: STARTECH
Category: Video Splitters
Short Description: StarTech.com 4-port HDMI splitter and signal amplifier, HDMI, 4x HDMI, 1920 x 1200 pixels, Black, Steel, 1280 x 1024 (SXGA),1600 x 1200 (UXGA),1920 x 1080 (HD 1080),1920 x 1200 (WUXGA),640 x 480 (VGA)
Get it now
4 Port High Speed HDMI Video Splitter
Our Price: NZ$246.54 inc GST
Stock at this price: 5
Ships from: Manukau, Auckland
Price & stock last updated: 2021-01-18 07:02:37
We have 1 supplier for this product
For pickups, choose the closest location to you. Otherwise, choose the cheapest or one that is in stock
Supplier 1
Product Name: 4 Port High Speed HDMI Video Splitter
Price 1: NZ$246.54 inc GST
Stock: 5
Available at: Manukau, Auckland
Price & stock last updated: 2021-01-18 07:02:37
+Price History:
| Date: | Price: |
| --- | --- |
| 2019-06-11 | NZ$189.09 |
| 2019-08-26 | NZ$229.60 |
| 2019-08-27 | NZ$189.09 |
| 2020-01-17 | NZ$195.30 |
| 2020-01-29 | NZ$189.09 |
| 2020-01-30 | NZ$186.43 |
| 2020-02-01 | NZ$185.54 |
| 2020-04-23 | NZ$246.54 |
Doolz ID:
86895
Every effort is made to ensure the image(s) and/or product details are correct, but we cannot guarantee that they are. You should always check with us FIRST if you have specific requirements.
Info
4-port HDMI splitter and signal amplifier
StarTech.com 4-port HDMI splitter and signal amplifier. Video port type: HDMI, Video out: 4x HDMI. Maximum resolution: 1920 x 1200 pixels, Product colour: Black, Housing material: Steel. Input voltage: 100 - 240 V, Input current: 0.8 A, Output voltage: 12 V. Width: 135 mm, Depth: 220 mm, Height: 44 mm. Package width: 411 mm, Package depth: 214 mm, Package height: 90 mm
Description
The ST124HDMI2 4 Port High Speed HDMI- Video Splitter with Audio lets you share a single HDMI source with up to 4 HDMI or DVI-D enabled displays/receivers, without sacrificing image or sound quality. Supporting true HD video resolutions up to 1080p, this HDMI splitter allows you to situate your HDMI-capable displays up to 15ft (5m) away from the splitter. This versatile HDMI splitter features 3.5mm audio input and output connections giving you the option of sending your accompanying audio signal through the HDMI cable or through a separate 3.5mm stereo audio channel. A perfect addition to virtually any application requiring the high quality video delivered by HDMI devices, the ST124HDMI2 video splitter is easy to install and provides flawless, distortion-free digital video. Backed by a StarTech.com 2-year warranty and free lifetime technical support. The StarTech.com Advantage - High Speed HDMI- support ensures compatibility with the latest HDMI source devices and displays - Signal amplification provides high-resolution HDMI signals without signal degradation/loss of quality * Product appearance and specifications are subject to change without notice.
Specs
| | |
| --- | --- |
| Video ports quantity | 4 |
| Video port type | HDMI |
| Video out | 4x HDMI |
| Audio ports quantity | 5 |
| DC-in jack | Y |
| Maximum resolution | 1920 x 1200 pixels |
| Product colour | Black |
| Housing material | Steel |
| HDCP | Y |
| Supported graphics resolutions | 1280 x 1024 (SXGA),1600 x 1200 (UXGA),1920 x 1080 (HD 1080),1920 x 1200 (WUXGA),640 x 480 (VGA) |
| Supported video modes | 720p,1080p |
| Certification | CE, FCC, TAA, REACH |
| Input voltage | 100 - 240 V |
| Input current | 0.8 A |
| Output voltage | 12 V |
| Output current | 1.5 A |
| Power consumption (typical) | 18 W |
| Width | 135 mm |
| Depth | 220 mm |
| Height | 44 mm |
| Weight | 966 g |
| Package width | 411 mm |
| Package depth | 214 mm |
| Package height | 90 mm |
| Package weight | 2 kg |
| Manual | Y |
| AC adapter included | Y |
| Included power plug types | AU,EU,NA,UK |
| Operating temperature (T-T) | 0 - 40 -C |
| Storage temperature (T-T) | -20 - 60 -C |
| Operating relative humidity (H-H) | 0 - 80% |
| Cascadable | Y |
| Audio support | Y |
Lifetime Hits: 78 Doolz ID: 86895 Price is subject to change without notice. Price and Stock last updated 18 January 2021