StarTech.com 2 Port DVI Video Splitter with Audio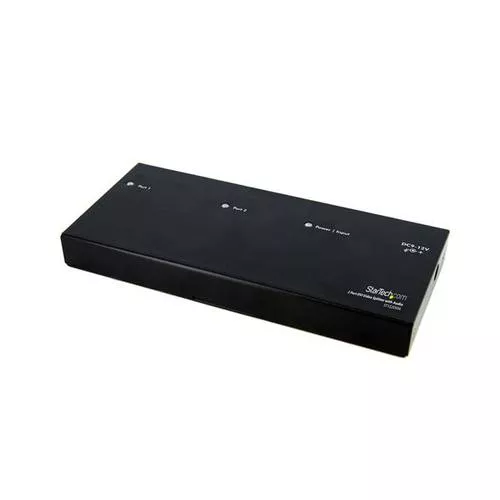 Manufacturer: STARTECH
Category: Video Splitters
Short Description: StarTech.com 2 Port DVI Video Splitter with Audio, DVI, 2x DVI, 1920 x 1200 pixels, Black, Aluminum, 10 m
Get it now
2 Port DVI Video Splitter with Audio
Our Price: NZ$207.61 inc GST
Stock at this price: Out of stock!
ETA is the 23rd October 2020
Ships from: Manukau, Auckland
Log in to use Stock Alerts
Price & stock last updated: 2021-01-19 07:02:00
We have 1 supplier for this product
For pickups, choose the closest location to you. Otherwise, choose the cheapest or one that is in stock
Supplier 1
Product Name: 2 Port DVI Video Splitter with Audio
Price 1: NZ$207.61 inc GST
Stock: Out of stock!
ETA is the 23rd October 2020
Available at: Manukau, Auckland
Log in to use Stock Alerts
Price & stock last updated: 2021-01-19 07:02:00
+Price History:
| Date: | Price: |
| --- | --- |
| 2019-06-11 | NZ$159.23 |
| 2019-08-26 | NZ$193.35 |
| 2019-08-27 | NZ$159.23 |
| 2020-01-17 | NZ$164.46 |
| 2020-01-29 | NZ$159.23 |
| 2020-01-30 | NZ$156.99 |
| 2020-02-01 | NZ$156.24 |
| 2020-04-23 | NZ$207.61 |
Doolz ID:
86892
Every effort is made to ensure the image(s) and/or product details are correct, but we cannot guarantee that they are. You should always check with us FIRST if you have specific requirements.
Info
StarTech.com 2 Port DVI Video Splitter with Audio - DVI Splitter with Audio - 2 Port DVI Splitter - DVI Video Splitter
StarTech.com 2 Port DVI Video Splitter with Audio. Video port type: DVI, Video out: 2x DVI. Maximum resolution: 1920 x 1200 pixels, Product colour: Black, Housing material: Aluminum. Output voltage: 9 V, Output current: 0.6 A, Power consumption (typical): 5.4 W. Width: 85.2 mm, Depth: 181 mm, Height: 20 mm. Package width: 102 mm, Package depth: 221 mm, Package height: 98 mm
Description
The ST122DVIA DVI splitter lets you share one DVI video and audio source on two displays and acts as a signal amplifier that allows you to locate your DVI monitors up to 33ft (10 m) away from your computer or DVI signal source. With support for high definition resolutions up to 1080p (HDTV)/1920x1200 (PC), the DVI splitter delivers a simple and convenient DVI video solution that suits virtually any application or operating environment (classroom, healthcare, professional A/V, control centres, retail POS environments). The DVI video splitter/distribution amplifier is easy to install, providing you with flawless digital video that will help you get the most from your DVI-enabled monitors, projectors, or plasma screens. Designed to provide dependable performance, the DVI splitter/signal distribution amplifier is backed by StarTech.com-s 2-year warranty and FREE lifetime tech support. The StarTech.com Advantage - Doubles as an extender up to 33 feet (10 meters) from your DVI source. - Splits a DVI signal to display sharp digital images on two monitors with support for HD resolutions and stereo audio.
Specs
| | |
| --- | --- |
| Video ports quantity | 2 |
| Video port type | DVI |
| Video out | 2x DVI |
| Audio ports quantity | 3 |
| DC-in jack | Y |
| Maximum resolution | 1920 x 1200 pixels |
| Product colour | Black |
| Housing material | Aluminum |
| Maximum operating distance | 10 m |
| Maximum refresh rate | 60 Hz |
| HDCP | Y |
| LED indicators | Link,Power |
| RoHS compliance | Y |
| Certification | CE, FCC, TAA, REACH |
| Output voltage | 9 V |
| Output current | 0.6 A |
| Power consumption (typical) | 5.4 W |
| Width | 85.2 mm |
| Depth | 181 mm |
| Height | 20 mm |
| Weight | 401 g |
| Package width | 102 mm |
| Package depth | 221 mm |
| Package height | 98 mm |
| Package weight | 732 g |
| Manual | Y |
| AC adapter included | Y |
| Included power plug types | AU,EU,NA,UK |
| Operating temperature (T-T) | 0 - 40 -C |
| Storage temperature (T-T) | -20 - 60 -C |
| Operating relative humidity (H-H) | 0 - 80% |
Other Multimedia
Some of these may not exist; we do not manage these files
Lifetime Hits: 92 Doolz ID: 86892 Price is subject to change without notice. Price and Stock last updated 19 January 2021