StarTech.com 4-Port PCIe Gigabit Network Adapter Card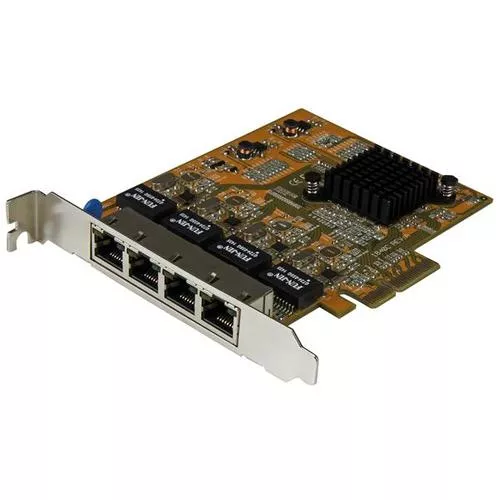 Manufacturer: STARTECH
Category: Networking Cards
Short Description: StarTech.com 4-Port PCIe Gigabit Network Adapter Card, Internal, Wired, PCI Express, Ethernet, 2000 Mbit/s
We have 1 supplier for this product
Supplier 1
Product Name: 4-Port PCIe Gigabit Network Adapter Card
Price 1: NZ$294.09 inc GST
Stock: 4
Ships from: Manukau, Auckland
Price & stock last updated: 2020-09-20 05:01:45
+Price History:
| Date: | Price: |
| --- | --- |
| 2019-06-11 | NZ$225.56 |
| 2019-08-26 | NZ$273.90 |
| 2019-08-27 | NZ$225.56 |
| 2020-01-17 | NZ$232.98 |
| 2020-01-29 | NZ$225.56 |
| 2020-01-30 | NZ$222.39 |
| 2020-02-01 | NZ$221.33 |
| 2020-04-23 | NZ$294.09 |
Doolz ID:
85355
Every effort is made to ensure the image(s) and/or product details are correct, but we cannot guarantee that they are. You should always check with us FIRST if you have specific requirements.
Info
StarTech.com 4-Port PCI Express Gigabit Network Adapter Card - Quad-Port PCIe Gigabit NIC
StarTech.com 4-Port PCIe Gigabit Network Adapter Card. Internal. Connectivity technology: Wired, Host interface: PCI Express, Interface: Ethernet. Maximum data transfer rate: 2000 Mbit/s
Description
Now you can add four separate Gigabit network ports to your client, server or workstation through just one PCI Express slot, to provide connectivity to multiple networks without draining your budget. Reliable connectivity to multiple networks This 4-port network card delivers powerful connectivity for your business, corporate or government office environment, with support for high-performance, 4-channel networking and a maximum throughput of up to 1000Mbps in each direction (2000 Mbps total). The network adapter card features the Realtek RTL8111G chipset, which is designed to deliver the performance and enhanced capabilities you need for reliable network connections to your server or computer. A versatile and cost-effective solution This versatile quad-port network card is ideal for many business applications requiring upgrades to servers or workstations, adding feature-rich Gigabit networking with four independent ports. Compatible with a broad range of operating systems, this cost-effective PCIe Gigabit NIC is suitable for many SMB and Enterprise applications such as virtualized environments that require multiple NICs (check your VM software for chipset compatibility). The ST1000SPEX43 is backed by a StarTech.com 2-year hardware warranty and free lifetime technical support.
Specs
| | |
| --- | --- |
| Connectivity technology | Wired |
| Host interface | PCI Express |
| Interface | Ethernet |
| Ethernet LAN (RJ-45) ports | 4 |
| Maximum data transfer rate | 2000 Mbit/s |
| Networking standards | IEEE 802.3,IEEE 802.3u,IEEE 802.3ab |
| Ethernet LAN | Y |
| Ethernet LAN data rates | 10,1000,100 Mbit/s |
| Cabling technology | 10/100/1000BaseT(X) |
| Wake-on-LAN ready | Y |
| Auto MDIX IEEE | N |
| Full duplex | Y |
| Jumbo frames support | Y |
| Internal | Y |
| LED indicators | Activity,Link |
| Operating temperature (T-T) | 0 - 55 -C |
| Storage temperature (T-T) | -40 - 75 -C |
| Operating relative humidity (H-H) | 5 - 95% |
| Windows operating systems supported | Windows 10,Windows 10 Education,Windows 10 Education x64,Windows 10 Enterprise,Windows 10 Enterprise x64,Windows 10 Home,Windows 10 Home x64,Windows 10 IOT Core,Windows 10 Pro,Windows 10 Pro x64,Windows 7,Windows 7 Enterprise,Windows 7 Enterprise x64,Windows 7 Home Basic,Windows 7 Home Basic x64,Windows 7 Home Premium,Windows 7 Home Premium x64,Windows 7 Professional,Windows 7 Professional x64,Windows 7 Starter,Windows 7 Starter x64,Windows 7 Ultimate,Windows 7 Ultimate x64,Windows 7 x64,Windows 8,Windows 8 Enterprise,Windows 8 Enterprise x64,Windows 8 Pro,Windows 8 Pro x64,Windows 8 x64,Windows 8.1,Windows 8.1 Enterprise,Windows 8.1 Enterprise x64,Windows 8.1 Pro,Windows 8.1 Pro x64,Windows 8.1 x64,Windows XP,Windows XP Home,Windows XP Home x64,Windows XP Professional,Windows XP Professional x64 |
| Linux operating systems supported | Y |
| Server operating systems supported | Windows Server 2003,Windows Server 2012,Windows Server 2016,Windows Server 2019 |
| Width | 102 mm |
| Depth | 138 mm |
| Height | 1.6 mm |
| Weight | 100 g |
| Package width | 209 mm |
| Package depth | 145 mm |
| Package height | 40 mm |
| Package weight | 184 g |
| Chipset | Realtek RTL8111G |
| Flow control support | Y |
| Case colour | Yellow |
Lifetime Hits: 27 Doolz ID: 85355 Price is subject to change without notice. Price and Stock last updated 20 September 2020