SN5200/4B/EUI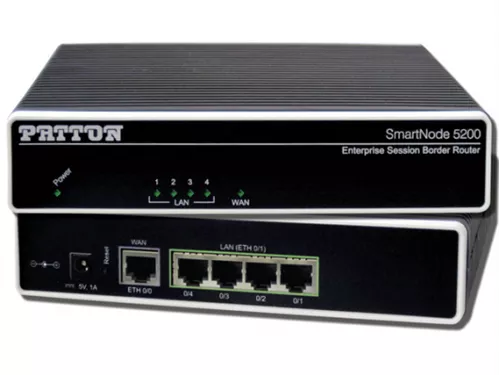 Manufacturer: PATTON
Category: Uncategorized
Get it now
SN5200/4B/EUI
Our Price: NZ$159.39 inc GST
Stock at this price: 1
Ships from: Albany, Auckland
Price & stock last updated: 2022-05-23 16:10:02
We have 1 supplier for this product
For pickups, choose the closest location to you. Otherwise, choose the cheapest or one that is in stock
Supplier 1
Product Name: SN5200/4B/EUI
Price 1: NZ$159.39 inc GST
Stock: 1
Available at: Albany, Auckland
Price & stock last updated: 2022-05-23 16:10:02
+Price History:
| Date: | Price: |
| --- | --- |
| 2019-06-11 | NZ$355.18 |
| 2019-11-22 | NZ$394.37 |
| 2020-01-16 | NZ$407.33 |
| 2020-01-28 | NZ$394.37 |
| 2020-01-29 | NZ$388.82 |
| 2020-01-31 | NZ$386.96 |
| 2020-03-22 | NZ$430.23 |
| 2020-04-21 | NZ$452.87 |
Doolz ID:
35
Every effort is made to ensure the image(s) and/or product details are correct, but we cannot guarantee that they are. You should always check with us FIRST if you have specific requirements.
Info
Session Border Router, 4 channel.
The SmartNode 5200 Enterprise Session Border Router bridges the wide range of IP PBX products to their service providers ensuring security and a high level of efficiency in the VoIP network. Connecting the Enterprise's LAN to an Internet Telephony Service Provider (ITSP), the SN5200 creates a single conduit for multimedia components including voice, video and data.
Through the SIP Back-to-Back User Agent (B2BUA), the SmartNode 5200 provides a common interface into the service provider network providing resolution of any differences between the SIP from the IP PBX and the service provider softswitch. The B2BUA also isolates your network from the outside world to hide your private addresses and network topology for security purposes.
For additional security, the SN5200 includes SIP-aware NAT and access controlled lists (ACLs) for maintaining secure communications when SIP traffic crosses the Enterprise edge.
In addition, routing capabilities include RIP v1/v2, virtual router redundancy protocol (VRRP), loopback interfaces as well as advanced techniques like policy based routing (PBR). Furthermore, QoS keeps malicious traffic from effecting bandwidth requirements of PBR-marked essential traffic and Downstream QoS ensures important voice and fax calls do not get bogged down by such resource hungry lower priority TCP traffic as FTP downloads.
For survivability, the SN5200 is equipped with a link status based routing function. This function, together with SIP registrar, enables survivable telephony services to be deployed between intra-office SIP clients in case there is a failure at the SIP provider.
Patton eSBC
Lifetime Hits: 227 Doolz ID: 35 Price is subject to change without notice. Price and Stock last updated 23 May 2022