SN4522/JS/UI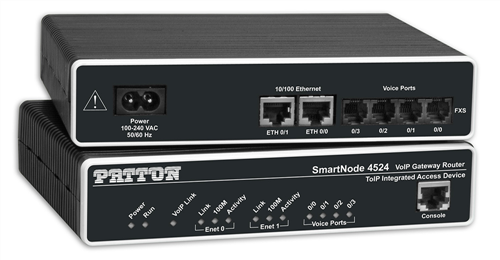 Manufacturer: PATTON
Category: Uncategorized
Get it now
SN4522/JS/UI
Our Price: NZ$119.54 inc GST
Stock at this price: 1
Ships from: Albany, Auckland
Price & stock last updated: 2022-05-19 04:20:03
We have 1 supplier for this product
For pickups, choose the closest location to you. Otherwise, choose the cheapest or one that is in stock
Supplier 1
Product Name: SN4522/JS/UI
Price 1: NZ$119.54 inc GST
Stock: 1
Available at: Albany, Auckland
Price & stock last updated: 2022-05-19 04:20:03
+Price History:
| Date: | Price: |
| --- | --- |
| 2019-06-11 | NZ$242.50 |
| 2019-11-22 | NZ$269.45 |
| 2020-01-16 | NZ$278.30 |
| 2020-01-28 | NZ$269.45 |
| 2020-01-29 | NZ$265.65 |
| 2020-01-31 | NZ$264.39 |
| 2020-03-22 | NZ$293.23 |
| 2020-04-21 | NZ$308.66 |
Doolz ID:
33
Every effort is made to ensure the image(s) and/or product details are correct, but we cannot guarantee that they are. You should always check with us FIRST if you have specific requirements.
Info
Smartnode Dual FXS VoIP GW-Router; 2x10/100baseT, H.323 and SIP, External PSU.
Connect with confidence using the SmartNode 4520 VoIP Gateway Router. Integrating a complete enterprise router with a full-featured Voice-over-IP Media Gateway offers the new standard in toll-bypass, remote/branch office connectivity, and enhanced carrier services. Perfect for the Remote office, Branch office, or PBX/Switch extension, the SmartNode 4520 integrates all your voice, FAX, and LAN traffic for seamless and secure networking.
With its FXS analog ports the SN4520 Series supports up to eight simultaneous calls, connects to any legacy telephone or PBX, and provides dial-tone, ringing, and caller-ID.
With dual 10/100 Ethernet ports, the SN4520 Series provides IP routing with guaranteed Quality of Service. Voice traffic is prioritized while LAN/IP traffic shaping permits efficient access to the Internet and corporate networks. As a complete enterprise router, the SN4520 supports DHCP, NAT, Firewall/ACL, and PPPoE clients. While IPSEC VPN and VLAN tunnel data while DES, 3DES or AES enables secure voice and data over the public network.
This integrated access router and VoIP Gateway benefits service providers and enterprise network administrators with a lower cost of ownership and better service quality.
Lifetime Hits: 108 Doolz ID: 33 Price is subject to change without notice. Price and Stock last updated 19 May 2022