StarTech.com 4-Bay Hard Drive Docking Station for 2.5"/3.5" SSDs and HDDs - eSATA/USB 3.0 to SATA (6Gbps)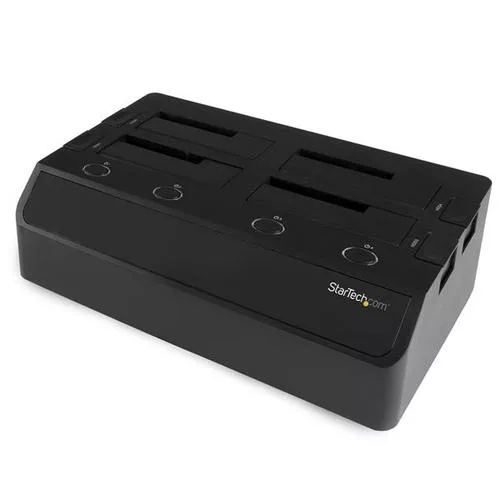 Manufacturer: STARTECH
Category: Storage Drive Docking Stations
Short Description: StarTech.com 4-Bay Hard Drive Docking Station for 2.5-/3.5- SSDs and HDDs - eSATA/USB 3.0 to SATA (6Gbps), HDD,SSD, Serial ATA,Serial ATA II,Serial ATA III, 2.5,3.5", 6 TB, USB 3.2 Gen 1 (3.1 Gen 1) Type-B + eSATA, Black
We have 1 supplier for this product
Supplier 1
Product Name: 4-Bay Dock for 2.5 /3.5 SSDs and HDDs
Price 1: NZ$258.45 inc GST
Stock: Out of stock!
ETA is the 5th May 2020
Ships from: Manukau, Auckland
Log in to use Stock Alerts
Price & stock last updated: 2020-09-22 05:01:45
+Price History:
| Date: | Price: |
| --- | --- |
| 2019-06-11 | NZ$250.23 |
| 2019-08-26 | NZ$303.85 |
| 2019-08-27 | NZ$250.23 |
| 2020-01-17 | NZ$258.45 |
| 2020-01-29 | NZ$250.23 |
| 2020-01-30 | NZ$246.70 |
| 2020-02-01 | NZ$245.53 |
Doolz ID:
85284
Every effort is made to ensure the image(s) and/or product details are correct, but we cannot guarantee that they are. You should always check with us FIRST if you have specific requirements.
Info
StarTech.com 4-Bay Hard Drive Docking Station for 2.5-/3.5- SSDs and HDDs - eSATA/USB 3.0 to SATA (6Gbps) - Quad Bay Drive Dock
StarTech.com 4-Bay Hard Drive Docking Station for 2.5-/3.5- SSDs and HDDs - eSATA/USB 3.0 to SATA (6Gbps). Storage media type: HDD,SSD, Storage drive interface: Serial ATA,Serial ATA II,Serial ATA III, Storage drive sizes supported: 2.5,3.5". Host interface: USB 3.2 Gen 1 (3.1 Gen 1) Type-B + eSATA. Product colour: Black, Material: Plastic, LED indicators: Activity,Power. Number of fans: 2 fan(s), Fan diameter: 6 cm. AC input voltage: 100-240 V, Input current: 2 A, Output voltage: 12 V
Description
Dock and swap up to four drives from your laptop or desktop computer simultaneously, using a single eSATA or USB port. This 4-bay docking station gives you large data capacity and fast file transfers with support for SATA I, II and III (up to 6Gbps). Large data capacity with four drive bays Access multiple drives with this quad-bay docking station. It saves you valuable time every day by giving you independent access to four 2.5- or 3.5- SATA hard drives or solid-state drives. Ideal for data recoveries, imaging or backups, it lets you access four drives at once, instead of connecting your drives one by one. Versatile connection options with fast data transfers You can connect the docking station through either eSATA or USB. For fast performance and efficient data transfers when connected through eSATA, the docking station supports full SATA III transfer speeds - up to 6Gbps. For universal compatibility, the dock can be connected through USB 3.0 with transfer speeds up 5Gbps, plus it supports UASP for enhanced performance. Easy drive management and wide compatibility For IT technicians or business professionals who need to check files or test different drives, the dock lets you hot-swap your drives in and out as needed. Its top-loading, toaster-style design with drive ejection buttons make the dock easy to use while two silent cooling fans help to dissipate heat to maintain an optimum operating temperature. With support for SATA I, II and III high-capacity drives (tested up to 6TB), this docking station is compatible with virtually any 2.5- and 3.5- SATA SSD or HDD drive. Hassle-free setup The quad-bay dock is OS independent, which ensures a quick and easy setup. It also features a compact design and small footprint that makes it easy to tuck into your workspace. The SDOCK4U33E is backed by a StarTech.com 2-year warranty and free lifetime technical support.
Specs
| | |
| --- | --- |
| Storage media type | HDD,SSD |
| Storage drive interface | Serial ATA,Serial ATA II,Serial ATA III |
| Storage drive sizes supported | 2.5,3.5" |
| Number of storage drives supported | 4 |
| Maximum storage capacity | 6 TB |
| Host interface | USB 3.2 Gen 1 (3.1 Gen 1) Type-B + eSATA |
| DC-in jack | Y |
| Product colour | Black |
| Material | Plastic |
| Hot-swap | Y |
| Plug and Play | Y |
| LED indicators | Activity,Power |
| Mean time between failures (MTBF) | 30000 h |
| UASP support | Y |
| Data transfer rate | 5000 Mbit/s |
| Chipset | JMicron - JMS567, JMicron - JBM575 |
| RoHS compliance | Y |
| Certification | CE, FCC |
| Built-in fan | Y |
| Number of fans | 2 fan(s) |
| Fan diameter | 6 cm |
| AC input voltage | 100-240 V |
| Input current | 2 A |
| Output voltage | 12 V |
| Output current | 6.5 A |
| Width | 171.2 mm |
| Depth | 290.5 mm |
| Height | 87.3 mm |
| Weight | 1.03 kg |
| AC adapter included | Y |
| Cables included | AC,USB,eSATA |
| Quick installation guide | Y |
| Operating temperature (T-T) | 5 - 35 -C |
| Storage temperature (T-T) | -20 - 50 -C |
| Operating relative humidity (H-H) | 20 - 80% |
| Package dimensions (WxDxH) | 168 x 340 x 213 mm |
| Package width | 215 mm |
| Package depth | 343 mm |
| Package height | 170 mm |
| Package weight | 2.4 kg |
Lifetime Hits: 51 Doolz ID: 85284 Price is subject to change without notice. Price and Stock last updated 22 September 2020