StarTech.com Rugged Hard Drive Enclosure - USB 3.0 to 2.5in SATA 6Gbps HDD or SSD - UASP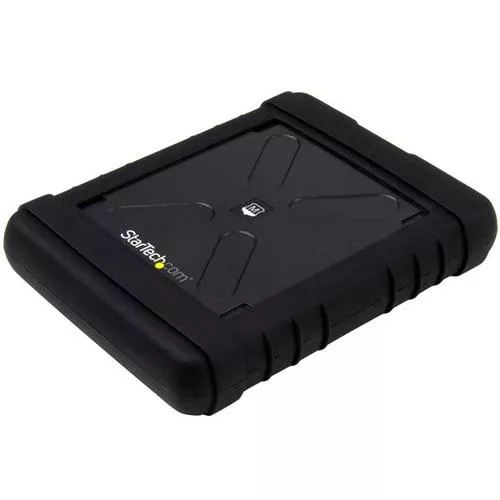 Manufacturer: STARTECH
Category: Storage Drive Enclosures
Short Description: StarTech.com Rugged Hard Drive Enclosure - USB 3.0 to 2.5in SATA 6Gbps HDD or SSD - UASP, HDD/SSD enclosure, 2.5", Serial ATA, 5 Gbit/s, Hot-swap, Black
Get it now
Rugged 2.5in Hard Drive Enclosure
Our Price: NZ$77.57 inc GST
Stock at this price: 13
Ships from: Manukau, Auckland
Price & stock last updated: 2021-01-24 07:02:01
We have 1 supplier for this product
For pickups, choose the closest location to you. Otherwise, choose the cheapest or one that is in stock
Supplier 1
Product Name: Rugged 2.5in Hard Drive Enclosure
Price 1: NZ$77.57 inc GST
Stock: 13
Available at: Manukau, Auckland
Price & stock last updated: 2021-01-24 07:02:01
+Price History:
| Date: | Price: |
| --- | --- |
| 2019-06-11 | NZ$60.91 |
| 2019-08-26 | NZ$65.27 |
| 2019-08-27 | NZ$60.91 |
| 2020-01-17 | NZ$62.91 |
| 2020-01-29 | NZ$60.91 |
| 2020-01-30 | NZ$60.05 |
| 2020-02-01 | NZ$59.76 |
| 2020-04-23 | NZ$84.81 |
| 2020-07-02 | NZ$77.57 |
Doolz ID:
85269
Every effort is made to ensure the image(s) and/or product details are correct, but we cannot guarantee that they are. You should always check with us FIRST if you have specific requirements.
Info
StarTech.com 2.5" USB 3.0 Hard Drive Enclosure - Rugged - Supports UASP - Tool-Less - IP54 - SSD USB External HDD Enclsoure
StarTech.com Rugged Hard Drive Enclosure - USB 3.0 to 2.5in SATA 6Gbps HDD or SSD - UASP. Product type: HDD/SSD enclosure. Number of storage drives supported: 1, Storage drive size: 2.5", Supported storage drive interfaces: Serial ATA, Maximum storage capacity: 2 TB. Data transfer rate: 5 Gbit/s. Hot-swap. Product colour: Black. USB connector type: Micro-USB B
Key Features
Rugged Hard Drive Enclosure - USB 3.0 to 2.5in SATA 6Gbps HDD or SSD - UASP

This rugged drive enclosure redefines data protection for on-the-go professionals. The military-grade construction protects your sensitive data from harsh field conditions. It makes sure you-re equipped for unexpected challenges with a ruggedized water, dust, vibration and shock resistant enclosure.

Industry recognized protection against water and dust, with an IP54 rating

Keep your data safe and secure even through sudden downpours or dust storms. The robust enclosure provides superior water and dust resistance with an IP54 rating.

Drop tested for 4 meters (13 feet)

The rugged drive enclosure is enveloped in a silicone protective sleeve, and engineered to help protect your drive from accidental and unexpected shock, vibrations, and drops. It-s Military MIL-STD-810G rated and test-proven to withstand drops of up to 4 meters (13 feet). It was drop tested using a solid-state drive in the enclosure.

Data protection inside and out

Wherever you go, the rugged drive enclosure delivers reliable data protection, inside and out. The tough-wearing exterior casing provides shock-resistance, while the flexible silicone sleeve hugs the entire perimeter to ensure an extra measure of protection, absorbing the impact of accidental bumps, rough baggage handling or drops. Inside, an extra layer of silicone provides added drive stability.

Install your drive with ease, with a tool-less design

It-s easy to turn your 2.5in SATA III (6Gbps) solid-state drive or hard drive into external storage. Simply remove the silicone sleeve, open the latch to insert your 2.5" drive into the rugged enclosure, and plug the included USB cable into the computer or hub USB port. There are no screws or tools needed.
Description
Gear up for the field with portable hard drive protection

This rugged drive enclosure redefines data protection for on-the-go professionals. The military-grade construction protects your sensitive data from harsh field conditions. It makes sure you-re equipped for unexpected challenges with a ruggedized water, dust, vibration and shock resistant enclosure.

Industry recognized protection against water and dust, with an IP54 rating

Keep your data safe and secure even through sudden downpours or dust storms. The robust enclosure provides superior water and dust resistance with an IP54 rating.

Drop tested for 4 meters (13 feet)

The rugged drive enclosure is enveloped in a silicone protective sleeve, and engineered to help protect your drive from accidental and unexpected shock, vibrations, and drops. It-s Military MIL-STD-810G rated and test-proven to withstand drops of up to 4 meters (13 feet). It was drop tested using a solid-state drive in the enclosure.

Data protection inside and out

Wherever you go, the rugged drive enclosure delivers reliable data protection, inside and out. The tough-wearing exterior casing provides shock-resistance, while the flexible silicone sleeve hugs the entire perimeter to ensure an extra measure of protection, absorbing the impact of accidental bumps, rough baggage handling or drops. Inside, an extra layer of silicone provides added drive stability.

Install your drive with ease, with a tool-less design

It-s easy to turn your 2.5in SATA III (6Gbps) solid-state drive or hard drive into external storage. Simply remove the silicone sleeve, open the latch to insert your 2.5" drive into the rugged enclosure, and plug the included USB cable into the computer or hub USB port. There are no screws or tools needed.

70% faster than traditional USB 3.0, with UASP

Save time in the field, by storing and transferring content quickly. Enhanced with UASP (USB Attached SCSI Protocol), this rugged drive enclosure performs with a 70% faster read speed and 40% faster write speed over conventional USB 3.0, when paired with a UASP-enabled host controller.

UASP is supported in Windows 8, Mac OSX (10.8 or above), and Linux. In testing UASP performs with a 70% faster read speed and 40% faster write speed over traditional USB 3.0 at peak performance.

At the same peak in testing UASP also shows an 80% reduction in required processor resources.

Testing results were obtained using an Intel Ivy Bridge system, a UASP enabled StarTech.com enclosure, and a SATA III (6Gbps) solid state drive.

The S251BRU33 is backed by a StarTech.com 2-year warranty and free lifetime technical support.

The StarTech.com Advantage

- Protect your data even in the toughest field conditions
- Military Rated (MIL-STD-810G) drive enclosure provides exceptional shock resistance
- Outstanding water and dust resistance with IP-54 rating
Specs
| | |
| --- | --- |
| Storage drive size | 2.5" |
| Supported storage drive interfaces | Serial ATA |
| Number of storage drives supported | 1 |
| Supported storage drive heights | 7,9.5 mm |
| Hot-swap | Y |
| Maximum storage capacity | 2 TB |
| USB connectivity | Y |
| USB version | 3.2 Gen 1 (3.1 Gen 1) |
| USB connector type | Micro-USB B |
| USB connector gender | Female |
| USB ports quantity | 1 |
| Product type | HDD/SSD enclosure |
| Product colour | Black |
| LED indicators | Y |
| International Protection (IP) code | IP54 |
| RoHS compliance | Y |
| Certification | CE, FCC, REACH |
| Compliance industry standards | MIL-STD-810G, Method 503.5, MIL-STD-810G, Method 514.6, MIL-STD-810G, Method 516.6, MIL-STD-810G, Method 507.5, MIL-STD-810G, Method 509.5, MIL-STD-810G, Method 510.5, MIL-STD-810G, Method 508.6 |
| Data transfer rate | 5 Gbit/s |
| Chipset | ASMedia - ASM1153E |
| UASP support | Y |
| Plug and Play | Y |
| Power source type | USB |
| Operating temperature (T-T) | -40 - 85 -C |
| Storage temperature (T-T) | -40 - 85 -C |
| Operating relative humidity (H-H) | 20 - 95% |
| Width | 112 mm |
| Depth | 143 mm |
| Height | 29 mm |
| Weight | 265 g |
| Package width | 139 mm |
| Package depth | 183 mm |
| Package height | 57 mm |
| Package weight | 402 g |
| Cables included | USB |
| Manual | Y |
Other Multimedia
Some of these may not exist; we do not manage these files
Lifetime Hits: 46 Doolz ID: 85269 Price is subject to change without notice. Price and Stock last updated 24 January 2021