StarTech.com Solid Blank Panel with Hinge for Server Racks - 6U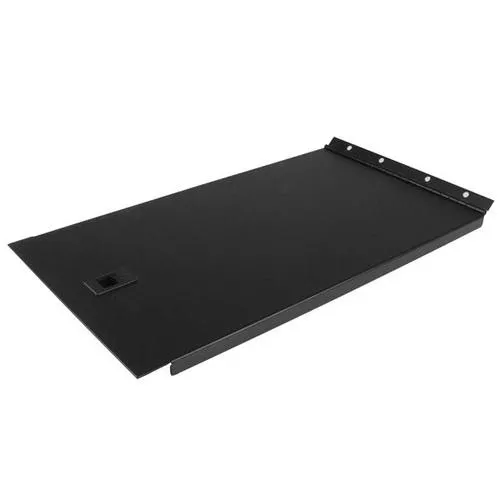 Manufacturer: STARTECH
Category: Rack Accessories
Short Description: StarTech.com Solid Blank Panel with Hinge for Server Racks - 6U, Filler panel, Black, Steel, 6U, CE, 265 mm
We have 1 supplier for this product
Supplier 1
Product Name: 6U Solid Blank Panel with Hinge
Price 1: NZ$75.74 inc GST
Stock: 17
Ships from: Manukau, Auckland
Price & stock last updated: 2020-09-21 03:06:49
+Price History:
| Date: | Price: |
| --- | --- |
| 2019-06-11 | NZ$58.09 |
| 2019-08-26 | NZ$62.25 |
| 2019-08-27 | NZ$58.09 |
| 2020-01-17 | NZ$60.00 |
| 2020-01-29 | NZ$58.09 |
| 2020-01-30 | NZ$57.27 |
| 2020-02-01 | NZ$57.00 |
| 2020-04-23 | NZ$75.74 |
Doolz ID:
85147
Every effort is made to ensure the image(s) and/or product details are correct, but we cannot guarantee that they are. You should always check with us FIRST if you have specific requirements.
Info
StarTech.com 6U Solid Blank Panel with Hinge - Server Rack Filler Panel
StarTech.com Solid Blank Panel with Hinge for Server Racks - 6U. Type: Filler panel, Product colour: Black, Housing material: Steel. Width: 265 mm, Depth: 465 mm, Height: 15 mm. Package width: 286 mm, Package depth: 535 mm, Package height: 38 mm
Description
You can improve the appearance and airflow of any standard 19-inch server rack, while maintaining easy access, using this 6U blanking panel. This TAA compliant product adheres to the requirements of the US Federal Trade Agreements Act (TAA), allowing government GSA Schedule purchases. Professional look The hinged blanking panel creates a clean and professional look by covering empty space and visible cables. Adding blanking panels to your server racks offers a tidier appearance for a more organized server room. Easy access to your rack-mounted equipment The blanking panel features a hinged design that enables you to open the panel for fast and easy server access. You can quickly open the panel, make your required adjustments and when you're finished, simply close the panel to restore the professional appearance and order of your server room. The panel is reversible, so you can install it on the left or the right side of your rack. Plus, the panel includes the screws and nuts you will need to install it in your server rack, to ensure a quick and easy installation. Improve airflow The blanking panel features a solid design that helps guide airflow down the back of your rack, rather than between occupied spaces. Improved airflow helps ensure your rack-mounted equipment is running at an optimal temperature. The RKPNLHS6U is backed by a 2-year StarTech.com warranty and free lifetime technical support.
Specs
| | |
| --- | --- |
| Type | Filler panel |
| Product colour | Black |
| Housing material | Steel |
| Rack capacity | 6U |
| RoHS compliance | Y |
| Certification | CE |
| Width | 265 mm |
| Depth | 465 mm |
| Height | 15 mm |
| Weight | 1.46 kg |
| Package width | 286 mm |
| Package depth | 535 mm |
| Package height | 38 mm |
| Package weight | 1.72 kg |
| Screws included | Y |
Other Multimedia
Some of these may not exist; we do not manage these files
Lifetime Hits: 27 Doolz ID: 85147 Price is subject to change without notice. Price and Stock last updated 21 September 2020