StarTech.com 8U Desktop Rack - 2-Post Open Frame Rack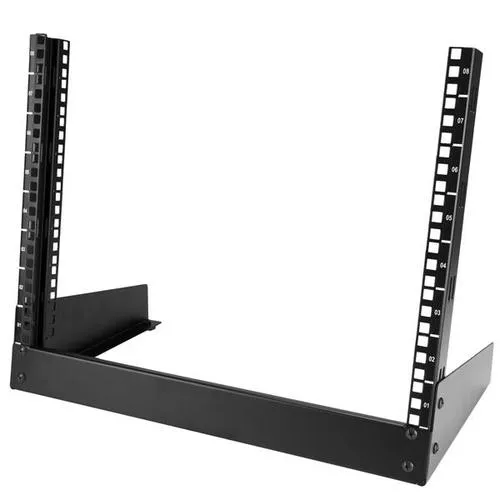 Product Code: RK8OD
Manufacturer: STARTECH
Category: Rack Cabinets
Short Description: StarTech.com 8U Desktop Rack - 2-Post Open Frame Rack, 8U, Freestanding rack, 50 kg, Black, Steel, Open
We have 1 supplier for this product
Supplier 1
Product Name: 8U DESKTOP RACK - 2-POST OPEN FRAME RACK
Price 1: NZ$87.44 inc GST
Stock: 6
Ships from: Manukau, Auckland
Price & stock last updated: 2020-09-23 05:01:49
+Price History:
| Date: | Price: |
| --- | --- |
| 2019-06-11 | NZ$73.31 |
| 2019-08-26 | NZ$74.62 |
| 2019-08-27 | NZ$73.31 |
| 2020-01-17 | NZ$75.72 |
| 2020-01-29 | NZ$73.31 |
| 2020-01-30 | NZ$72.28 |
| 2020-02-01 | NZ$71.94 |
| 2020-04-23 | NZ$95.60 |
| 2020-07-02 | NZ$87.44 |
Doolz ID:
85215
Every effort is made to ensure the image(s) and/or product details are correct, but we cannot guarantee that they are. You should always check with us FIRST if you have specific requirements.
Info
StarTech.com 8U Open Frame Rack - Steel - 2 Post Free Standing Desktop Server Room Rack for Computer / AV / Media & IT Equipment (RK8OD)
StarTech.com 8U Desktop Rack - 2-Post Open Frame Rack. Rack capacity: 8U, Type: Freestanding rack, Maximum weight capacity: 50 kg. Width: 503 mm, Depth: 298 mm, Height: 415 mm. Package width: 112 mm, Package depth: 550 mm, Package height: 81 mm. Compliance industry standards: EIA RS310-C
Description
This 2-post desktop rack provides 8U of storage space for mounting smaller A/V and IT equipment. Save money with a low-cost mounting solution With this 2-post rack, you can mount equipment at a fraction of the cost of conventional racks. The lightweight rack is engineered to meet EIA-310 rack-mount standards and is constructed of solid steel, ensuring a sturdy and safe mounting solution for your mission-critical equipment. Improve efficiency and accessibility in your office or server room The rack features an open frame, free standing design that saves space with a small footprint. It gives you the ability to place rack-mount equipment on any surface in your office, such as your desk. This makes it easy to access your equipment on a daily basis. Hassle-free setup The 2-post rack is easy to assemble and includes a pack of 20 M5 screws and cage nuts. If you're looking for a desktop mounting solution with more rack units, StarTech.com also offers a 12U 2-post desktop rack. The RK8OD is backed by a StarTech.com lifetime warranty and free technical support.
Specs
| | |
| --- | --- |
| Rack capacity | 8U |
| Type | Freestanding rack |
| Maximum weight capacity | 50 kg |
| Product colour | Black |
| Material | Steel |
| Frame type | Open |
| Design | 2-post |
| Castor wheels | N |
| Width | 503 mm |
| Depth | 298 mm |
| Height | 415 mm |
| Weight | 3.1 kg |
| Mounting kit | Y |
| Manual | Y |
| Package width | 112 mm |
| Package depth | 550 mm |
| Package height | 81 mm |
| Package weight | 2.63 kg |
| Compliance industry standards | EIA RS310-C |
Other Multimedia
Some of these may not exist; we do not manage these files
Lifetime Hits: 33 Doolz ID: 85215 Price is subject to change without notice. Price and Stock last updated 23 September 2020