QNAP REXP-1620U-RP disk array Rack (3U) Black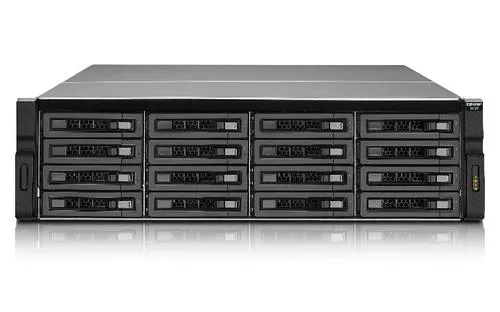 Manufacturer: QNAP
Category: Disk Arrays
Short Description: QNAP REXP-1620U-RP, HDD,SSD, 1216 TB, SAS,Serial ATA,Serial ATA II,Serial ATA III, SATA, Rack (3U), Black
Get it now
QNAP REXP-1620U-RP, 16 BAY SAS 12G EXPANSION, ENTERPRISE MODELS, NO RAIL KIT, 3YR WTY
Our Price: NZ$6,640.45 inc GST
Stock at this price: Out of stock!
No ETA available
Ships from: Mount Wellington, Auckland
Log in to use Stock Alerts
Price & stock last updated: 2022-08-08 06:00:27
We have 1 supplier for this product
For pickups, choose the closest location to you. Otherwise, choose the cheapest or one that is in stock
Supplier 1
Product Name: QNAP REXP-1620U-RP, 16 BAY SAS 12G EXPANSION, ENTERPRISE MODELS, NO RAIL KIT, 3YR WTY
Price 1: NZ$6,640.45 inc GST
Stock: Out of stock!
No ETA available
Available at: Mount Wellington, Auckland
Log in to use Stock Alerts
Price & stock last updated: 2022-08-08 06:00:27
+Price History:
| Date: | Price: |
| --- | --- |
| 2019-06-11 | NZ$6.12 |
| 2019-06-12 | NZ$6,155.14 |
| 2020-01-17 | NZ$6,357.42 |
| 2020-01-29 | NZ$6,155.14 |
| 2020-01-30 | NZ$6,068.45 |
| 2020-02-01 | NZ$6,039.55 |
| 2020-03-04 | NZ$6,280.48 |
| 2020-04-24 | NZ$7,478.53 |
| 2020-07-10 | NZ$6,464.58 |
| 2021-06-19 | NZ$6,464.58 |
Doolz ID:
208402
Every effort is made to ensure the image(s) and/or product details are correct, but we cannot guarantee that they are. You should always check with us FIRST if you have specific requirements.
Info
16x 3.5"/2.5", SAS/SATA, HDD/SSD, 4x SAS 12Gbp/s, 3U, 650W, ATX Power Supply, 18.14kg
QNAP REXP-1620U-RP. Supported storage drive types: HDD,SSD, Maximum supported storage capacity: 1216 TB, Supported storage drive interfaces: SAS,Serial ATA,Serial ATA II,Serial ATA III. Serial interface type: SATA. Chassis type: Rack (3U), Product colour: Black, LED indicators: Fan fail,HDD,LAN,Status,System. Device class: Large Enterprise Business. Power supply unit (PSU) capacity: 650 W, Power consumption (typical): 204.4 W, AC input voltage: 90-240 V
Description
Simple & flexible storage expansion for QNAP NAS The REXP-1620U-RP expansion enclosure is designed for expanding the storage space on a QNAP NAS* by connecting multiple expansion enclosures via high-speed mini SAS cables. Featuring a 12 Gbps SAS interface on the chassis, the REXP-1620U-RP ensures fast data passthrough from 12 Gbps SAS-enabled QNAP NAS even when using 6Gbps hard drives. This is especially useful for large data applications that require high performance interconnection, such as video surveillance, archiving large data, and TV broadcast storage. Plug and use, seamless capacity expansion Simply connect a REXP-1620U-RP to a QNAP NAS* and power it on. The QNAP NAS will detect the hard drives in the REXP-1620U-RP as newly-installed local drives. You can seamlessly expand and manage the NAS capacity by using the powerful QTS Storage Manager. Missing mode protection When the disconnection of a RAID expansion enclosure is detected, the NAS blocks IO access to protect data. The system can recover from missing mode to its normal state with the data staying intact. High density, high efficiency and highly scalable The REXP-1620U-RP supports 16 hard drives and 128TB raw capacity in 3U rack space. The REXP-1620U-RP has two SAS wide ports (IN port and OUT port) for host connectivity and daisy-chaining respectively. Each SAS wide port combines four SAS channels (maximum 8 SAS channels supported per expansion enclosure), with each supporting 12Gbps full duplex speed. The solution delivers unprecedented performance of up to 48Gbps per host connection. Powerful QTS Storage Manager The QTS Storage Manager neatly presents tools and options for managing system storage with an intuitive graphical user interface, which simplifies the process of NAS capacity expansion and REXP-1620U-RP management. IT administrators can easily monitor the health of the REXP-1620U-RP and the disks within it. When cascading multiple expansion enclosures in a rack, the Locate Disk and Locate Enclosure functions assist IT administrators in quick maintenance. An excellent backup solution for the QNAP NAS In addition to expanding an existing volume, IT administrators can use the REXP-1620U-RP as a budget-friendly external storage to perform speedy and secure backup tasks for a QNAP NAS. The QNAP RTRR (Real-Time Remote Replication) or rsync service lets IT administrators back up NAS data to the REXP-1620U-RP on a real time or scheduled basis. Flexible drive type and capacity The REXP-1620U-RP offers high flexibility in hard drive selection. IT administrators can choose enterprise-level SAS HDDs with high performance and high reliability for mission-critical applications, low-cost but high-capacity SATA HDDs for large data archiving, or high-speed and high-stability SSDs for I/O-intensive operations.
Specs
| | |
| --- | --- |
| Storage drives installed | N |
| Installed storage drive type | N |
| Supported storage drive types | HDD,SSD |
| Number of storage drives supported | 16 |
| Maximum supported storage capacity | 1216 TB |
| Supported storage drive interfaces | SAS,Serial ATA,Serial ATA II,Serial ATA III |
| RAID levels | 0,1,5,6 |
| USB connectivity | N |
| Host ports | 4 |
| Serial interface type | SATA |
| SAS host port | Y |
| Chassis type | Rack (3U) |
| Product colour | Black |
| LED indicators | Fan fail,HDD,LAN,Status,System |
| Number of fans | 3 fan(s) |
| Noise level | 36.7 dB |
| Device class | Large Enterprise Business |
| Power supply unit (PSU) capacity | 650 W |
| Number of power supply units | 1 |
| Redundant power supply (RPS) support | Y |
| Power consumption (typical) | 204.4 W |
| AC input voltage | 90-240 V |
| AC input frequency | 50 - 60 Hz |
| Width | 442.4 mm |
| Depth | 528.3 mm |
| Height | 130 mm |
| Weight | 18.1 kg |
| Package weight | 25.9 kg |
| Cables included | AC,SAS |
| Operating temperature (T-T) | 0 - 40 -C |
| Operating relative humidity (H-H) | 5 - 95% |
Other Multimedia
Some of these may not exist; we do not manage these files
Lifetime Hits: 42 Doolz ID: 208402 Price is subject to change without notice. Price and Stock last updated 08 August 2022