StarTech.com 4-Port Gigabit Midspan - PoE+ Injector - 802.3at/af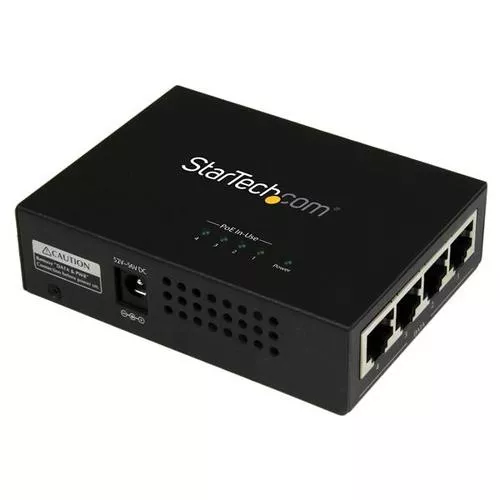 Manufacturer: STARTECH
Category: Network Extenders
Short Description: StarTech.com 4-Port Gigabit Midspan - PoE+ Injector - 802.3at/af, Network transmitter, 100 m, 2000 Mbit/s, Full, 50000 h, 10/100/1000Base-T(X)
We have 1 supplier for this product
Supplier 1
Product Name: 4 Port Gigabit Midspan - PoE+ Injector
Price 1: NZ$272.48 inc GST
Stock: 8
Ships from: Manukau, Auckland
Price & stock last updated: 2020-09-20 05:01:45
+Price History:
| Date: | Price: |
| --- | --- |
| 2019-06-11 | NZ$208.99 |
| 2019-08-26 | NZ$253.77 |
| 2019-08-27 | NZ$208.99 |
| 2020-01-17 | NZ$215.86 |
| 2020-01-29 | NZ$208.99 |
| 2020-01-30 | NZ$206.05 |
| 2020-02-01 | NZ$205.07 |
| 2020-04-23 | NZ$272.48 |
Doolz ID:
85381
Every effort is made to ensure the image(s) and/or product details are correct, but we cannot guarantee that they are. You should always check with us FIRST if you have specific requirements.
Info
StarTech.com 4 Port Gigabit Midspan - PoE+ Injector - 802.3at and 802.3af - Wall-mountable Power over Ethernet Midspan
StarTech.com 4-Port Gigabit Midspan - PoE+ Injector - 802.3at/af. Type: Network transmitter, Maximum transfer distance: 100 m, Data transfer rate: 2000 Mbit/s. Cabling technology: 10/100/1000Base-T(X), Networking standards: IEEE 802.3,IEEE 802.3ab,IEEE 802.3af,IEEE 802.3at,IEEE 802.3u. Product colour: Black, Housing material: Steel, LED indicators: PoE,Power. AC input voltage: 100-240 V, Power consumption (max): 120 W, Output voltage: 52 V. Width: 70 mm, Depth: 94 mm, Height: 26 mm
Description
This Gigabit midspan PoE+ injector is a cost-effective alternative to upgrading your existing network switch to a PoE-capable model. It supplies up to 30 Watts output to each port, so you can easily power and access up to four high-power PoE-compliant devices - such as IP cameras - using standard Ethernet cable. More power, with less cost and hassle This versatile midspan PoE+ injector is suited for almost all PoE device classes, including wireless access points, as well as IP phones and cameras. The high-power PoE+ injector offers 120W total power distribution and delivers full power - up to 30.8W - from each port. Now, you can easily scale and power your PoE+ devices across long distances, even in remote locations where a typical power outlet is unavailable. Plus, the cost-effective Power over Ethernet+ injector lets you connect your PoE-powered devices (PDs) to a non-PoE-capable switch, avoiding the expense and aggravation of upgrading your existing switch to a PoE-enabled model. Easy to set up in mixed environments This injector is the perfect solution for a variety of environments. It features a wall-mountable rugged metal casing, but is palm-sized making it perfect for desktop placement too. With plug-and-play operation, you can enjoy fast and hassle-free setup without disrupting your workflow. Convenient, protected connections Not sure which class your PoE devices are? The Gigabit midspan PoE+ injector automatically detects the power requirements of your PoE PDs, and delivers the appropriate level of power without damaging your devices. With integrated circuit protection between each port, your devices are also protected from power interference. The POEINJ4G is backed by a StarTech.com 2-year warranty and free lifetime technical support.
Specs
| | |
| --- | --- |
| Type | Network transmitter |
| Maximum transfer distance | 100 m |
| Data transfer rate | 2000 Mbit/s |
| Auto MDIX IEEE | Y |
| Auto-negotiation | Y |
| Duplex system | Full |
| Plug and Play | Y |
| Mean time between failures (MTBF) | 50000 h |
| Cabling technology | 10/100/1000Base-T(X) |
| Networking standards | IEEE 802.3,IEEE 802.3ab,IEEE 802.3af,IEEE 802.3at,IEEE 802.3u |
| Ethernet LAN (RJ-45) ports | 8 |
| Power over Ethernet (PoE) ports quantity | 4 |
| DC-in jack | Y |
| Product colour | Black |
| Housing material | Steel |
| LED indicators | PoE,Power |
| RoHS compliance | Y |
| Certification | CE, FCC |
| AC input voltage | 100-240 V |
| Power consumption (max) | 120 W |
| Output voltage | 52 V |
| Output current | 2.31 A |
| Power over Ethernet (PoE) | Y |
| Power plug type | Type M |
| Operating temperature (T-T) | 0 - 50 -C |
| Storage temperature (T-T) | -10 - 70 -C |
| Operating relative humidity (H-H) | 5 - 95% |
| Width | 70 mm |
| Depth | 94 mm |
| Height | 26 mm |
| Weight | 204 g |
| Cables included | AC |
| Manual | Y |
| AC adapter included | Y |
| Package width | 180 mm |
| Package depth | 305 mm |
| Package height | 90 mm |
| Package weight | 1.63 kg |
Lifetime Hits: 103 Doolz ID: 85381 Price is subject to change without notice. Price and Stock last updated 20 September 2020