StarTech.com 2-Port Gigabit PoE+ Extender - 802.3at and 802.3af - 100 m (330 ft)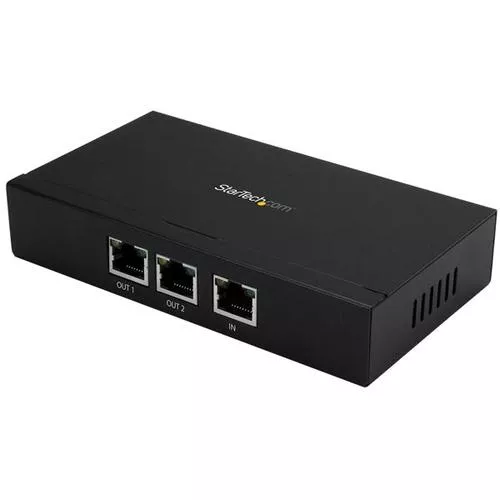 Manufacturer: STARTECH
Category: Network Extenders
Short Description: StarTech.com 2-Port Gigabit PoE+ Extender - 802.3at and 802.3af - 100 m (330 ft), Network transmitter, 100 m, 2000 Mbit/s, Full,Half, 50000 h, 10/100/1000Base-T(X)
We have 1 supplier for this product
Supplier 1
Product Name: 2 PORT GIGABIT POE+ EXTENDER 802.3AT/AF
Price 1: NZ$259.51 inc GST
Stock: 8
Ships from: Manukau, Auckland
Price & stock last updated: 2020-09-27 05:01:50
+Price History:
| Date: | Price: |
| --- | --- |
| 2019-06-11 | NZ$199.05 |
| 2019-08-26 | NZ$241.69 |
| 2019-08-27 | NZ$199.05 |
| 2020-01-17 | NZ$205.59 |
| 2020-01-29 | NZ$199.05 |
| 2020-01-30 | NZ$196.24 |
| 2020-02-01 | NZ$195.31 |
| 2020-04-23 | NZ$259.51 |
Doolz ID:
85391
Every effort is made to ensure the image(s) and/or product details are correct, but we cannot guarantee that they are. You should always check with us FIRST if you have specific requirements.
Info
StarTech.com 2 Port Gigabit PoE+ Extender 802.3at & 802.3af - 100m (330ft) - Power over Ethernet Extender - PoE Repeater Network Extender
StarTech.com 2-Port Gigabit PoE+ Extender - 802.3at and 802.3af - 100 m (330 ft). Type: Network transmitter, Maximum transfer distance: 100 m, Data transfer rate: 2000 Mbit/s. Cabling technology: 10/100/1000Base-T(X), Networking standards: IEEE 802.3,IEEE 802.3ab,IEEE 802.3af,IEEE 802.3at,IEEE 802.3u. Product colour: Black, Housing material: Steel, LED indicators: Activity,Link,PoE. Power consumption (max): 3 W, Output voltage: 56 V. Width: 77 mm, Depth: 140 mm, Height: 27 mm
Description
This 2-port Gigabit PoE+ extender spans your Power over Ethernet (PoE) devices over longer distances, letting you double the 100 m limitation of a traditional PoE infrastructure. Now you can connect two Gigabit PoE devices up to a maximum of 200 m away, so it-s easy to install a remote IP camera or access point where you need it. Plus, you can daisy-chain the extender for more scalability. Unrestricted PoE+ range and convenience Need more distance? This convenient two-port PoE+ repeater maximizes range and flexibility by extending your PoE connections by an extra 100 m (330 ft.), while providing 23-watt power output to two compatible devices. (The power output is shared between each PoE output port). Simply connect the extender to your power sourcing equipment (PSE) and your PoE-powered devices (PD) and you-re all set. The extender is compliant with the 802.3at/af standard, so it will work with existing PSE, such as a StarTech.com PoE+ injector (POEINJ1G) or PoE+ switch (IES81000POE). Daisy chain for longer distance and more flexibility Still need more distance? If an extra 100 m isn-t enough, this full-featured PoE extender offers daisy-chain capability. You can easily connect four extenders together, letting you install two PoE+ PDs up to 500 m (1640 ft.) away. It-s perfect for business, education, and retail environments. (Output wattage is dependent on the number of daisy-chained extenders used, and the number of connected PoE devices). Convenient installation options and durable construction Get up and running quickly. This 2-port Gigabit PoE+ extender can be positioned right where you need it, with a wall-mountable design that requires no external power adapter. With its rugged metal housing and built-in ESD and surge protection, the PoE+ extender gives you reliable performance with little worry of downtime or failure. The POEEXT2GAT is backed by a StarTech.com 2-year warranty and free lifetime technical support.
Specs
| | |
| --- | --- |
| Type | Network transmitter |
| Maximum transfer distance | 100 m |
| Data transfer rate | 2000 Mbit/s |
| Auto MDIX IEEE | Y |
| Jumbo frames support | N |
| Auto-negotiation | Y |
| Duplex system | Full,Half |
| Flow control support | Y |
| Plug and Play | Y |
| Mean time between failures (MTBF) | 50000 h |
| Cabling technology | 10/100/1000Base-T(X) |
| Networking standards | IEEE 802.3,IEEE 802.3ab,IEEE 802.3af,IEEE 802.3at,IEEE 802.3u |
| RJ-45 ports quantity (transmitter) | 2 |
| RJ-45 ports quantity (receiver) | 1 |
| Product colour | Black |
| Housing material | Steel |
| LED indicators | Activity,Link,PoE |
| RoHS compliance | Y |
| Certification | CE, FCC |
| Power consumption (max) | 3 W |
| Output voltage | 56 V |
| Power over Ethernet (PoE) | Y |
| Operating temperature (T-T) | 0 - 50 -C |
| Storage temperature (T-T) | -10 - 70 -C |
| Operating relative humidity (H-H) | 5 - 90% |
| Width | 77 mm |
| Depth | 140 mm |
| Height | 27 mm |
| Weight | 239 g |
| Quick start guide | Y |
| Package width | 123 mm |
| Package depth | 169 mm |
| Package height | 99 mm |
| Package weight | 367 g |
Other Multimedia
Some of these may not exist; we do not manage these files
Lifetime Hits: 161 Doolz ID: 85391 Price is subject to change without notice. Price and Stock last updated 27 September 2020