StarTech.com 10/100Mbps Ethernet to USB 2.0 Network LPR Print Server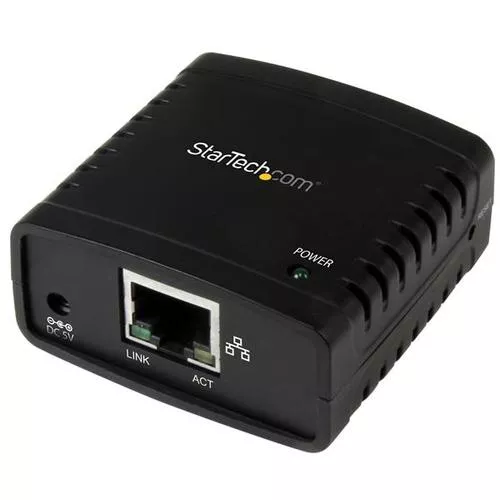 Manufacturer: STARTECH
Category: Print Servers
Short Description: StarTech.com 10/100Mbps Ethernet to USB 2.0 Network LPR Print Server, Black, Activity,Link,Power, Ethernet LAN, IEEE 802.3,IEEE 802.3u, 10,100 Mbit/s, 10BASE-T,100BASE-TX
Get it now
10/100Mbps USB LPR Print Server
Our Price: NZ$75.33 inc GST
Stock at this price: Out of stock!
ETA is the 26th February 2021
Ships from: Manukau, Auckland
Log in to use Stock Alerts
Price & stock last updated: 2021-01-26 07:02:19
We have 1 supplier for this product
For pickups, choose the closest location to you. Otherwise, choose the cheapest or one that is in stock
Supplier 1
Product Name: 10/100Mbps USB LPR Print Server
Price 1: NZ$75.33 inc GST
Stock: Out of stock!
ETA is the 26th February 2021
Available at: Manukau, Auckland
Log in to use Stock Alerts
Price & stock last updated: 2021-01-26 07:02:19
+Price History:
| Date: | Price: |
| --- | --- |
| 2019-06-11 | NZ$63.16 |
| 2019-08-26 | NZ$67.68 |
| 2019-08-27 | NZ$63.16 |
| 2020-01-17 | NZ$65.24 |
| 2020-01-29 | NZ$63.16 |
| 2020-01-30 | NZ$62.27 |
| 2020-02-01 | NZ$61.97 |
| 2020-04-23 | NZ$82.36 |
| 2020-10-02 | NZ$75.33 |
Doolz ID:
86855
Every effort is made to ensure the image(s) and/or product details are correct, but we cannot guarantee that they are. You should always check with us FIRST if you have specific requirements.
Info
StarTech.com 10/100Mbps Ethernet to USB 2.0 Network Print Server - Windows 10 - LPR - LAN USB Print Server Adapter (PM1115U2)
StarTech.com 10/100Mbps Ethernet to USB 2.0 Network LPR Print Server. Product colour: Black, LED indicators: Activity,Link,Power. Network connection type: Ethernet LAN, Networking standards: IEEE 802.3,IEEE 802.3u, Ethernet LAN data rates: 10,100 Mbit/s. Supported network protocols: LPR. Input current: 0.3 A. Certification: CE, FCC
Description
This palm-sized print server makes it easy to share a USB printer with users on your network. It-s the ideal solution for home or small office networks. Reliable, cost-efficient network printing Enjoy cost-efficient network printing for multiple users. The USB 10/100 Mbps print server lets you share one USB printer with multiple users on your network, instead of having to buy separate printers for each individual workstation. Place your shared printer in a convenient location With web-based management, you can set up and monitor the printer server through a web browser, so you can place your printer at any convenient shared location - there-s no need to put your printer next to your computer. You can send print jobs to another user in your home or office, or even to a printer in another country. Easy to use and install Compact and lightweight, the print server is easy to install with its straightforward installation wizards and remote web-based management. You simply use a USB cable to connect the print server to your printer-s USB port, then use an RJ45 networking cable to connect it to the rest of your network. Supports LPR network printing and Bonjour Print Services The printer server supports the Line Printer Remote (LPR) protocol which enables Internet printing. It also supports Bonjour Print Services, making it easier to find and configure printers on your network. The PM1115U2 is backed by a StarTech.com 2-year warranty and free lifetime technical support.
Specs
| | |
| --- | --- |
| Internal | N |
| Product colour | Black |
| Built-in display | N |
| LED indicators | Activity,Link,Power |
| Power LED | Y |
| Network connection type | Ethernet LAN |
| Networking standards | IEEE 802.3,IEEE 802.3u |
| Ethernet LAN data rates | 10,100 Mbit/s |
| Copper ethernet cabling technology | 10BASE-T,100BASE-TX |
| Supported network protocols | LPR |
| Web-based management | Y |
| Ethernet LAN (RJ-45) ports | 1 |
| USB 2.0 ports quantity | 1 |
| DC-in jack | Y |
| Input current | 0.3 A |
| RoHS compliance | Y |
| Certification | CE, FCC |
| Windows operating systems supported | Windows 7 Enterprise,Windows 7 Enterprise x64,Windows 7 Home Basic,Windows 7 Home Basic x64,Windows 7 Home Premium,Windows 7 Home Premium x64,Windows 7 Professional,Windows 7 Professional x64,Windows 7 Starter,Windows 7 Starter x64,Windows 7 Ultimate,Windows 7 Ultimate x64,Windows 8,Windows 8 Enterprise,Windows 8 Enterprise x64,Windows 8 Pro,Windows 8 Pro x64,Windows 8 x64,Windows RT,Windows XP Home,Windows XP Home x64,Windows XP Professional,Windows XP Professional x64 |
| Mac operating systems supported | Mac OS X 10.0 Cheetah,Mac OS X 10.1 Puma,Mac OS X 10.10 Yosemite,Mac OS X 10.2 Jaguar,Mac OS X 10.3 Panther,Mac OS X 10.4 Tiger,Mac OS X 10.5 Leopard,Mac OS X 10.6 Snow Leopard,Mac OS X 10.7 Lion,Mac OS X 10.8 Mountain Lion,Mac OS X 10.9 Mavericks |
| Width | 52 mm |
| Depth | 55 mm |
| Height | 25 mm |
| Weight | 60 g |
| Package dimensions (WxDxH) | 140 x 210 x 53 mm |
| Package width | 149 mm |
| Package depth | 215 mm |
| Package height | 54 mm |
| Package weight | 326 g |
| Cables included | LAN (RJ-45) |
| User guide | Y |
| External power adapter | N |
| Operating relative humidity (H-H) | 10 - 90% |
| Storage temperature (T-T) | 0 - 40 -C |
| Data transfer rate | 100 Mbit/s |
| Chipset | EST2862B |
Other Multimedia
Some of these may not exist; we do not manage these files
Lifetime Hits: 90 Doolz ID: 86855 Price is subject to change without notice. Price and Stock last updated 26 January 2021