PLW1000-100AUS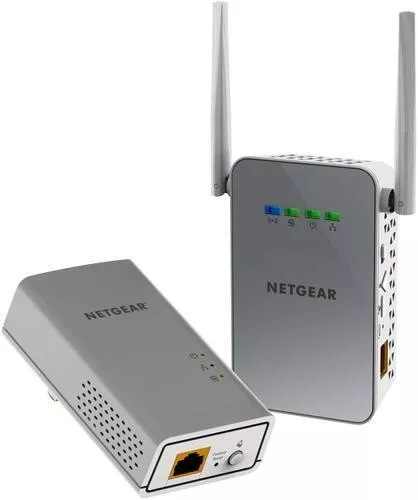 Manufacturer: NETGEAR
Category: Uncategorized
We have 2 suppliers for this product
Supplier 1
Product Name: NETGEAR PLW1000 POWERLINE WIFI 1000 KIT (ADAPTER + ACCESS POINT)
Price 1: NZ$266.31 inc GST
Stock: Out of stock!
ETA is the 23rd September 2020
Ships from: Highbrook, Auckland
This product is not currently available while out of stock. Subscribe to Stock Alerts below to get notified when it is available
Log in to use Stock Alerts
Price & stock last updated: 2020-09-22 05:05:10
+Price History:
| Date: | Price: |
| --- | --- |
| 2019-06-11 | NZ$229.08 |
| 2020-01-17 | NZ$236.61 |
| 2020-01-29 | NZ$229.08 |
| 2020-01-30 | NZ$225.85 |
| 2020-02-01 | NZ$224.78 |
| 2020-04-21 | NZ$236.61 |
| 2020-07-08 | NZ$281.11 |
| 2020-07-22 | NZ$265.65 |
| 2020-07-23 | NZ$266.31 |
Doolz ID:
168564
Supplier 2
Product Name: PLW1000-100AUS
Price 2: NZ$204.93 inc GST
Stock: Out of stock!
No ETA available
Ships from: Albany, Auckland
Log in to use Stock Alerts
Price & stock last updated: 2020-09-22 12:20:04
+Price History:
| Date: | Price: |
| --- | --- |
| 2019-07-06 | NZ$229.03 |
| 2020-01-16 | NZ$236.56 |
| 2020-01-28 | NZ$229.03 |
| 2020-01-29 | NZ$225.80 |
| 2020-01-31 | NZ$224.73 |
| 2020-03-04 | NZ$185.07 |
| 2020-03-04 | NZ$194.68 |
| 2020-04-21 | NZ$204.93 |
Doolz ID:
9772877
Every effort is made to ensure the image(s) and/or product details are correct, but we cannot guarantee that they are. You should always check with us FIRST if you have specific requirements.
Info
Use your existing electrical wiring to extend your WiFi Internet access to any room in your house. Just plug the Powerline Adapter into your modem or router, then plug in the companion PowerLINE WiFi access point to an electrical outlet. It's that easy. With 1000 Mbps speed and Homeplug AV2 support, the PowerLINE WiFi 1000 is perfect for connecting smart TVs, streaming players, and game consoles wirelessly.
Setup is simple.
Plug the homeplug bridge into a wall power socket next to the existing internet router.
Connect the Ethernet port of the homeplug bridge to an ethernet port on the router.
Plug the homeplug wireless access point into a wall power socket in a part of the house that you need WiFi coverage.
Use the SSID and password given to you by Netgear (in the box) to connect your WiFi tablets, smart phones, PCs
Done in 2 minutes.
They're already paired and ready to go. No config required.
You can edit the config yourself if you want to. Change the security settings, add more extenders, etc.
Extend Your Network Anywhere
Create a seamless wired connection in any room in your home, even if it's far away from your router.
Get Connected with Powerline
Broaden the reach of your wireless and wired network using your home electrical wiring. Connect the NETGEAR Powerline adapter to your modem or router, then simply plug-in the companion NETGEAR PowerLINE WiFi access point wherever you want WiFi.
Next Generation Powerline
Very fast speed—Up to 1000 Mbps.
Reliable Networking
Connect multiple adapters to expand your wired network reliably.
Latest Technology
Homeplug AV support for Gigabit speeds through your electrical outlets for improved coverage.
Plug-and-Play
Set up in minutes, no need to configure or install software.
Energy-saving
Automatically powers down when not in use.
Push-and-Secure
Encrypts PowerLINE network connections with the touch of a button.
Gigabit PowerLINE WiFi speed
Perfect for connecting smart TVs, streaming players & game consoles
Ideal for HD streaming & lag-free gaming
Typical coverage up to 500 m²†
Pick-a-plug LED for highest possible performance
Sets up in minutes, no need to install software
Secures the network connection with the touch of a button
Physical Specifications
PowerLINE WiFi 1000 Access Point (PLW1000) Dimensions: 121 x 87 x 38 mm (4.75 x 3.44 x 1.5 in)
PowerLINE WiFi 1000 Access Point (PLW1000) Weight: 266 g (0.59 lb)
Powerline 1000 Adapter (PL1000) Dimensions: 100 x 59 x 35.9 mm (3.9 x 2.3 x 1.4 in)
Powerline 1000 Adapter (PL1000) Weight: 126 g (0.28 lb)
Package Contents
One (1) PowerLINE WiFi 1000 Access Point (PLW1000v2)
One (1) Powerline 1000 Adapter (PL1000v2)
Two (2) Ethernet cables
Quick install documentation
Standards
10/100/1000 Mbps† Gigabit Ethernet port
PowerLINE WiFi 1000 Access Point (PLW1000): IEEE® 2.4 GHz/5 GHz 802.11 b/g/n/ac wireless interface
HomePlug® AV2 compliant*
IEEE® 1901 and IEEE® 802.3 compliant
Lifetime Hits: 49 Doolz ID: 9772877 Price is subject to change without notice. Price and Stock last updated 22 September 2020