StarTech.com USB to mSATA Converter for Raspberry Pi and Development Boards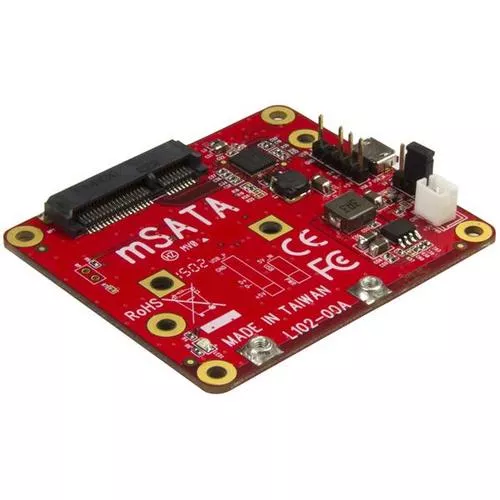 Manufacturer: STARTECH
Category: Interface Cards/Adapters
Short Description: StarTech.com USB to mSATA Converter for Raspberry Pi and Development Boards, Micro-USB, mSATA, Red, 5077966 h, Taiwan, CE, FCC
Get it now
USB to mSATA Converter for Raspberry Pi
Our Price: NZ$23.29 inc GST
Stock at this price: 16
Ships from: Manukau, Auckland
Price & stock last updated: 2021-01-28 03:06:52
We have 1 supplier for this product
For pickups, choose the closest location to you. Otherwise, choose the cheapest or one that is in stock
Supplier 1
Product Name: USB to mSATA Converter for Raspberry Pi
Price 1: NZ$23.29 inc GST
Stock: 16
Available at: Manukau, Auckland
Price & stock last updated: 2021-01-28 03:06:52
+Price History:
| Date: | Price: |
| --- | --- |
| 2019-06-11 | NZ$41.18 |
| 2019-08-26 | NZ$44.13 |
| 2019-08-27 | NZ$41.18 |
| 2020-01-17 | NZ$42.53 |
| 2020-01-29 | NZ$41.18 |
| 2020-01-30 | NZ$40.60 |
| 2020-02-01 | NZ$40.40 |
| 2020-04-23 | NZ$34.93 |
| 2020-09-02 | NZ$37.43 |
| 2020-11-02 | NZ$31.95 |
| 2020-12-01 | NZ$23.29 |
Doolz ID:
86847
Every effort is made to ensure the image(s) and/or product details are correct, but we cannot guarantee that they are. You should always check with us FIRST if you have specific requirements.
Info
StarTech.com USB to mSATA Converter for Raspberry Pi and Development Boards - USB to mini SATA Adapter for Raspberry Pi
StarTech.com USB to mSATA Converter for Raspberry Pi and Development Boards. Host interface: Micro-USB, Output interface: mSATA. Product colour: Red, Mean time between failures (MTBF): 5077966 h, Country of origin: Taiwan. Chipset: Renesas - -PD720231A, Data transfer rate (max): 6 Gbit/s. Width: 55 mm, Depth: 65 mm, Height: 11 mm. Cables included: USB, Package width: 144 mm, Package depth: 175 mm
Description
Increase the data storage capacity of your Raspberry Pi or other development board, by connecting it directly to an mSATA drive. Perfect for custom projects and applications, this USB to mSATA converter supports all models of Raspberry Pi as well as other development boards. Add storage capacity to your development board This convenient USB 2.0 mSATA converter lets you overcome data storage limitations by enabling you to connect an mSATA drive through your board-s USB-A port. A convenient integrated solution The USB to mSATA converter integrates seamlessly with your existing development board. It-s the perfect addition for development-board based applications such as surveillance, media players and servers, digital signage and IoT/automation solutions. It allows you to utilize your mSATA drives with your development board, and take advantage of the small form factor of mini-SATA, ideal for applications with space limitations. Easy to install Compatible with SATA I, SATA II and SATA III drives, the converter is easy to install and doesn-t require any device driver installation. It comes with a USB cable and all mounting accessories, including standoffs, so integrating it with your Raspberry Pi is fast and easy. StarTech.com provides industry-leading support to get you up and running quickly. The PIB2MS1 is backed by a StarTech.com 2-year warranty and free lifetime technical support.
Specs
| | |
| --- | --- |
| Host interface | Micro-USB |
| Output interface | mSATA |
| SATA revision | 3.0 |
| Internal | Y |
| Product colour | Red |
| Mean time between failures (MTBF) | 5077966 h |
| Country of origin | Taiwan |
| RoHS compliance | Y |
| Certification | CE, FCC |
| Chipset | Renesas - -PD720231A |
| Data transfer rate (max) | 6 Gbit/s |
| USB powered | Y |
| Operating temperature (T-T) | 5 - 50 -C |
| Storage temperature (T-T) | -25 - 70 -C |
| Operating relative humidity (H-H) | 15 - 90% |
| Width | 55 mm |
| Depth | 65 mm |
| Height | 11 mm |
| Weight | 18.2 g |
| Cables included | USB |
| Quick installation guide | Y |
| Package width | 144 mm |
| Package depth | 175 mm |
| Package height | 32 mm |
| Package weight | 100 g |
| Compatibility | Raspberry Pi |
Other Multimedia
Some of these may not exist; we do not manage these files
Lifetime Hits: 37 Doolz ID: 86847 Price is subject to change without notice. Price and Stock last updated 28 January 2021