StarTech.com Dual-Port QSFP+ Server NIC Card - PCI Express - Intel Chip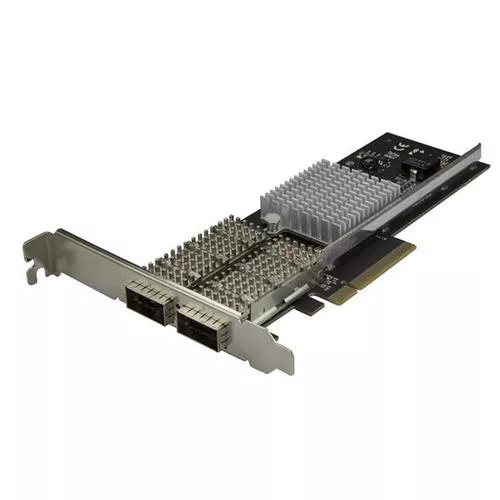 Manufacturer: STARTECH
Category: Networking Cards
Short Description: StarTech.com Dual-Port QSFP+ Server NIC Card - PCI Express - Intel Chip, Internal, Wired, PCI Express, Fiber, 40000 Mbit/s, Black
We have 1 supplier for this product
Supplier 1
Product Name: Server NIC Card 40G Dual-Port QSFP+
Price 1: NZ$804.59 inc GST
Stock: 3
Ships from: Manukau, Auckland
Price & stock last updated: 2020-09-20 05:01:45
+Price History:
| Date: | Price: |
| --- | --- |
| 2019-06-11 | NZ$696.64 |
| 2019-08-26 | NZ$845.92 |
| 2019-08-27 | NZ$696.64 |
| 2020-01-17 | NZ$719.53 |
| 2020-01-29 | NZ$696.64 |
| 2020-01-30 | NZ$686.83 |
| 2020-02-01 | NZ$683.56 |
| 2020-04-23 | NZ$908.28 |
| 2020-07-20 | NZ$804.59 |
Doolz ID:
85361
Every effort is made to ensure the image(s) and/or product details are correct, but we cannot guarantee that they are. You should always check with us FIRST if you have specific requirements.
Info
StarTech.com Dual Port QSFP+ Server NIC Card - Intel XL710 Chip - 40gb NIC - PCIe Network Card - Network Interface Card - Server NIC
StarTech.com Dual-Port QSFP+ Server NIC Card - PCI Express - Intel Chip. Internal. Connectivity technology: Wired, Host interface: PCI Express, Interface: Fiber. Maximum data transfer rate: 40000 Mbit/s. Product colour: Black
Description
Get fast, high-bandwidth connectivity with this dual-port QSFP+ Network Interface Card. It adds two open QSFP+ slots to your server or workstation. The 40G NIC features an Intel- controller and provides redundant network links with reliable performance. It-s ideal for high-demand database servers, virtualized servers and agile data centers that require infrastructure updates with no downtime. Increase your network speed This dual port QSFP+ server NIC card lets you take advantage of the speed and stability of a 40 Gigabit network, with data transfers of up to 40Gbps. Add redundant connections in zero-downtime environments With two QSFP+ ports, the PCIe NIC helps to prevent network downtime by adding fault-tolerant connections using two modules, to provide high-bandwidth network links to your mission-critical servers or workstations. Add scalable network connections With its open QSFP+ slots, the network interface card supports QSFP+ transceiver modules and is compatible with multimode and single-mode fiber, providing a scalable networking solution. Enhance your network capabilities The 40G NIC uses an Intel XL710 chipset providing reliable connectivity and convergent network features. It offers many advanced features including Intel Virtualization Technology for Connectivity. The PEX40GQSFDPI is backed by a StarTech.com 2-year warranty and free lifetime technical support.
Specs
| | |
| --- | --- |
| Connectivity technology | Wired |
| Host interface | PCI Express |
| Interface | Fiber |
| Fiber ports quantity | 2 |
| Fiber optic connector | QSFP+ |
| PCI version | 3.0 |
| Maximum data transfer rate | 40000 Mbit/s |
| Networking standards | IEEE 802.1Q,IEEE 802.3ad,IEEE 802.3ba,IEEE 802.3x |
| Ethernet LAN | N |
| Fiber ethernet cabling technology | 40GBASE-LR4,40GBASE-SR4 |
| Full duplex | Y |
| Jumbo frames support | Y |
| VLAN tagging | Y |
| Internal | Y |
| Product colour | Black |
| LED indicators | Activity,Link |
| RoHS compliance | Y |
| Certification | CE, FCC |
| Operating temperature (T-T) | 0 - 57 -C |
| Storage temperature (T-T) | -20 - 85 -C |
| Operating relative humidity (H-H) | 5 - 95% |
| Windows operating systems supported | Windows 10,Windows 10 Education,Windows 10 Education x64,Windows 10 Enterprise,Windows 10 Enterprise x64,Windows 10 Home,Windows 10 Home x64,Windows 10 IOT Core,Windows 10 Pro,Windows 10 Pro x64,Windows 10 x64,Windows 7,Windows 7 Enterprise,Windows 7 Enterprise x64,Windows 7 Home Basic,Windows 7 Home Basic x64,Windows 7 Home Premium,Windows 7 Home Premium x64,Windows 7 Professional,Windows 7 Professional x64,Windows 7 Starter,Windows 7 Starter x64,Windows 7 Ultimate,Windows 7 Ultimate x64,Windows 7 x64,Windows 8,Windows 8 Enterprise,Windows 8 Enterprise x64,Windows 8 Pro,Windows 8 Pro x64,Windows 8 x64,Windows 8.1,Windows 8.1 Enterprise,Windows 8.1 Enterprise x64,Windows 8.1 Pro,Windows 8.1 Pro x64,Windows 8.1 x64 |
| Linux operating systems supported | Y |
| Server operating systems supported | Windows Server 2008 R2,Windows Server 2012,Windows Server 2012 R2,Windows Server 2016 |
| Width | 121 mm |
| Depth | 181 mm |
| Height | 21 mm |
| Weight | 260 g |
| Low-profile bracket | Y |
| Package width | 145 mm |
| Package depth | 207 mm |
| Package height | 40 mm |
| Package weight | 212 g |
| Chipset | Intel - XL710-BM2 |
| Quick start guide | Y |
| Flow control support | Y |
| Jumbo frames | 9000 |
Other Multimedia
Some of these may not exist; we do not manage these files
Lifetime Hits: 25 Doolz ID: 85361 Price is subject to change without notice. Price and Stock last updated 20 September 2020