HPE ML350 Gen10 4214 32GB Hot Plug SFF SAS/SATA 800W TWR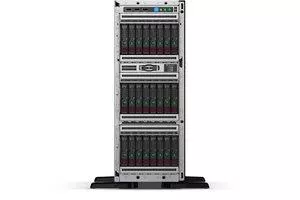 Manufacturer: HPE
Category: Uncategorized
We have 2 suppliers for this product
Supplier 1
Product Name: HPE ML350 Gen10 4214 32GB Hot Plug SFF SAS/SATA 800W TWR
Price 1: NZ$10,689.38 inc GST
Stock: Out of stock!
No ETA available
Ships from: East Tamaki, Auckland
Log in to use Stock Alerts
Price & stock last updated: 2020-08-11 09:00:13
+Price History:
| Date: | Price: |
| --- | --- |
| 2019-06-11 | NZ$4,951.80 |
| 2019-08-12 | NZ$9,716.27 |
| 2019-08-14 | NZ$5,104.71 |
| 2019-11-18 | NZ$10,165.35 |
| 2019-12-12 | NZ$7,633.06 |
| 2020-01-16 | NZ$7,883.91 |
| 2020-01-28 | NZ$7,633.06 |
| 2020-01-29 | NZ$7,525.55 |
| 2020-01-31 | NZ$7,489.71 |
| 2020-02-13 | NZ$7,428.45 |
| 2020-04-21 | NZ$7,819.42 |
| 2020-05-13 | NZ$11,251.88 |
| 2020-07-03 | NZ$10,689.38 |
Doolz ID:
18893
Supplier 2
Product Name: HPE ML350 Gen10 4214 1P 32G 8SFF Svr
Price 2: NZ$10,450.58 inc GST
Stock: Out of stock!
No ETA available
Ships from: Manukau, Auckland
Log in to use Stock Alerts
Price & stock last updated: 2020-08-11 05:01:49
+Price History:
| Date: | Price: |
| --- | --- |
| 2019-08-09 | NZ$9,499.21 |
| 2019-08-13 | NZ$5,104.71 |
| 2019-11-18 | NZ$9,938.26 |
| 2020-01-06 | NZ$9,753.21 |
| 2020-01-17 | NZ$10,073.74 |
| 2020-01-29 | NZ$9,753.21 |
| 2020-01-30 | NZ$9,615.84 |
| 2020-02-01 | NZ$9,570.05 |
| 2020-04-23 | NZ$7,819.42 |
| 2020-05-13 | NZ$11,000.52 |
| 2020-07-03 | NZ$10,450.58 |
Doolz ID:
23067169
Every effort is made to ensure the image(s) and/or product details are correct, but we cannot guarantee that they are. You should always check with us FIRST if you have specific requirements.
Info
Promotional pricing on this item is available until 12/05/20 when purchased as a standalone item. Intel Xeon 4214 12-Core (2.20GHz 16.5MB L3 Cache) Kit,32GB (1 x 32GB) Dual Rank DDR4-2933MHz Registered Smart Memory Kit,HPE Embedded 1Gb 4-port 369i Ethernet Adapter,HPE Smart Array P408i-a SR Gen10 Controller Module,Up to 8 Hot Plug SFF Drives,HPE 800W Flex Slot Platinum Hot Plug Power Supply Kit,6 Standard Fans,3 year NBD onsite warranty,Tower
Description
Supports the additional 2nd generation Intel® Xeon Scalable Processor offerings delivering exceptional customer value with increased performance and industry leading frequency.
Supports mixed LFF and SFF drive cages within the same server for tiered storage, offering the flexibility to mix drive types for cost and capacity size considerations.
Available regionally, SMB offers that are aggressively priced.
Perform with Unmatched Versatility
HPE ProLiant ML 50 Gen 0 server supports up to two Intel Xeon Scalable processors, starting from Bronze through Platinum, 4 cores expanding up to 28 core processors offering unparalleled performance.
Up to 24 DIMM slots to support the 29 MT/s or 2600 MT/s HPE DDR4 SmartMemory , reducing data loss and downtime with the HPE Gen 0 technology licensed Fast Fault Tolerance feature while increasing workload performance and power efficiency.
It supports a wide range of solutions from Azure to Docker to ClearOS along with the traditional operating systems.
GPU expansion supports up to four units to accelerate performance in VDI applications and machine learning for financial services, surveillance and security, educational and scientific research, as well as retail and medical imaging.
With the new addition of NVIDIA Tesla T4 and NVIDIA Quadro RTX8000/6000/4000 GPU option support, it transforms into a even more powerful AI Tower server with high-speed GPU connection, ray-tracing and AI.
Expand When Your Business Needs Grow
ProLiant ML 50 Gen 0 delivers expandability and flexibility with mixed LFF and SFF drive cages within the same server. Supporting 8 to 24 SFF or 6 SFF when mixed with 8 NVMe PCIe solid state drives, 4 to 2 LFF hot plug or non-hot plug drive protecting your IT investment in hybrid environment.
Large expansion capacity with eight PCIe slots, six USB ports, 5U rack conversion, and power supply options.
Embedded 4x GbE and the choice of PCIe standup GbE, 0GbE, 25GbE or 00GbE adapters and Infiniband cards provide you the flexibility of networking bandwidth and fabric so you can scale and adapt to different needs as your business grows.
Security Innovations
HPE Integrated Lights Out 5 (iLO 5) enables the world's most secure industry standard servers with HPE Silicon Root of Trust technology to protect your servers from attacks, detect potential intrusions and recover your essential server firmware securely.
iLO 5 security features include Server Configuration Lock to ensure secure transit iLO Security Dashboard helps detect and address possible security vulnerabilities in server setup. Workload Performance Advisor provides server tuning recommendations for better server performance.
With Runtime Firmware Verification the server firmware is checked every 24 hours verifying validity and credibility of essential system firmware. Secure Recovery allows server firmware to rollback to the to last known good state or factory settings after detection of compromised code.
Additional security options are available with Trusted Platform Module (TPM) to prevent unauthorized access to the server and reliably store artifacts used to authenticate the server.
HPE InfoSight provides a cloud-based analytics tool that predicts and prevents problems before your business is impacted.
Industry Leading Services and Ease of Deployment
The HPE ProLiant ML 50 Gen 0 server comes with a complete set of HPE Pointnext services, delivering confidence, reducing risk, and helping customers realize agility and stability.
Services from HPE Pointnext simplify all stages of the IT journey. Advisory and Transformation Services professionals understand customer challenges and design an effective solution. Professional Services enable rapid deployment of solutions and Operational Services provide ongoing support.
Services provided under Operational Services include: HPE Flexible Capacity, HPE Datacenter Care, HPE Infrastructure Automation, HPE Campus Care, HPE Proactive Services and multi-vendor coverage.
HPE IT investment solutions help you transform to a digital business with IT economics that align to your business goals.
Specs
| | |
| --- | --- |
| Processor Name | Intelu00ae Xeonu00ae Scalable 4214 (12 core, 2.2 GHz, 16.50 MB, 85W) |
| Processor number | 1 processor |
| Processor cache | 16.50 MB L3 |
| Processor core available | 12 core |
| Processor speed | 2.2 GHz |
| Memory type | HPE DDR4 SmartMemory |
| Memory, standard | 32 GB (1x 32 GB) RDIMM |
| Optical drive type | Optional |
| Network controller | HPE Ethernet 1Gb 4-port 369i Adapter |
| Storage controller | 1 HPE Smart Array P408i-a SR Gen10 Controller |
| Expansion slots | 4-slots (x16, x8, x16, x8) as standard For detail reference QuickSpecs. |
| System fan features | 6 Standard Fans |
| Power supply type | 1 HPE 800W Flex Slot power supply |
| Form factor | 4U Tower |
| Included hard drives | None ship standard, 8 SFF drives supported |
| Infrastructure management | HPE iLO Standard with Intelligent Provisioning (embedded), HPE OneView Standard (requires download) (standard), HPE iLO Advanced, and OneView Advanced (optional) |
| Minimum dimensions ( H x W x D) | 46.25 x 64.8 x 17.4 cm |
| Weight | 21 kg |
Lifetime Hits: 111 Doolz ID: 18893 Price is subject to change without notice. Price and Stock last updated 11 August 2020