StarTech.com Mini DisplayPort to DisplayPort Multi-Monitor Splitter - 3-Port MST Hub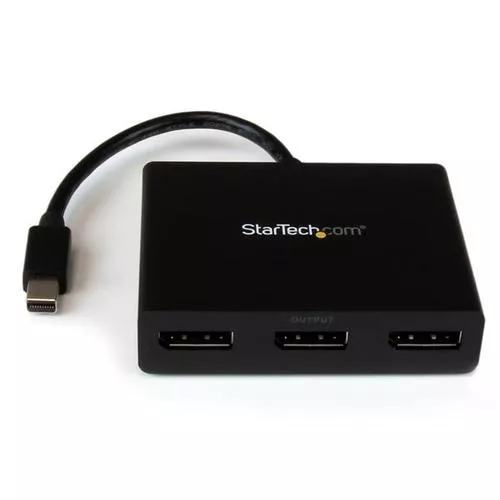 Manufacturer: STARTECH
Category: Video Splitters
Short Description: StarTech.com Mini DisplayPort to DisplayPort Multi-Monitor Splitter - 3-Port MST Hub, Mini DisplayPort, 3x DisplayPort, 3840 x 2160 pixels, Black, Plastic, 1920 x 1080 (HD 1080),1920 x 1200 (WUXGA),2560 x 1440,2560 x 1600 (WQXGA),3840 x 2160
Get it now
Triple Head Mini DP 1.2 to 3xDP MST Hub
Our Price: NZ$209.56 inc GST
Stock at this price: 1
Ships from: Manukau, Auckland
Price & stock last updated: 2021-01-25 07:02:38
We have 1 supplier for this product
For pickups, choose the closest location to you. Otherwise, choose the cheapest or one that is in stock
Supplier 1
Product Name: Triple Head Mini DP 1.2 to 3xDP MST Hub
Price 1: NZ$209.56 inc GST
Stock: 1
Available at: Manukau, Auckland
Price & stock last updated: 2021-01-25 07:02:38
+Price History:
| Date: | Price: |
| --- | --- |
| 2019-06-11 | NZ$160.74 |
| 2019-08-26 | NZ$195.18 |
| 2019-08-27 | NZ$160.74 |
| 2020-01-17 | NZ$166.02 |
| 2020-01-29 | NZ$160.74 |
| 2020-01-30 | NZ$158.47 |
| 2020-02-01 | NZ$157.72 |
| 2020-02-27 | NZ$134.06 |
| 2020-04-23 | NZ$141.11 |
| 2020-05-07 | NZ$178.12 |
| 2020-06-02 | NZ$209.56 |
Doolz ID:
86903
Every effort is made to ensure the image(s) and/or product details are correct, but we cannot guarantee that they are. You should always check with us FIRST if you have specific requirements.
Info
StarTech.com 3 Port Mini DisplayPort MST Hub - 4K 60Hz - Mini DP to DisplayPort Splitter for Multiple Monitors - mDP to DP (MSTMDP123DP)
StarTech.com Mini DisplayPort to DisplayPort Multi-Monitor Splitter - 3-Port MST Hub. Video port type: Mini DisplayPort, Video out: 3x DisplayPort. Maximum resolution: 3840 x 2160 pixels, Product colour: Black, Housing material: Plastic. Input voltage: 110 - 240 V, Input current: 0.5 A, Output voltage: 5 V. Width: 78 mm, Depth: 386 mm, Height: 20 mm. Package width: 228 mm, Package depth: 155 mm, Package height: 55 mm
Key Features
Increase productivity with multiple screens

The newest generations of computers are more portable than ever, which often means that you-re left with fewer video outputs and smaller integrated screens. This MST hub solves both of these problems by letting you connect three additional displays to your computer, which makes multitasking much easier.

Connect to any display

With the MST hub, you can use Mini DisplayPort video adapters and cable adapters that enable you to connect HDMI, VGA or DVI displays. This ensures that your MST hub will be compatible with virtually any television, monitor or projector. The hub is VESA and DisplayPort certified to support DP 1.2 enabled systems, for seamless integration with your existing video equipment.

Configure your displays for any environment

Using the MST hub, you can extend your desktop onto additional monitors and stream independent content to each display, giving you the freedom to multitask and increase your productivity. You can also mirror the same image onto multiple displays for remote viewing applications such as digital signage.

MST Hub - Mini DisplayPort to 3x DisplayPort

Use this multi-stream transport hub to connect three DP monitors to a single mDP 1.2 port

Multi Stream Transport Hub - Mini DisplayPort 1.2 naar drievoudige DisplayPort MST-hub

Connect to almost any television, monitor or projector with the support of low-cost adapters.
Description
Use this adapter to connect three independent displays to a single mDP 1.2 port

This MST hub lets you connect three DisplayPort monitors to your Mini DisplayPort computer. MST works on any Windows device that supports DisplayPort 1.2, such as models of the Lenovo Think Pad and Microsoft Surface. When connected to earlier revisions of DisplayPort, such as DP 1.1 the MST hub acts as a video splitter.

Increase your productivity with multiple monitors

The newest generations of laptops are more portable than ever, unfortunately this means you-re left with fewer video outputs and a small integrated screen. The MST hub solves these problems by letting you connect three independent displays to a single mDP port on your computer, which makes multitasking much easier. Using the MST hub, you can extend your desktop onto additional monitors and stream independent content to each display, which makes it easier to multitask and increase your productivity - perfect for creating an easy-to-dock hot desk solution with a wireless keyboard and mouse peripheral set. You can also mirror the same image onto multiple displays for remote viewing applications such as digital signage.

Astonishing picture quality that won-t drain your system resources

MST technology uses your existing video card to minimize the use of system resources while delivering Ultra HD 4K resolutions. 4K is supported by the latest A/V devices and delivers four times the resolution of 1080p. Plus, because the MST hub can output high-definition 1080p, the MST hub is perfect for all high-resolution applications such as graphic design and medical imaging.

Works with any monitor, television or projector

With this MST hub, you can use separate mDP video adapters to connect HDMI, VGA or DVI displays, for compatibility with all of your existing monitors. The hub is VESA and DisplayPort certified to support DP 1.2 enabled systems, for seamless integration with your existing video equipment.

The MSTMDP123DP has been certified by Microsoft and tested for compatibility with your Microsoft Surface Pro 3, Surface Pro 4 and Surface Book and is backed by a 3-year StarTech.com warranty and free lifetime technical support.

The StarTech.com Advantage

- Maximize your productivity by simultaneously multitasking on three different displays
- Get astonishing picture quality with support for resolutions up to 4K at 60Hz
- Output video to virtually any display with support for low-cost DVI, HDMI or VGA video adapters
Specs
| | |
| --- | --- |
| Video ports quantity | 3 |
| Video port type | Mini DisplayPort |
| Video out | 3x DisplayPort |
| Maximum resolution | 3840 x 2160 pixels |
| Product colour | Black |
| Housing material | Plastic |
| Supported graphics resolutions | 1920 x 1080 (HD 1080),1920 x 1200 (WUXGA),2560 x 1440,2560 x 1600 (WQXGA),3840 x 2160 |
| Plug and Play | Y |
| RoHS compliance | Y |
| Certification | CE, FCC, RoHS |
| Windows operating systems supported | Windows 10 Education,Windows 10 Education x64,Windows 10 Enterprise,Windows 10 Enterprise x64,Windows 10 Home,Windows 10 Home x64,Windows 10 Pro,Windows 10 Pro x64,Windows 7 Enterprise,Windows 7 Enterprise x64,Windows 7 Home Basic,Windows 7 Home Basic x64,Windows 7 Home Premium,Windows 7 Home Premium x64,Windows 7 Professional,Windows 7 Professional x64,Windows 7 Starter,Windows 7 Starter x64,Windows 7 Ultimate,Windows 7 Ultimate x64,Windows 8,Windows 8 Enterprise,Windows 8 Enterprise x64,Windows 8 Pro,Windows 8 Pro x64,Windows 8 x64,Windows 8.1,Windows 8.1 Enterprise,Windows 8.1 Enterprise x64,Windows 8.1 Pro,Windows 8.1 Pro x64,Windows 8.1 x64 |
| Input voltage | 110 - 240 V |
| Input current | 0.5 A |
| Output voltage | 5 V |
| Output current | 3 A |
| Power consumption (typical) | 15 W |
| Width | 78 mm |
| Depth | 386 mm |
| Height | 20 mm |
| Weight | 87 g |
| Package width | 228 mm |
| Package depth | 155 mm |
| Package height | 55 mm |
| Package weight | 407 g |
| Manual | Y |
| AC adapter included | Y |
| Included power plug types | AU,EU,NA,UK |
| Operating temperature (T-T) | 0 - 45 -C |
| Storage temperature (T-T) | -20 - 70 -C |
Other Multimedia
Some of these may not exist; we do not manage these files
Lifetime Hits: 119 Doolz ID: 86903 Price is subject to change without notice. Price and Stock last updated 25 January 2021