MSI MAG X570 TOMAHAWK WIFI motherboard Socket AM4 ATX AMD X570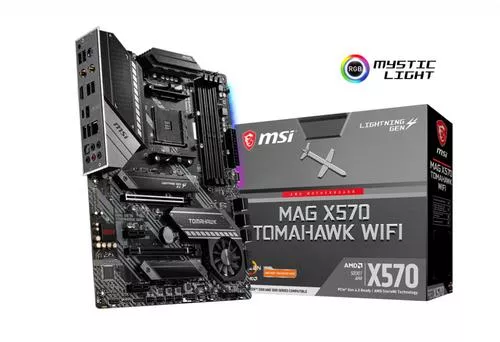 Manufacturer: MSI
Category: Motherboards
Short Description: MSI MAG X570 TOMAHAWK WIFI, AMD, Socket AM4, AMD Ryzen, Socket AM4, DDR4-SDRAM, DIMM
Get it now
MAG X570 TOMAHAWK WIFI
Our Price: NZ$446.55 inc GST
Stock at this price: Out of stock!
ETA is the 18th January 2021
Ships from: Manukau, Auckland
Log in to use Stock Alerts
Price & stock last updated: 2021-03-05 07:02:26
We have 1 supplier for this product
For pickups, choose the closest location to you. Otherwise, choose the cheapest or one that is in stock
Supplier 1
Product Name: MAG X570 TOMAHAWK WIFI
Price 1: NZ$446.55 inc GST
Stock: Out of stock!
ETA is the 18th January 2021
Available at: Manukau, Auckland
Log in to use Stock Alerts
Price & stock last updated: 2021-03-05 07:02:26
+Price History:
| Date: | Price: |
| --- | --- |
| 2020-05-15 | NZ$446.55 |
| 2020-06-12 | NZ$449.08 |
| 2020-08-31 | NZ$436.43 |
| 2020-11-30 | NZ$446.55 |
Doolz ID:
123059435
Every effort is made to ensure the image(s) and/or product details are correct, but we cannot guarantee that they are. You should always check with us FIRST if you have specific requirements.
Info
AMD X570, AM4, 4x DIMM DDR4, 2x PCI-E 4.0 x16, 2x PCIe x1, 2x M.2, 6x SATA III, 5x USB 3.2 Gen 2, 6x USB 3.2 Gen 1, 6x USB 2.0, HDMI, Realtek RTL8125B-CG, Intel Wi-Fi 6 AX200, Bluetooth 5.0, Realtek ALC1200-VD1
MSI MAG X570 TOMAHAWK WIFI. Processor manufacturer: AMD, Processor socket: Socket AM4, Compatible processor series: AMD Ryzen. Supported memory types: DDR4-SDRAM, Memory slots type: DIMM, Supported memory clock speeds: 1866,2133,2400,2667,2800,2933,3000,3066,3200,3466,3600,3733,3866,4000,4133,4266,4400,4533,4600 MHz. Supported storage drive interfaces: M.2,Serial ATA III, Supported storage drive types: HDD,SSD. Parallel processing technology support: CrossFire, Maximum graphics adapter memory: 2048 MB. Ethernet interface type: 2.5 Gigabit Ethernet,Fast Ethernet,Gigabit Ethernet, Wi-Fi standards: 802.11a,802.11b,802.11g,Wi-Fi 4 (802.11n),Wi-Fi 5 (802.11ac),Wi-Fi 6 (802.11ax)
Description
DIY FRIENDLY MSI motherboards been designed with tons of smart features for convenient setup and usage, such as pin-header keep out zone, friendly SATA & USB location and multiple cooling solutions, so DIY users can pick and choose any gaming rig they want. COOLING Cooling is essential for a high performance PC to sustain intense workloads. MSI motherboards feature a heavy duty heatsink on the MOSFETs for reliable processor power delivery. Numerous fan headers with full fan speed control lets builders tune their system cooling the way they like it. HARDWARE MSI motherboards been designed to make the system assembly process as convenient as possible. An array of system tuning features and troubleshooting tools are available to ease installation and setup. COMPATIBILITY MSI motherboards are designed with both physical and device compatibility in mind. Pin-headers, SATA, and USB connectors are positioned away from other components and devices. A comprehensive DDR memory Qualified Vendor List (QVL), the result of extensive memory testing and tuning, makes it easier to pick from compatible products. BIOS AND SOFTWARE Complete your high performance experience with an array of performance enhancing software from MSI. From a loaded yet easy to use BIOS to potent live system tools, get the most out of your motherboard at any moment. ENHANCED PERFORMANCE High performance MSI motherboards are loaded with advanced features and the latest technology to overwhelm any challenge at hand no matter whether you-re a gamer, prosumer, or PC enthusiast. CPU Power on your RYZEN processor with optimized circuit layouts and high quality power delivery parts for an incredibly stable operation. MEMORY MSI takes memory stability and performance to the extreme. We-ve designed an optimized memory circuit design for reliability and tested compatibility extensively in partnership with major memory manufacturers. STORAGE Connect any ultra-fast storage device and get into the game sooner. USB Plug in and start moving files lightning fast with high-speed USB, supported by all the latest connectors and boost tools. EXHILARATING AND INSPIRING Each MSI motherboard is built based on the specific topic in order to match different tastes and favors. Furthermore, MSI also adopts the modern style to design the heatsink through huge surface and sleek but simple cuts in order to make the heatsink and appearance looks ripped and powerful. Combined with neutral color, such as black, grey and silver, as the main background, MSI motherboard can perfect fit different RGB LED effects and strongly shows the gamers tunes. MYSTIC LIGHT Illuminate with MSI Mystic Light and bring the motherboard RGB lighting to life. Choose from millions of colors and sync across compatible devices. IN-GAME ADVANTAGE MSI motherboards are built with enhanced audio and advanced LAN networking capabilities that turn any gaming experience into an immerse one. CONNECTIVITY Get ready to crush your enemies on the battlefield with MSI GAMING LAN. Built with high quality components, MSI GAMING LAN is tuned to deliver the best online gaming experience without lag. AUDIO Deliver the highest sound quality through the use of premium quality audio components and get the most immersive sound experience when gaming. MSI motherboards let you enjoy breathtaking, gaming-changing sound. LOYAL COMRADE With years of experience, MSI is no stranger to building high-performance motherboards. Our R&D and engineering teams have reviewed countless designs, evaluated a wide selection of high quality components, and developed products for reliability even under extreme conditions. COMPONENTS Sourced from the highest quality components, built with precision manufacturing, and rigorously tested for stability, MSI motherboards are sure to last even under high performance loads and extreme conditions.
Specs
| | |
| --- | --- |
| Processor manufacturer | AMD |
| Processor socket | Socket AM4 |
| Compatible processor series | AMD Ryzen |
| Supported processor sockets | Socket AM4 |
| Supported memory types | DDR4-SDRAM |
| Number of memory slots | 4 |
| Memory slots type | DIMM |
| Supported memory clock speeds | 1866,2133,2400,2667,2800,2933,3000,3066,3200,3466,3600,3733,3866,4000,4133,4266,4400,4533,4600 MHz |
| Maximum internal memory | 128 GB |
| Memory channels | Dual-channel |
| Non-ECC | Y |
| Unbuffered memory | Y |
| Supported storage drive interfaces | M.2,Serial ATA III |
| Supported storage drive types | HDD,SSD |
| RAID levels | 0,1,10 |
| Parallel processing technology support | CrossFire |
| Maximum graphics adapter memory | 2048 MB |
| DirectX version | 12.0 |
| Discrete graphics support | Y |
| USB 2.0 connectors | 4 |
| USB 3.2 Gen 1 (3.1 Gen 1) connectors | 4 |
| USB 3.2 Gen 2 (3.1 Gen 2) connectors | 1 |
| Number of SATA III connectors | 6 |
| Front panel audio connector | Y |
| Front panel connector | Y |
| ATX Power connector (24-pin) | Y |
| Power fan connector | Y |
| CPU fan connector | Y |
| Chassis intrusion connector | Y |
| TPM connector | Y |
| Serial port headers | 1 |
| 12V power connector | Y |
| RGB LED pin header | Y |
| USB 2.0 ports quantity | 2 |
| USB 3.2 Gen 1 (3.1 Gen 1) Type-A ports quantity | 2 |
| USB 3.2 Gen 2 (3.1 Gen 2) Type-A ports quantity | 3 |
| USB 3.2 Gen 2 (3.1 Gen 2) Type-C ports quantity | 1 |
| Ethernet LAN (RJ-45) ports | 1 |
| PS/2 ports quantity | 1 |
| HDMI ports quantity | 1 |
| HDMI version | 1.4 |
| Microphone in | Y |
| S/PDIF out port | Y |
| WiFi-AP antenna jack | 2 |
| Ethernet LAN | Y |
| Wi-Fi | Y |
| Ethernet interface type | 2.5 Gigabit Ethernet,Fast Ethernet,Gigabit Ethernet |
| Wi-Fi standards | 802.11a,802.11b,802.11g,Wi-Fi 4 (802.11n),Wi-Fi 5 (802.11ac),Wi-Fi 6 (802.11ax) |
| Bluetooth | Y |
| Bluetooth version | 5.0 |
| Component for | PC |
| Motherboard form factor | ATX |
| Motherboard chipset family | AMD |
| Motherboard chipset | AMD X570 |
| Audio output channels | 7.1 channels |
| Audio chip | Realtek ALC1200 |
| PC health monitoring | CPU,FAN,Temperature |
| Cooling type | Active |
| Windows operating systems supported | Windows 10 x64 |
| PCI Express x1 slots | 2 |
| PCI Express x16 (Gen 4.x) slots | 2 |
| Number of M.2 (M) slots | 2 |
| BIOS type | UEFI AMI |
| BIOS memory size | 256 Mbit |
| ACPI version | 6.1 |
| Clear CMOS jumper | Y |
| System Management BIOS (SMBIOS) version | 2.8 |
| Width | 244 mm |
| Depth | 305 mm |
| Cables included | SATA |
| Drivers included | Y |
Other Multimedia
Some of these may not exist; we do not manage these files
Lifetime Hits: 947 Doolz ID: 123059435 Price is subject to change without notice. Price and Stock last updated 05 March 2021