Canon LV -WX320 data projector 3200 ANSI lumens DLP WXGA (1280x800) Portable projector White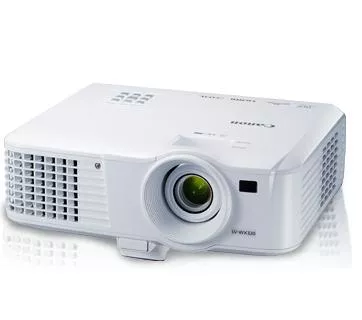 Manufacturer: CANON
Category: Data Projectors
Short Description: Canon LV -WX320, 3200 ANSI lumens, DLP, WXGA (1280x800), 10000:1, 16:10, 2 - 6.6 m
Get it now
LV-WX320 WXGA 3200 LUMENS PROJECTOR
Our Price: NZ$1,277.84 inc GST
Stock at this price: Out of stock!
No ETA available
Ships from: Manukau, Auckland
Log in to use Stock Alerts
Price & stock last updated: 2021-04-13 07:05:46
We have 1 supplier for this product
For pickups, choose the closest location to you. Otherwise, choose the cheapest or one that is in stock
Supplier 1
Product Name: LV-WX320 WXGA 3200 LUMENS PROJECTOR
Price 1: NZ$1,277.84 inc GST
Stock: Out of stock!
No ETA available
Available at: Manukau, Auckland
Log in to use Stock Alerts
Price & stock last updated: 2021-04-13 07:05:46
+Price History:
| Date: | Price: |
| --- | --- |
| 2019-06-11 | NZ$1,237.18 |
| 2020-01-17 | NZ$1,277.84 |
| 2020-01-29 | NZ$1,237.18 |
| 2020-01-30 | NZ$1,219.76 |
| 2020-02-01 | NZ$1,213.95 |
| 2020-04-23 | NZ$1,277.84 |
Doolz ID:
25203
Every effort is made to ensure the image(s) and/or product details are correct, but we cannot guarantee that they are. You should always check with us FIRST if you have specific requirements.
Info
1280x800 (WXGA), 16:10, 3200 lm, 2.5 kg
Canon LV -WX320. Projector brightness: 3200 ANSI lumens, Projection technology: DLP, Projector native resolution: WXGA (1280x800). Zoom type: Manual, Zoom ratio: 1.1:1. Analog signal format system: NTSC,NTSC 4.43,PAL,PAL 60,PAL M,PAL N,SECAM. Noise level: 38 dB, Noise level (economic mode): 31 dB. RMS rated power: 10 W
Description
BrilliantColor- Technology For premium image quality, the LV-WX320 is equipped with BrilliantColor- technology, which uses a new colour-processing algorithm to ensure more realistic and precise colours. Instead of a conventional 4-colour wheel, the new LV projectors incorporate a 6-colour wheel for richer and brighter colour reproduction. In cases where users have to project against coloured walls instead of a white surface, the Screen Colour feature helps to colour-correct the images to match the colour of the projected surface. Minimum Maintenance for Maximum Durability Fitted with a lamp system which does not require the use of air filters, maintenance and operating costs have been significantly reduced. The lamp is also durable and long-lasting, and when used in eco-mode, has a long life-span of about 6000 hours. MHL Interface User can connect and project image directly from compatible smartphone or tablet via the MHL interface. This is especially useful for classrooms and presentations.
Specs
| | |
| --- | --- |
| Projector brightness | 3200 ANSI lumens |
| Projection technology | DLP |
| Projector native resolution | WXGA (1280x800) |
| Contrast ratio (typical) | 10000:1 |
| Native aspect ratio | 16:10 |
| Projection distance | 2 - 6.6 m |
| Projection distance (wide) | 2 - 6 m |
| Projection distance (tele) | 2.2 - 6.6 m |
| Projector brightness (economic mode) | 2550 ANSI lumens |
| Matrix type | DMD |
| Zoom capability | Y |
| Zoom type | Manual |
| Zoom ratio | 1.1:1 |
| Analog signal format system | NTSC,NTSC 4.43,PAL,PAL 60,PAL M,PAL N,SECAM |
| Full HD | Y |
| VGA (D-Sub) ports quantity | 2 |
| HDMI ports quantity | 1 |
| Composite video in | 1 |
| Component video (YPbPr/YCbCr) in | 2 |
| S-Video inputs quantity | 1 |
| USB 2.0 ports quantity | 1 |
| Audio (L/R) in | 1 |
| Audio (L/R) out | 1 |
| Ethernet LAN | Y |
| Ethernet LAN (RJ-45) ports | 1 |
| Noise level | 38 dB |
| Noise level (economic mode) | 31 dB |
| Built-in speaker(s) | Y |
| RMS rated power | 10 W |
| Number of built-in speakers | 1 |
| Product type | Portable projector |
| Product colour | White |
| Power source | AC |
| Power consumption (typical) | 350 W |
| Power consumption (standby) | 3 W |
| Power consumption (economy mode) | 240 W |
| AC input voltage | 100 - 240 V |
| Weight | 2.5 kg |
| Package width | 282 mm |
| Package depth | 232 mm |
| Package height | 114.5 mm |
| Handheld remote control | Y |
Lifetime Hits: 119 Doolz ID: 25203 Price is subject to change without notice. Price and Stock last updated 13 April 2021