Canon LV WX300UST data projector 3000 ANSI lumens DLP WXGA (1280x800) Portable projector White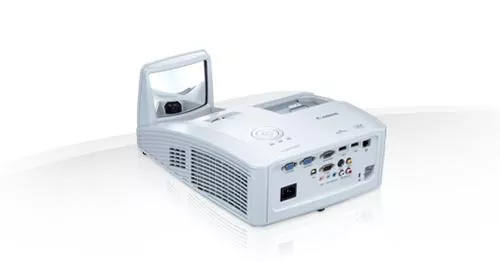 Manufacturer: CANON
Category: Data Projectors
Short Description: Canon LV WX300UST, 3000 ANSI lumens, DLP, WXGA (1280x800), 2300:1, 16:10, 2032 - 2540 mm (80 - 100")
Get it now
3000 LUMEN WXGA ULTRA SHORT THROW
Our Price: NZ$1,915.75 inc GST
Stock at this price: Out of stock!
No ETA available
Ships from: Manukau, Auckland
Log in to use Stock Alerts
Price & stock last updated: 2021-04-13 07:05:46
We have 1 supplier for this product
For pickups, choose the closest location to you. Otherwise, choose the cheapest or one that is in stock
Supplier 1
Product Name: 3000 LUMEN WXGA ULTRA SHORT THROW
Price 1: NZ$1,915.75 inc GST
Stock: Out of stock!
No ETA available
Available at: Manukau, Auckland
Log in to use Stock Alerts
Price & stock last updated: 2021-04-13 07:05:46
+Price History:
| Date: | Price: |
| --- | --- |
| 2019-06-11 | NZ$1,854.80 |
| 2020-01-17 | NZ$1,915.75 |
| 2020-01-29 | NZ$1,854.80 |
| 2020-01-30 | NZ$1,828.67 |
| 2020-02-01 | NZ$1,819.97 |
| 2020-04-23 | NZ$1,915.75 |
Doolz ID:
25204
Every effort is made to ensure the image(s) and/or product details are correct, but we cannot guarantee that they are. You should always check with us FIRST if you have specific requirements.
Info
0.65" DLP, WXGA 1280 x 800, 3000Lm, 2300:1, 5kg
Canon LV WX300UST. Projector brightness: 3000 ANSI lumens, Projection technology: DLP, Projector native resolution: WXGA (1280x800). Light source type: Lamp, Service life of light source: 5000 h, Service life of light source (economic mode): 8000 h. Focus: Manual, Focal length range (f-f): 0 - 5.1 mm. Analog signal format system: NTSC,NTSC 4.43,PAL BG,PAL G,PAL I,SECAM,SECAM H, Supported video modes: 1080i,1080p,480i,480p,576p,720p, Video colour modes: Presentation,sRGB. Serial interface type: RS-232, USB connector type: USB Type-B
Description
Compact and portable ultra-short throw WXGA projector Compact, portable and easy to set up the ultra-short throw LV-WX300UST features native WXGA resolution and is ideal for projecting bright, clear widescreen images in small meeting rooms and classrooms. - Compact and portable ultra-short throw projector weighing only 5kg - Effortlessly project bright, clear 100- images from just 445mm away - DLP panel with native WXGA resolution (1280 x 800 pixels) and 16:10 aspect ratio - Enjoy a vivid 3000 lumens brightness and 2300:1 contrast ratio - +/-40- Vertical Keystone Correction - Up to 8000h lamp life and only 29dBA in Eco mode - 6 Axis colour adjustment with advanced screen colour tuning - 2 x HDMI ports and RJ-45 network port - Built-in 2 x 10W speakers Compact and portable ultra-short throw projector The ultra-short throw LV-WX300UST offers large screen projection, even where space is very limited. It projects a crisp, clear 100-inch image from a projection distance of just 44.5cm. When wall mounted this prevents presenters being dazzled, minimises the area that can be covered by the presenter's body and eliminates shadows on the screen. With compact external dimensions of 287 x 122.6 x 374.5mm and weighing just 5kg it is also small and light enough to be carried easily between locations. This makes it perfect for business and educational establishments where they need to project in a number of small meeting rooms or classrooms across a corporate office or campus. Exceptional vivid image quality The LV-WX300UST delivers bright, sharp and faithful images, thanks to the projector-s DLP technology with its native WXGA resolution (1280 x 800 pixels), 3000 lumens brightness and 2300:1 contrast ratio. Colours are strong and true with deep blacks. Text is easier to read, graphics appear smooth and there is no trace of the lattice effect found in traditional LCD projectors. Together with a 16:10 wide-aspect ratio, it is ideal for use with today-s widescreen notebook computers. Easy to set up You can ensure images retain perfect geometry even in tight spaces using the vertical (+/-40 degrees) keystone correction. Advanced 6 Axis colour adjustment and screen colour tuning enables clear projected images on any coloured surface when no white projector screen is available. Versatile connection options Project still and moving images from a wide range of sources using the LV-WX300UST-s extensive choice of inputs. These include two HDMI- ports to project bright and sharp images from a wide range of digital video and computer sources. The built in RJ-45 network port enables remote monitoring and control and supports the -Crestron Connected-- standard. Add high-quality sound to presentations using the two built-in 10W speakers. Economical and easy to maintain The LV-WX300UST is economical to run thanks to a 5000-hour lamp life, which the energy-saving Eco Mode extends up to 8000 hours. Eco Mode also reduces energy consumption to just 270W and fan noise to 29 dBA for a quieter, environment. Maintenance is simple with quick and easy lamp and filter replacement.
Specs
| | |
| --- | --- |
| Projector brightness | 3000 ANSI lumens |
| Projection technology | DLP |
| Projector native resolution | WXGA (1280x800) |
| Contrast ratio (typical) | 2300:1 |
| Native aspect ratio | 16:10 |
| Screen size compatibility | 2032 - 2540 mm (80 - 100") |
| Projection distance | 0.282 - 0.445 m |
| Supported aspect ratios | 16:10 |
| Number of colours | 1.073 billion colors |
| Keystone correction, vertical | -40 - 40- |
| Matrix size | 1.65 cm (0.65") |
| Light source type | Lamp |
| Service life of light source | 5000 h |
| Service life of light source (economic mode) | 8000 h |
| Lamp power | 230 W |
| Focus | Manual |
| Focal length range (f-f) | 0 - 5.1 mm |
| Analog signal format system | NTSC,NTSC 4.43,PAL BG,PAL G,PAL I,SECAM,SECAM H |
| Full HD | Y |
| 3D | N |
| Supported video modes | 1080i,1080p,480i,480p,576p,720p |
| Video colour modes | Presentation,sRGB |
| VGA (D-Sub) ports quantity | 3 |
| HDMI ports quantity | 2 |
| Composite video in | 3 |
| DVI port | N |
| S-Video inputs quantity | 1 |
| USB 2.0 ports quantity | 1 |
| Audio (L/R) in | 1 |
| Serial interface type | RS-232 |
| HDMI version | 1.3 |
| Headphone outputs | 1 |
| Microphone in | Y |
| USB connector type | USB Type-B |
| Ethernet LAN | Y |
| Wi-Fi | N |
| Ethernet LAN (RJ-45) ports | 1 |
| Card reader integrated | N |
| Noise level | 33 dB |
| Noise level (economic mode) | 29 dB |
| Built-in speaker(s) | Y |
| Number of built-in speakers | 2 |
| Product type | Portable projector |
| Product colour | White |
| Cable lock slot | Y |
| Cable lock slot type | Kensington |
| Built-in display | N |
| Power source | AC |
| Power consumption (typical) | 310 W |
| Power consumption (economy mode) | 260 W |
| AC input frequency | 50 - 60 Hz |
| Operating temperature (T-T) | 0 - 40 -C |
| Storage temperature (T-T) | -10 - 60 -C |
| Weight | 5 kg |
| Width | 287.7 mm |
| Depth | 374.5 mm |
| Height | 186 mm |
| Handheld remote control | N |
| RS-232 ports | 1 |
Other Multimedia
Some of these may not exist; we do not manage these files
Lifetime Hits: 173 Doolz ID: 25204 Price is subject to change without notice. Price and Stock last updated 13 April 2021