Brateck Cantilever 32-65" LCD Wall Mount Bracket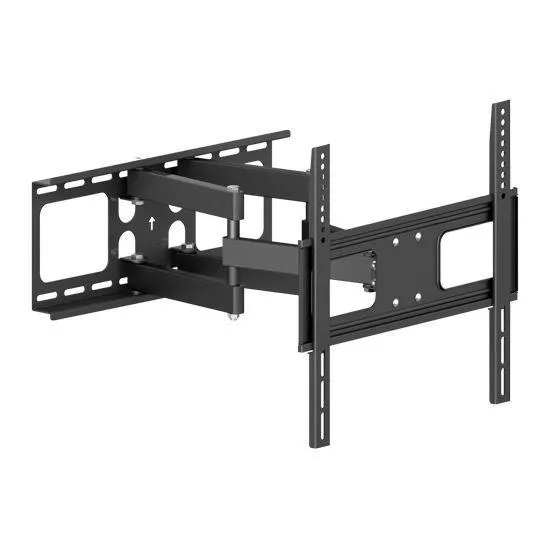 Manufacturer: BRATECK
Category: Uncategorized
Get it now
Brateck Cantilever 32-55" LCD Wall Mount Bracket
Our Price: NZ$94.86 inc GST
Stock at this price: 8
Ships from: Penrose, Auckland
Price & stock last updated: 2022-06-27 19:00:22
We have 5 suppliers for this product
For pickups, choose the closest location to you. Otherwise, choose the cheapest or one that is in stock
Every effort is made to ensure the image(s) and/or product details are correct, but we cannot guarantee that they are. You should always check with us FIRST if you have specific requirements.
Info
Cantilever Bracket, Full motion arm, Tilt & Swivel, 32-65", 50kg max, 64-510mm Profile, Max VESA 400x400. Dual Stud Installation. Curved Display Compatible.
Description
Economy Solid Articulating Curved & Flat Panel TV Wall Mount
The LUMI LPA36-446 is a dual-arm full-motion wall mount for curved & flat panel TVs up to 55", 50kgs/110lbs. This mount extends out 510mm from the wall and allows TVs to turn 60° left or right. Full motion allows maximum flexibility — tilts and swivels your TV for easy viewing from any seat in a room. Post-installation level adjustment allows the TV to "roll" up to 3° clockwise and counterclockwise to ensure it is perfectly level. Integrated cable management system keeps cables organised and protected. Wide wall plate fits for 406/450mm stud installation.
FEATURES
Free-tilting design for multiple monitor viewing angles

Swivelling arm(s) offer(s) maximum viewing flexibility

Built-in level adjustment ensures perfect positioning
All Brateck brackets come with a 5 Year Warranty.
| | |
| --- | --- |
| Specification: | TV wall mount |
| By Grade: | Economical Series |
| By Function: | Full motion |
| By Mounting Pattern: | Universal |
| Material: | Steel |
| Pipe Size: | 40x20x1.5mm |
| Surface Finish: | Powder coated |
| Product Size: | 510x480x430mm |
| Recommended Screen Size: | 32"~55" |
| Installation: | Solid wall, Double Stud |
| Rated Weight Capacity: | 50kg/110lbs |
| Strength tested: | 3 times approve |
| Max.Hole Pattern: | 426X400mm |
| VESA Standard: | 200x200, 400x200, 300x300, 400x400 |
| Tilt: | -20°~+10° |
| Swivel: | -60°~+60° |
| Level Adjustment: | -3°~+3° |
| Profile: | 64mm~510mm |
| Bubble Level: | No |
| Anti-theft: | No |
| Cable Management: | Yes |
| Wall separated: | No |
| Panel separated: | Yes |
| AV Component Mount: | No |
| Freely Tilting: | Yes |
| Motorized: | No |
| Curved TV Available: | Yes |
| Certification: | No |
Lifetime Hits: 375 Doolz ID: 142173 Price is subject to change without notice. Price and Stock last updated 27 June 2022