Brateck 13-27" Triple Monitor Stand with Clamp/Grommet Base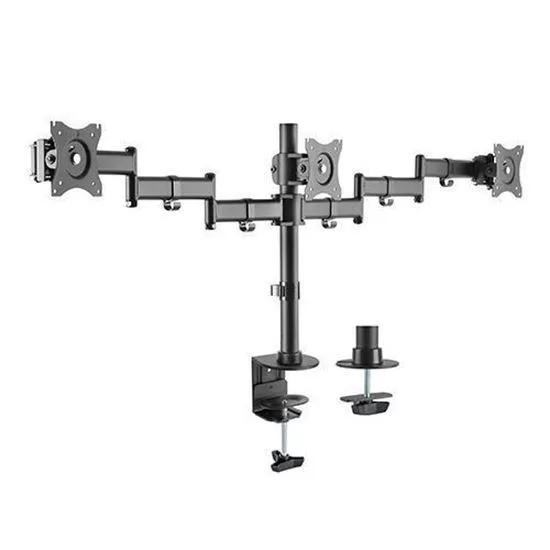 Manufacturer: BRATECK
Category: Uncategorized
Get it now
Brateck 13-27" Triple Monitor Stand with Clamp/Grommet Base
Our Price: NZ$103.96 inc GST
Stock at this price: 6
Ships from: Penrose, Auckland
Price & stock last updated: 2022-06-30 13:00:16
We have 5 suppliers for this product
For pickups, choose the closest location to you. Otherwise, choose the cheapest or one that is in stock
Every effort is made to ensure the image(s) and/or product details are correct, but we cannot guarantee that they are. You should always check with us FIRST if you have specific requirements.
Info
BRATECK 13''-27'' Triple monitor desk mount. Rotate, tilt and swivel. Supports VESA 75x75 & 100x100. Max load: 8kg per screen. Max arm extension - 630mm. Colour: Slate black. Clamp and Grommet base
Description
The LDT07-C036 allows you to clear out your desk surface while providing an ergonomic working position. It is designed to use with 13''~27'' monitors. The weight capacity is 8kg/17.6lbs for each arm. Full motion structure allows maximum flexibility — extends, tilts and swivels your monitor for easy viewing. Its ball-joint structure allows smooth, effortless rotating and positioning for any direction, making it easy to reduce glare and find the perfect viewing angle. You can also adjust the monitor vertically to the desired position.
Features:
Designed for 13"~27" monitors
MAX. weight capacity: 8kg
VESA: 75x75mm, 100x100mm
Tilt: +45°~-45°
Swivel: +45°~-45°
360° Rotary VESA plate
Arm extension: 200mm
Both desk clamp and grommet are available

Freely adjusting the height for an optimal ergonomic position

Cable management
Product Category
Regular Monitor Arm
By Rank
Standard
Material
Aluminium, Plastic, Steel
Surface Finish
Powder Coating
Colour
Slate Black
Dimensions
1448x120x550mm (57" x 4.7" x 21.7")
Installation
Grommet, Clamp
Suggested Screen Size
13"~27"
Fit Curved Monitor
No
Screen Quantity
3
Monitor Weight Capacity (per screen)
8kg (17.6lbs)
VESA Compatible
75x75mm, 100x100mm
Tilt Range
+45°~-45°
Swivel Range
+45°~-45°
Screen Rotation
+180°~-180°
Arm Full Extension
630mm (24.8")
Pole Height
450mm (17.7")
Suggested Desktop Thickness
Clamp: 10mm~ 88mm (0.39"~3.5")
Grommet: 10mm~80mm (0.39"~3.1")
Quick Release VESA Plate
No
Cable Management
Yes
Anti-theft
No
Instruction Manual Included
Yes
Lifetime Hits: 329 Doolz ID: 142189 Price is subject to change without notice. Price and Stock last updated 30 June 2022