Samsung C24RG50FQ 59.7 cm (23.5") 1920 x 1080 pixels Full HD Black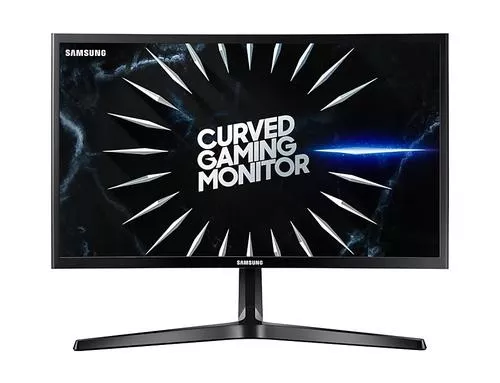 Manufacturer: SAMSUNG
Category: Computer Monitors
Short Description: Samsung C24RG50FQ, 59.7 cm (23.5"), 1920 x 1080 pixels, Full HD, 4 ms, Black
We have 1 supplier for this product
Supplier 1
Product Name: 24in (16:9) CURVE GAMING MONITOR
Price 1: NZ$314.99 inc GST
Stock: 109
Ships from: Manukau, Auckland
Price & stock last updated: 2020-08-07 05:00:38
+Price History:
| Date: | Price: |
| --- | --- |
| 2019-06-11 | NZ$317.21 |
| 2019-10-15 | NZ$300.06 |
| 2020-01-17 | NZ$309.93 |
| 2020-01-29 | NZ$300.06 |
| 2020-01-30 | NZ$295.84 |
| 2020-02-01 | NZ$294.43 |
| 2020-03-20 | NZ$306.45 |
| 2020-04-23 | NZ$322.58 |
| 2020-06-10 | NZ$314.99 |
Doolz ID:
40523
Every effort is made to ensure the image(s) and/or product details are correct, but we cannot guarantee that they are. You should always check with us FIRST if you have specific requirements.
Info
23.5", VA, 16:9, Mega DCR, 1920 x 1080, 16.7M, 4ms, 250cd/m2, 1800R, Display Port, HDMI
Samsung C24RG50FQ. Display diagonal: 59.7 cm (23.5"), Display resolution: 1920 x 1080 pixels, HD type: Full HD, Response time: 4 ms, Native aspect ratio: 16:9, Viewing angle, horizontal: 178-, Viewing angle, vertical: 178-. Product colour: Black
Description
Dive Into the Curve Fully Immerse yourself in every game with a deeply rounded 1800R curved screen. Sharp focus on the screen gives you heightened concentration so you can game for longer with less eye strain. Smooth, Fast Visuals Smooth and clear action, with a refresh rate of up to 144Hz that will put you ahead, even in the most demanding games. Spot the enemy instantly and notice crucial changes in every scene. This can be changed to 60Hz, 100Hz or 120Hz. Gamer Exclusives Ideal settings for your game. Game Mode optimally adjusts black gamma levels, contrast, sharpness, and colour for any game genre. Low Input Lag Mode minimises delays between your input devices and display. Virtual Aim Point centres the target on the screen for more precise attacks on the enemy. AMD FreeSync- Sick of choppy gameplay? AMD Radeon FreeSync- helps eliminate image tears for exceptionally smooth, fast-action gaming. With a dynamically adapted display refresh rate, even the most complex game scenes are seamless and virtually stutter-free. Fresh Eyes Win More Play for even longer. Eye Saver Mode minimises blue light enough to keep eyes relaxed and comfortable when gaming for extended periods. Flicker Free technology continuously removes tiring and irritating screen flicker so you can focus longer with less distraction or eye strain. See Through the Dark A whopping 3000:1 contrast ratio lets you see dangerous objects or enemies with greater clarity. Deep blacks and bright whites with amazing levels of shades in between.
Specs
| | |
| --- | --- |
| Display diagonal | 59.7 cm (23.5") |
| Display resolution | 1920 x 1080 pixels |
| Native aspect ratio | 16:9 |
| Panel type | VA |
| Display brightness (typical) | 250 cd/m- |
| Response time | 4 ms |
| HD type | Full HD |
| Screen shape | Curved |
| Supported graphics resolutions | 1920 x 1080 (HD 1080) |
| Contrast ratio (typical) | 3000:1 |
| Maximum refresh rate | 144 Hz |
| Viewing angle, horizontal | 178- |
| Viewing angle, vertical | 178- |
| Display number of colours | 16.78 million colors |
| Aspect ratio | 16:9 |
| Dynamic contrast ratio marketing name | Mega Contrast |
| 3D | N |
| Viewable size, horizontal | 52.1 cm |
| Viewable size, vertical | 29.3 cm |
| NVIDIA G-SYNC | N |
| AMD FreeSync | Y |
| VESA Adaptive Sync support | Y |
| Flicker-free technology | Y |
| Built-in speaker(s) | N |
| Built-in camera | N |
| Market positioning | Gaming |
| Product colour | Black |
| Built-in USB hub | N |
| DVI port | N |
| HDMI | Y |
| DisplayPorts quantity | 1 |
| Audio input | N |
| Headphone out | Y |
| HDMI ports quantity | 2 |
| HDMI version | 1.4 |
| DisplayPort version | 1.2 |
| VESA mounting | N |
| Cable lock slot | N |
| Energy efficiency class | B |
| Annual energy consumption | 122 kWh |
| Power consumption (typical) | 33 W |
| Power consumption (off) | 0.3 W |
| Operating temperature (T-T) | 10 - 40 -C |
| Operating relative humidity (H-H) | 10 - 80% |
| Width | 547.8 mm |
| Depth | 90.7 mm |
| Height | 326.3 mm |
| Weight | 2.8 kg |
| Width (with stand) | 547.8 mm |
| Depth (with stand) | 242.6 mm |
| Height (with stand) | 430.5 mm |
| Weight (with stand) | 3.3 kg |
| Stand included | Y |
| Cables included | HDMI |
| Package width | 612 mm |
| Package depth | 391 mm |
| Package height | 172 mm |
| Package weight | 4.9 kg |
| Package type | Box |
| AC adapter included | Y |
| Power cable length | 1.5 m |
| Power consumption (max) | 35 W |
| On/off switch | Y |
| Power consumption (DPMS) | 0.5 W |
| TV tuner integrated | N |
| Quick start guide | Y |
Other Multimedia
Some of these may not exist; we do not manage these files
Lifetime Hits: 556 Doolz ID: 40523 Price is subject to change without notice. Price and Stock last updated 07 August 2020