KX-HDV230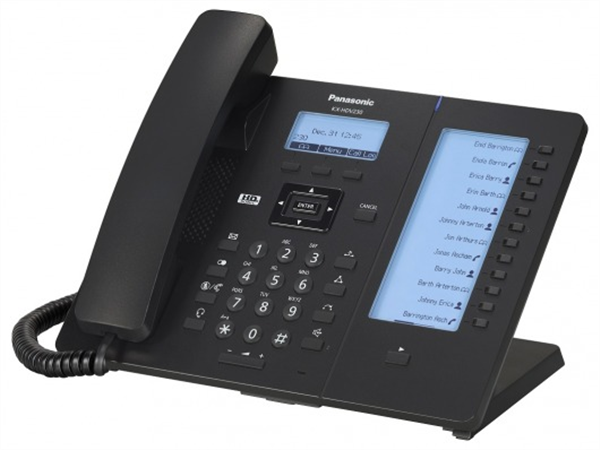 Manufacturer: PANASONIC
Category: Uncategorized
Get it now
KX-HDV230
Our Price: NZ$247.94 inc GST
Stock at this price: 1
Ships from: Albany, Auckland
Price & stock last updated: 2021-05-18 04:25:02
We have 1 supplier for this product
For pickups, choose the closest location to you. Otherwise, choose the cheapest or one that is in stock
Supplier 1
Product Name: KX-HDV230
Price 1: NZ$247.94 inc GST
Stock: 1
Available at: Albany, Auckland
Price & stock last updated: 2021-05-18 04:25:02
+Price History:
| Date: | Price: |
| --- | --- |
| 2019-06-11 | NZ$240.05 |
| 2020-01-16 | NZ$247.94 |
| 2020-01-28 | NZ$240.05 |
| 2020-01-29 | NZ$236.67 |
| 2020-01-31 | NZ$235.54 |
| 2020-04-21 | NZ$247.94 |
Doolz ID:
12
Every effort is made to ensure the image(s) and/or product details are correct, but we cannot guarantee that they are. You should always check with us FIRST if you have specific requirements.
Info
Panasonic's KX-HDV230 IP Phone features high definition voice quality with 12 flexible function keys with self labeling that can be constantly displayed. Moreover, the KX-HDV230B supports up to 6 lines and is also PoE capable eliminating the need for an AC adaptor.
This is the perfect phone for the office executive loking for excellent voice quality and a sleek, elegant design. With HD Sonic features such as full duplex, acoustic echo cancellation and packet loss concealment, this IP Phone provides the best wideband communication that is clear on both ends. The KX-HDV230B has a large backlit 2.3inch LCD display that makes the self-labeling function keys easy to read.
6 SIP accounts
132x64 pixel 2.3" graphical LCD display
160x384 pixel 5" graphical self-labeling LCD with flexible function keys
Voice Codecs: G.722 (wideband HD), G.711a-law, G.711µ-law, G.729a
Up to 500 phonebook entries
Flexible Function Keys: 12
Expand up to 224 keys with expansion module (HDV20B)
3-way conference call support
Compatible with Broadsoft UC one
2 10/100/1000Mbps Gigabit Ethernet ports
Low standby power consumption
XML application interface
Plug and play configuration
Changeable angle stand
Wall-mount adapter included
Headset Port: RJ9
Full duplex speakerphone
Acoustic echo cancellation
IPv4/IPv6
Power Source: PoE 802.3af or optional AC adapter (A422)
* EHS. Supported wireless headsets:
Jabra PRO925 and PRO9450 (with JABRA LINK 14201-40 EHS Cord)
Description
HD voice quality and large, easy to read LCD with backlight
Up to six SIP lines
2 x Gigabit Ethernet
PoE
QoS [Layer 3 ToS DSCP I 802.1p I Q tagging [VLAN] CNG,VAD,PLC, AEC
HD SONIC sound with wideband audio, full duplex, acoustic full duplex and acoustic echo cancellation
Packet loss concealment in hardware and software
Maximised voice quality and wideband communication performance
Large, easy to read LCD with backlight
12 function keys with self-labelling (up to 224 keys with optional expansion module - HDV20)
The Panasonic KX-HDV Series IP phones offer streamlined functions and the high definition voice quality that's essential for effective communication.

12 Function Keys
with Self Labeling HD Voice Quality 12 flexible function keys can be constantly displayed, and up to 24 numbers can be registered. Since the numbers are displayed on the screen, a paper label is
not required. In addition, the flexible function keys enable expansion up to 224 keys with the optional Expansion Module.
HD Voice Quality
12 flexible function keys can be constantly displayed, and up to 24 numbers can be registered. Since the numbers are displayed on the screen, a paper label is not required. In addition, the flexible
function keys enable expansion up to 224 keys with the optional Expansion Module.
The KX-HDV Series incorporates HD SONIC features, such as full duplex, acoustic echo cancellation, and packet loss concealment, in its hardware and software to maximise voice quality and wideband communication
performance. HD SONIC contributes to clear voice communication.
A Large, Easy-to-Read LCD with Backlight
A 2.3-inch main LCD and 5-inch self-labeling LCD with flexible function keys are used. The LCD with backlight makes text easy to read, ideal for work that centres on conversing.
Up to 6 Lines, 2 x Gigabit Ethernet & PoE
Featuring Gigabit Ethernet for comfortable communication, a single unit can connect to as many as six lines. PoE compatibility also eliminates the need for an AC adaptor.
Audio Features
•HD voice
•Wideband codec: G.722
•Narrowband codec: G.711a-law, G.711μ-law, G.729a
•DTMF: In band, Out band (RFC2833), SIP INFO
•Full duplex speakerphone
•CNG, VAD, PLC, AEC
IP Features
•6 SIP accounts
•IP version: IPv4, IPv6
•NAT traversal (STUN / Rport (RFC3581) /Port Punching / ICE)
•Embedded web server
•QoS (Layer 3 ToS DSCP / 802.1p / Q tagging (VLAN))
Phone Features
•Anonymous call (CLIR), Anonymous call rejection
•Call forward, Call hold, Call transfer, Call waiting
•Caller ID (CLIP, CNIP), Caller ID blocking
•Distinctive ring
•Do not disturb
•Ring selection
•Local phonebook (Up to 500 numbers)
•LDAP / XML Remote phonebook
•Blacklists (Up to 30 lists)
Management
•Auto provisioning (SIP PnP / DHCP option / Redirection server)
•Export current active settings
•Automatic firmware upgrade
•Reset to factory default, Reset to carrier default, Reboot
Interface
•Gigabit Ethernet port (2 × 10/100/1000 Mbps)
•Headset port (RJ9)
•EHS Supported (no need for an external EHS adapter) *
•PoE (IEEE 802.3af)
•Optional Expansion Module interface (Up to 5 units)
Display / Indicator
•132 × 64 pixel 2.3 - inch graphical LCD
•160 × 384 pixel 5 - inch graphical LCD
•LCD backlight (Both LCD)
•1 LED for Ringer, Message waiting and Missed call indication
•12 LEDs for Flexible function and Line indication
Others
•Wall mount (Include)
•Power consumption (PoE): 3.2 W
•Power consumption (AC adaptor): 2.9 W
•Operationenvironment:0ËšC-40ËšC/20%-80%(Noncondensing)
•Dimensions (W × D × H mm):252 × 179 × 188 (High position)
252 × 187 × 154 (Low position)
•Weight: 1,030 g

BROADSOFT Compatible
∙Basic Call Feature
∙Missed Calls Display
∙N-Way Conference
∙Busy Lamp Field
∙Call Centre
∙Call Park Notification
∙Click to Call
∙Feature Key Synchronisation
∙Shared Call Appearance
∙Broadsoft Xsi
∙BroadSoft Presence
∙BroadSoft Xsi Phonebook
Lifetime Hits: 664 Doolz ID: 12 Price is subject to change without notice. Price and Stock last updated 18 May 2021