Arista 7304XT 4PSU 4Fab Sup M FB AC Bndl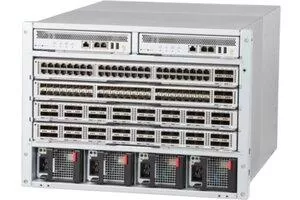 Product Code: JH928A
Manufacturer: HPE
Category: Uncategorized
Get it now
Arista 7304XT 4PSU 4Fab Sup M FB AC Bndl
Our Price: NZ$69,408.80 inc GST
Stock at this price: Out of stock!
No ETA available
Ships from: Mount Wellington, Auckland
This product is not currently available while out of stock. Subscribe to Stock Alerts below to get notified when it is available
Log in to use Stock Alerts
Price & stock last updated: 2021-12-05 06:00:22
We have 1 supplier for this product
For pickups, choose the closest location to you. Otherwise, choose the cheapest or one that is in stock
Supplier 1
Product Name: Arista 7304XT 4PSU 4Fab Sup M FB AC Bndl
Price 1: NZ$69,408.80 inc GST
Stock: Out of stock!
No ETA available
Available at: Mount Wellington, Auckland
This product is not currently available while out of stock. Subscribe to Stock Alerts below to get notified when it is available
Log in to use Stock Alerts
Price & stock last updated: 2021-12-05 06:00:22
+Price History:
| Date: | Price: |
| --- | --- |
| 2019-06-11 | NZ$61.24 |
| 2019-06-12 | NZ$62,292.03 |
| 2019-08-06 | NZ$62,592.97 |
| 2020-01-14 | NZ$65,695.05 |
| 2020-01-17 | NZ$67,854.04 |
| 2020-01-29 | NZ$65,695.05 |
| 2020-01-30 | NZ$64,769.77 |
| 2020-02-01 | NZ$64,461.34 |
| 2020-02-18 | NZ$69,569.52 |
| 2020-05-14 | NZ$94,491.71 |
| 2020-06-05 | NZ$73,231.08 |
| 2020-09-03 | NZ$68,506.49 |
| 2021-06-18 | NZ$72,561.71 |
| 2021-06-19 | NZ$69,406.86 |
Doolz ID:
203682
Every effort is made to ensure the image(s) and/or product details are correct, but we cannot guarantee that they are. You should always check with us FIRST if you have specific requirements.
Info
Arista 7304XT 4PSU 4Fab Sup M FB AC Bndl
Description
Advanced traffic control and monitoring improve agility of high-performance environments with data monitoring, precise timing and virtualization.
Network monitoring, precision timing and network virtualization.
A flexible combination of 00M, G, 0G and 40G switching.
Switching Performance for Large Leaf and Spine Networks
The Arista 7 00 Series Data Center Switch is designed around an internal clos with line cards and fabric modules fully interconnected via vertical fabric modules for over 40 Tbps of capacity.
Dual redundant supervisor modules provide centralized control plane and management functionality.
The 7 00 supports up to 0 billion packets per second and up to 2.56 Terabits per second per line card.
Based on configuration, the 7 00 has 2,048 wire-speed 0GbE ports or 5 2 wire-speed 40GbE ports. In cut-through mode, the 7 00 switches forward packets with a latency of less than 2usec.
The flexibility of the L2 and L multi-path design options combined with support for open standards, provides greater flexibility, scalability and network wide virtualization.
High Hardware Availability and Energy Efficiency
The Arista 7 00 Series Data Center Switch has multiple redundancies including N+N Grid redundant power system, + supervisor redundancy, redundant fabric modules, and N+ fan module redundancy.
The 7 00 Series is energy efficient with typical power consumption of under Watts per 0GbE port for lower total cost of ownership.
With front-to-rear airflow, redundant and hot swappable supervisor, power, fabric and cooling modules the system is purpose built for your data centers.
Supported by Arista EOS
The Arista EOS offers a single binary image and a fine-grained, truly modular network operating system.
With Arista EOS you get an extensible platform: bash, python, C++, GO, and OpenConfig, as well as resilient self-healing software.
Arista EOS enables advanced monitoring and automation capabilities such asZeroTouch Provisioning, LANZ, VM Tracer and Linux based tools.
Specs
| | |
| --- | --- |
| Ports | (4) I/O module slots Supports a maximum of 512 10GbE ports or 128 40GbE ports, or a combination Depending on configuration |
| Memory and processor | System memory 16 GB Flash memory 4 GB Packet buffer 12 MB |
| Latency | |
| Throughput | up to 10 Tbps/7.5 Bpps |
| Management features | CloudVision 10/100/1000 Management port RS-232 Serial console port USB port SNMP v1, v2, v3 Management over IPv6 Telnet and SSHv2 Syslog AAA Industry-standard CLI |
| Input voltage | 200 - 240V AC |
| Operating humidity range | 5 to 95% |
| Power Consumption | 3000 W |
| Minimum dimensions ( H x W x D) | 44.1 x 60.3 x 35.2 cm |
| Weight | 85.45 kg |
Lifetime Hits: 41 Doolz ID: 203682 Price is subject to change without notice. Price and Stock last updated 05 December 2021