Arista 7504N Empty Chassis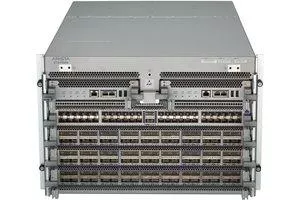 Product Code: JH852A
Manufacturer: HPE
Category: Uncategorized
Get it now
Arista 7504N Empty Chassis
Our Price: NZ$26,323.44 inc GST
Stock at this price: Out of stock!
No ETA available
Ships from: Mount Wellington, Auckland
This product is not currently available while out of stock. Subscribe to Stock Alerts below to get notified when it is available
Log in to use Stock Alerts
Price & stock last updated: 2021-11-27 06:00:23
We have 1 supplier for this product
For pickups, choose the closest location to you. Otherwise, choose the cheapest or one that is in stock
Supplier 1
Product Name: Arista 7504N Empty Chassis
Price 1: NZ$26,323.44 inc GST
Stock: Out of stock!
No ETA available
Available at: Mount Wellington, Auckland
This product is not currently available while out of stock. Subscribe to Stock Alerts below to get notified when it is available
Log in to use Stock Alerts
Price & stock last updated: 2021-11-27 06:00:23
+Price History:
| Date: | Price: |
| --- | --- |
| 2019-06-11 | NZ$23.27 |
| 2019-06-12 | NZ$23,624.74 |
| 2019-08-06 | NZ$23,738.88 |
| 2020-01-14 | NZ$24,914.99 |
| 2020-01-17 | NZ$25,733.79 |
| 2020-01-29 | NZ$24,914.99 |
| 2020-01-30 | NZ$24,564.08 |
| 2020-02-01 | NZ$24,447.10 |
| 2020-02-18 | NZ$26,384.40 |
| 2020-05-14 | NZ$35,836.19 |
| 2020-06-05 | NZ$27,773.05 |
| 2020-09-03 | NZ$25,981.24 |
| 2021-06-18 | NZ$27,519.19 |
| 2021-06-19 | NZ$26,322.70 |
Doolz ID:
203639
Every effort is made to ensure the image(s) and/or product details are correct, but we cannot guarantee that they are. You should always check with us FIRST if you have specific requirements.
Info
Arista 7504N Empty Chassis
Description
Delivers 50 Tbps of system throughput to meet the needs of very large scale enterprise data centers.
Designed for near continuous operations and with system wide monitoring of hardware and software components, simplfying serviceability and provisioning.
Providing a highly scalable cloud network designs with MLAG, ECMP and VXLAN technologies.
NetDB provides the scalability to support IP routing with low power consumption and fast convergence while expanding to millions of routes.
Arista AlgoMatch enables flexible access controls with expanded scale across more fields with full capacity while providing additional capabilities for filtering.
Arista AlgoMatch enables increased network telemetry using sFlow to sample traffic at hundreds of gigabits per second per line card.
Scaling Data Center Performance
The Arista 7500R Data Center Switch Router Series delivers non-blocking switching capacity that enables dramatically faster and simpler network designs for data centers and lowers both capital and operational expenses.
A wide range of modular systems with a single consistent Extensible Operating System (EOS) allows for flexible selections at all tiers of the network and deployment scenarios including Layer 2 MLAG, Layer ECMP, VXLAN Overlay and Internet peering.
Multi-Chassis Link Aggregation (MLAG) technology supports a leaf and spine active/active Layer 2 network topology. An Equal Cost Multi-Path (ECMP) design at Layer scales the network in a fully non-blocking, low-latency and predictable manner.
High-Performance Cloud Networks
The Arista 7500R Data Center Switch Router Series delivers a suite of advanced traffic control and monitoring features to improve the agility of modern high-performance environments, with solutions for automation, data monitoring, precise timing and next-generation virtualization.
Automating the data center enables customers to dynamically provision computing resources in the most efficient manner while also meeting business needs by maintaining service level agreements (SLAs).
Arista Extensible Operating System (EOS)
All Arista products including the Arista 7500R Data Center Switch Router Series deploy the same Arista EOS software, binary image simplifying network administration with a single standard across all switches.
Arista EOS is a modular switch operating system with a unique state sharing architecture that cleanly separates switch state from protocol processing and application logic.
Built on top of a standard Linux® kernel, all EOS processes run in their own protected memory space and exchange state through an in-memory database.
This multi-process state sharing architecture provides the foundation for in-service software updates and self-healing resiliency together with stateful switchover without the loss of data plane forwarding.
Arista EOS automates complex IT workflows and simplifies network operations while reducing downtime. It's rich automation capabilities not only reduce the human error element in network operations but also enables IT operators to make the network work the way they want.
Specs
| | |
| --- | --- |
| Ports | (4) I/O module slots Supports a maximum of 576 10GbE ports or 576 25GbE ports or 144 40GbE ports or 288 50GbE ports or 144 100GbE port, or a combination, depending on configuration |
| Memory and processor | System memory 32 GB Flash memory 4 GB Packet buffer 24 GB per line card |
| Latency | 4 u00b5s, maximum |
| Throughput | up to 38 Tbps/17.3 Bpps |
| Operating humidity range | 5 to 95% |
| Power Consumption | 5,940W, maximum, depending on configuration |
| Minimum dimensions ( H x W x D) | 31.2 x 48.3 x 79.5 cm |
| Weight | 101 kg, fully loaded |
Lifetime Hits: 48 Doolz ID: 203639 Price is subject to change without notice. Price and Stock last updated 27 November 2021