Arista 7260X 64QSFP28 2SFP+ BF AC Switch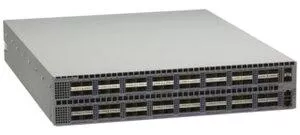 Product Code: JH800A
Manufacturer: HPE
Category: Uncategorized
Get it now
Arista 7260X 64QSFP28 2SFP+ BF AC Switch
Our Price: NZ$107,706.38 inc GST
Stock at this price: Out of stock!
No ETA available
Ships from: Mount Wellington, Auckland
This product is not currently available while out of stock. Subscribe to Stock Alerts below to get notified when it is available
Log in to use Stock Alerts
Price & stock last updated: 2021-11-28 06:00:22
We have 1 supplier for this product
For pickups, choose the closest location to you. Otherwise, choose the cheapest or one that is in stock
Supplier 1
Product Name: Arista 7260X 64QSFP28 2SFP+ BF AC Switch
Price 1: NZ$107,706.38 inc GST
Stock: Out of stock!
No ETA available
Available at: Mount Wellington, Auckland
This product is not currently available while out of stock. Subscribe to Stock Alerts below to get notified when it is available
Log in to use Stock Alerts
Price & stock last updated: 2021-11-28 06:00:22
+Price History:
| Date: | Price: |
| --- | --- |
| 2019-06-11 | NZ$95.53 |
| 2019-06-12 | NZ$96,663.44 |
| 2019-08-06 | NZ$97,130.43 |
| 2020-01-14 | NZ$101,943.51 |
| 2020-01-17 | NZ$105,293.77 |
| 2020-01-29 | NZ$101,943.51 |
| 2020-01-30 | NZ$100,507.69 |
| 2020-02-01 | NZ$100,029.08 |
| 2020-02-18 | NZ$107,955.79 |
| 2020-05-14 | NZ$146,629.24 |
| 2020-06-05 | NZ$113,637.67 |
| 2020-09-03 | NZ$106,306.20 |
| 2021-06-18 | NZ$112,598.97 |
| 2021-06-19 | NZ$107,703.37 |
Doolz ID:
203595
Every effort is made to ensure the image(s) and/or product details are correct, but we cannot guarantee that they are. You should always check with us FIRST if you have specific requirements.
Info
Arista 7260X 64QSFP28 2SFP+ BF AC Switch
Description
The high-density wirespeed 40GbE and 00GbE offer latency as low as 450 ns port to port.
Large 6, 22 or 64 MB dynamic packet buffer memory and larger 4 or 8 GB system memory depending upon model
Quad 0GbE or 25GbE modes.
50 GbE mode for high-bandwidth storage and compute applications.
High-Density, Fixed Configuration
The Arista 7060X and 7260X Data Center Switches are purpose-built high-density switches with wire speed L2 and L features for software designed cloud networking and emerging requirements.
Delivers a rich choice of interface speed and density allowing you to seamlessly evolve from existing 0GbE and 40GbE to 25GbE, 50GbE and 00GbE.
Supports a flexible combination of speeds in compact form factors giving you the ability to design networks to accommodate the myriad of different applications and east-west traffic patterns found in your datacenter.
The lower power requirements enable cost effective solutions with flexible and scalable resources for L2 and L designs.
The high-density wirespeed 40GbE and 00GbE offer latency from 450 ns port to port.
Supported by Arista EOS
Combined with Arista EOS software, both the Arista 7060X and 7260X Data Center Switch Series deliver advanced features for cloud, big data, virtualized and traditional data centers.
Arista EOS is a modular switch operating system with a unique state sharing architecture that cleanly separates switch state from protocol processing and application logic.
All EOS processes run in their own protected momory space and exchange state through an in-memory database.
Provides a foundation for in-service-software updates and self-healing resiliency.
With advanced monitoring and automation capabilities such a Zero Touch Provisioning, VMTracer and Linux based tools can be run natively on the switch with the powerful x86 CPU subsystem.
Specs
| | |
| --- | --- |
| Ports | (64) QSFP+ ports (2) SFP+ ports |
| Memory and processor | System memory 4 GB Flash memory 4 GB Packet buffer 16 MB |
| Latency | 550ns |
| Throughput | up to 5.12 Tbps/3.3 Bpps |
| Management features | CloudVision 10/100/1000 Management Port RS-232 Serial Console Port USB Port SNMP v1, v2, v3 Management over IPv6 Telnet and SSHv2 Syslog AAA Industry Standard CLI |
| Input voltage | 100-240 VAC |
| Operating humidity range | 5 to 95% |
| Power Consumption | 800W |
| Minimum dimensions ( H x W x D) | 48.3 x 8.8 x 45.7 cm |
| Weight | 16.1 kg |
Lifetime Hits: 52 Doolz ID: 203595 Price is subject to change without notice. Price and Stock last updated 28 November 2021