StarTech.com 8-Port Gigabit Ethernet Switch - Managed - Wall Mount with Front Access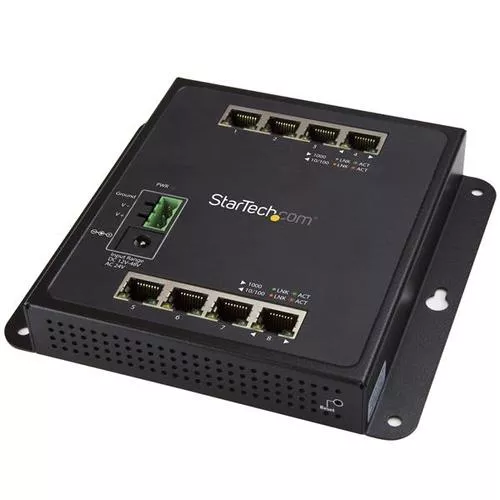 Manufacturer: STARTECH
Category: Network Switches
Short Description: StarTech.com 8-Port Gigabit Ethernet Switch - Managed - Wall Mount with Front Access, Managed, L2, Gigabit Ethernet (10/100/1000), Full duplex, Wall mountable
We have 1 supplier for this product
Supplier 1
Product Name: GbE Switch - 8-Port Managed - Wall Mount
Price 1: NZ$401.02 inc GST
Stock: 5
Ships from: Manukau, Auckland
Price & stock last updated: 2020-09-23 05:01:50
+Price History:
| Date: | Price: |
| --- | --- |
| 2019-06-11 | NZ$398.08 |
| 2019-08-26 | NZ$483.40 |
| 2019-08-27 | NZ$398.08 |
| 2020-01-17 | NZ$411.16 |
| 2020-01-29 | NZ$398.08 |
| 2020-01-30 | NZ$392.47 |
| 2020-02-01 | NZ$390.60 |
| 2020-04-23 | NZ$519.02 |
| 2020-07-20 | NZ$401.02 |
Doolz ID:
85373
Every effort is made to ensure the image(s) and/or product details are correct, but we cannot guarantee that they are. You should always check with us FIRST if you have specific requirements.
Info
StarTech.com 8-Port Gigabit Ethernet Switch - Managed - Wall Mount with Front Access
StarTech.com 8-Port Gigabit Ethernet Switch - Managed - Wall Mount with Front Access. Switch type: Managed, Switch layer: L2. Basic switching RJ-45 Ethernet ports type: Gigabit Ethernet (10/100/1000), Basic switching RJ-45 Ethernet ports quantity: 8. Full duplex, Networking standards: IEEE 802.1D,IEEE 802.1Q,IEEE 802.1ab,IEEE 802.1p,IEEE 802.1s,IEEE 802.1w,IEEE 802.3,IEEE.... DC input voltage: 12 - 48 V. Power connector: DC-in jack. Wall mountable
Description
Easily deploy or scale your network with this Gigabit Ethernet switch, adding eight copper Gigabit Ethernet (GbE) connections. This IP30 industrial network switch provides intelligent Layer 2 management. Its rugged, compact design and wall-mount option with front access make it ideal for demanding applications, even where space is limited. Expand your network This GbE switch lets you expand your network by connecting up to eight RJ45 devices. The 8-Port switch enables up to eight users to share files and devices, such as printers and scanners, over a LAN connection, by enhancing your existing network capacity with additional ports. Wall-mountable with front access With its compact design, you can wall-mount the Gigabit switch to provide convenient front access to ports and indicators. It-s ideal for a wide range of applications, including tight installation areas with significant electromagnetic interference, such as control cabinets and panels. The network switch is also DIN-rail mountable. Efficient Layer 2 management The scalable switch delivers efficient and stable performance, with Layer 2 management capabilities. This lets you control packet traffic on a busy network, and customize your settings to achieve optimal network performance, offering improved efficiency and reliability. Rugged industrial design This rugged network switch features an IP30-rated metal housing and extended operating temperature range of -40-C to 75-C, which makes it ideal for a wide range of conditions. The sturdy metal enclosure offers durability, even in harsh industrial environments. Reliable connection for seamless network performance With support for 10/100/1000Mbps transfer speeds, this managed switch supports full/half-duplex auto-negotiation, jumbo frames, and auto MDI/MDIX operation. This lets you connect your network devices quickly and easily, with little to no configuration required. To help prevent any unnecessary downtime, the switch features redundant 12-58V DC terminal block power inputs, which ensures seamless operation in the event of power dips or failures. The IES81GW is backed by a StarTech.com 2-year warranty and free lifetime technical support.
Specs
| | |
| --- | --- |
| Switch type | Managed |
| Switch layer | L2 |
| Basic switching RJ-45 Ethernet ports quantity | 8 |
| Basic switching RJ-45 Ethernet ports type | Gigabit Ethernet (10/100/1000) |
| Power connector | DC-in jack |
| Networking standards | IEEE 802.1D,IEEE 802.1Q,IEEE 802.1ab,IEEE 802.1p,IEEE 802.1s,IEEE 802.1w,IEEE 802.3,IEEE 802.3ab,IEEE 802.3ad,IEEE 802.3u,IEEE 802.3x |
| Copper ethernet cabling technology | 10BASE-T,100BASE-TX,1000BASE-TX |
| Full duplex | Y |
| Flow control support | Y |
| Link aggregation | Y |
| Auto MDI/MDI-X | Y |
| Spanning tree protocol | Y |
| Virtual LAN features | Tagged VLAN |
| Store-and-forward | Y |
| Jumbo frames support | Y |
| Jumbo frames | 9000 |
| Access Control List (ACL) | Y |
| Management protocols | IPv4, IPv6 |
| Product colour | Black |
| Housing material | Steel |
| LED indicators | Activity,Link,Power |
| International Protection (IP) code | IP30 |
| Wall mountable | Y |
| Certification | CE, FCC, RoHS, TAA |
| Maximum cable length | 100 m |
| Buffer size | 512 KB |
| Maximum data transfer rate | 2000 Mbit/s |
| Plug and Play | Y |
| Mean time between failures (MTBF) | 100000 h |
| Power supply included | Y |
| DC input voltage | 12 - 48 V |
| Output voltage | 12 V |
| Output current | 1.5 A |
| Power plug type | Type M |
| Power over Ethernet (PoE) | N |
| Operating temperature (T-T) | -40 - 75 -C |
| Storage temperature (T-T) | -40 - 90 -C |
| Operating relative humidity (H-H) | 5 - 95% |
| Width | 148 mm |
| Depth | 134 mm |
| Height | 25 mm |
| Weight | 490 g |
| Quick start guide | Y |
| Terminal block included | Y |
| AC adapter included | Y |
| Screws included | Y |
| Pinlock included | Y |
| Washers included | Y |
| DIN rail included | Y |
| Dust cap included | Y |
| Package width | 170 mm |
| Package depth | 300 mm |
| Package height | 90 mm |
| Package weight | 964 g |
| Terminal block port | Y |
Other Multimedia
Some of these may not exist; we do not manage these files
Lifetime Hits: 23 Doolz ID: 85373 Price is subject to change without notice. Price and Stock last updated 23 September 2020