HyperX QuadCast Table microphone Black,Red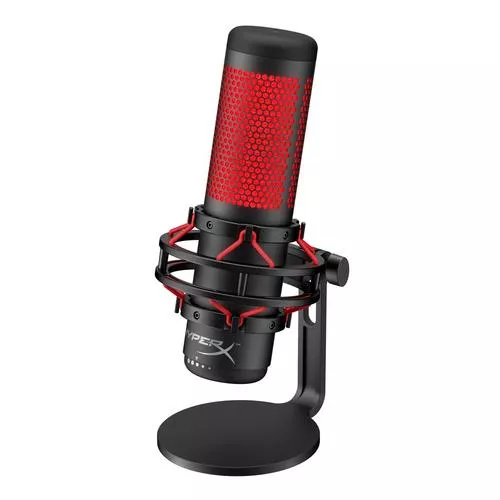 Manufacturer: KINGSTON
Category: Microphones
Short Description: HyperX QuadCast, Table microphone, -36 dB, 20 - 20000 Hz, 16 bit, 48 kHz, Wired
We have 1 supplier for this product
Supplier 1
Product Name: HYPERX QUADCAST
Price 1: NZ$213.79 inc GST
Stock: Out of stock!
ETA is the 7th October 2020
Ships from: Highbrook, Auckland
This product is not currently available while out of stock. Subscribe to Stock Alerts below to get notified when it is available
Log in to use Stock Alerts
Price & stock last updated: 2020-09-22 05:05:10
+Price History:
| Date: | Price: |
| --- | --- |
| 2019-06-11 | NZ$177.59 |
| 2020-05-11 | NZ$213.79 |
Doolz ID:
168254
Every effort is made to ensure the image(s) and/or product details are correct, but we cannot guarantee that they are. You should always check with us FIRST if you have specific requirements.
Info
48kHz/16-bit, 20Hz-20kHz, 3 m, 5V, 125mA
HyperX QuadCast. Type: Table microphone, Microphone sensitivity: -36 dB, Microphone frequency: 20 - 20000 Hz. Connectivity technology: Wired, Device interface: USB. Product colour: Black,Red, Cable length: 3 m. Total Harmonic Distortion (THD): 0.05%, Output impedance: 32 -, Line-out Signal-to-Noise Ratio (SNR): 90 dB. Operating voltage: 5 V, Power consumption: 125 mA
Description
The HyperX QuadCast- is the ideal all-inclusive standalone microphone for the aspiring streamer or podcaster looking for a condenser mic with quality sound. QuadCast comes with its own anti-vibration shock mount to help reduce the rumbles of daily life and a built-in pop filter to muffle pesky percussive sounds. Instantly know your mic status with the LED indicator, and simply tap-to-mute to avoid awkward broadcasting accidents. Select between the four polar patterns (stereo, omnidirectional, cardioid, bidirectional) and use the conveniently-located gain control dial to quickly adjust your mic input sensitivity. The included mount adapter fits both 3/8- and 5/8- thread sizes and is compatible with most stands. Monitor your mic input with the built-in headphone jack, and QuadCast is certified by Discord and TeamSpeak- so you can ensure that your microphone is broadcasting loud and clear for all your followers and listeners. Whether you-re plugging into a PC, PS4-, or Mac- you-ll be able to deliver quality sound to anyone tuning in. Built-in anti-vibration shock mount Isolate the mic and suppress the sound of unintentional rumbles and bumps with the elastic rope suspension. Tap-to-mute sensor with LED status indicator Use the convenient tap-to-mute functionality to prevent an audio accident along with the help of the LED mic status indicator. If the light is on, the mic is active, if the light is off, the mic is muted. Four selectable polar patterns Choose between four polar patterns (stereo, omnidirectional, cardioid, bidirectional) to optimize your broadcast setup and keep the focus on the sounds you want to be heard. Mic mount adapter included Versatile adapter fits 3/8 inch and 5/8 inch threaded setups, so it can be mounted onto most mic stands or boom arms. Convenient gain control Easily adjust your mic sensitivity by turning the dial at the bottom of the QuadCast.
Specs
| | |
| --- | --- |
| Type | Table microphone |
| Microphone sensitivity | -36 dB |
| Microphone frequency | 20 - 20000 Hz |
| Bit rate | 16 bit |
| Sample rate | 48 kHz |
| Microphone mute | Y |
| Connectivity technology | Wired |
| Device interface | USB |
| Headphone out | Y |
| USB port | Y |
| Product colour | Black,Red |
| Cable length | 3 m |
| Total Harmonic Distortion (THD) | 0.05% |
| Output impedance | 32 - |
| Line-out Signal-to-Noise Ratio (SNR) | 90 dB |
| Operating voltage | 5 V |
| Power consumption | 125 mA |
| Microphone weight | 254 g |
| Desktop stand | Y |
| Cables included | USB |
| Stand weight | 364 g |
| RMS rated power | 0.007 W |
Other Multimedia
Some of these may not exist; we do not manage these files
Lifetime Hits: 389 Doolz ID: 168254 Price is subject to change without notice. Price and Stock last updated 22 September 2020