StarTech.com HDMI to VGA Video Adapter Converter with Audio - HD to VGA Monitor 1080p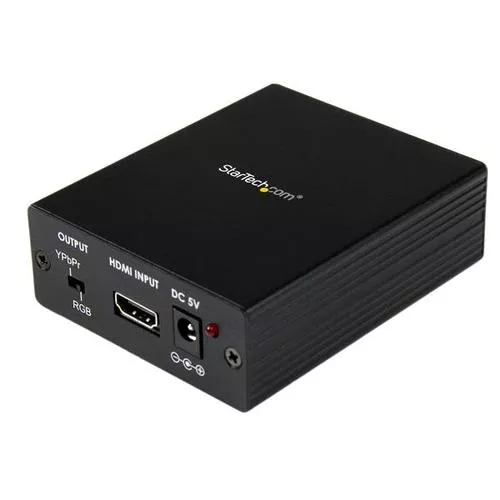 Manufacturer: STARTECH
Category: Video Converters
Short Description: StarTech.com HDMI to VGA Video Adapter Converter with Audio - HD to VGA Monitor 1080p, 1920 x 1200 pixels, 480i,480p,576i,576p,720p,1080i,1080p, Black, 76 x 76 x 92 mm, HDMI, VGA
We have 1 supplier for this product
Supplier 1
Product Name: HDMI to VGA Video Converter with Audio
Price 1: NZ$292.48 inc GST
Stock: 2
Ships from: Manukau, Auckland
Price & stock last updated: 2020-10-30 05:02:05
+Price History:
| Date: | Price: |
| --- | --- |
| 2019-06-11 | NZ$224.33 |
| 2019-08-26 | NZ$272.40 |
| 2019-08-27 | NZ$224.33 |
| 2020-01-17 | NZ$231.70 |
| 2020-01-29 | NZ$224.33 |
| 2020-01-30 | NZ$221.17 |
| 2020-02-01 | NZ$220.11 |
| 2020-04-23 | NZ$292.48 |
Doolz ID:
85735
Every effort is made to ensure the image(s) and/or product details are correct, but we cannot guarantee that they are. You should always check with us FIRST if you have specific requirements.
Info
StarTech.com HDMI to VGA Video Adapter Converter with Audio - HD to VGA Monitor 1920x1200 1080p - HDMI to VGA HD15
StarTech.com HDMI to VGA Video Adapter Converter with Audio - HD to VGA Monitor 1080p. Maximum video resolution: 1920 x 1200 pixels, Supported video modes: 480i,480p,576i,576p,720p,1080i,1080p. Product colour: Black, Dimensions (WxDxH): 76 x 76 x 92 mm. Host interface: HDMI, Output interface: VGA. Power requirements: AC 115 - 230 V. Weight: 172 g
Description
Connect HDMI enabled devices to a VGA monitor with stereo audio separation

The HDMI2VGA HDMI to VGA converter converts digital HDMI or DVI video signals to analog VGA, taking the input resolution from your device and converting it into an analog signal at the same resolution. The converter also separates the audio stream from the HDMI signal (HDMI LPCM 2-Channel) and converts it to analog stereo audio that can be used with the VGA display. With support for resolutions of up to 1080p, the HDMI2VGA converter is a perfect solution for connecting video cards (desktop or laptop) or consumer electronics devices such as game consoles or home theater receivers that offer an HDMI output to a VGA display. The HDMI2VGA adapter/converter is simple to use, with no complicated settings, and is backed by a 2-year warranty and free, lifetime technical support.

The StarTech.com Advantage

- The easiest way to convert HDMI to VGA with audio, allowing you to make your existing devices work together
- Supports PC, SD (standard definition), and HD (high definition) resolutions.
Specs
| | |
| --- | --- |
| Maximum video resolution | 1920 x 1200 pixels |
| Supported video modes | 480i,480p,576i,576p,720p,1080i,1080p |
| Product colour | Black |
| Dimensions (WxDxH) | 76 x 76 x 92 mm |
| Host interface | HDMI |
| Output interface | VGA |
| Power requirements | AC 115 - 230 V |
| Weight | 172 g |
| Package width | 210 mm |
| Package depth | 118 mm |
| Package height | 60 mm |
| Package weight | 536 g |
Lifetime Hits: 32 Doolz ID: 85735 Price is subject to change without notice. Price and Stock last updated 30 October 2020