LevelOne RJ45 to SC Gigabit Media Converter, Multi-Mode Fiber, 550m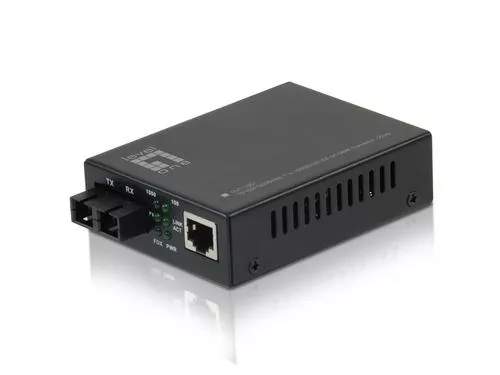 Manufacturer: LEVELONE
Category: Network Media Converters
Short Description: LevelOne RJ45 to SC Gigabit Media Converter, Multi-Mode Fiber, 550m, 1000 Mbit/s, 10Base-T,100Base-TX,1000Base-T, 1000Base-LX,1000Base-SX, IEEE 802.3,IEEE 802.3ab,IEEE 802.3u,IEEE 802.3x,IEEE 802.3z, Gigabit Ethernet, 10,100,1000 Mbit/s
Get it now
GVT-2001
Our Price: NZ$161.92 inc GST
Stock at this price: 2
Ships from: Albany, Auckland
Price & stock last updated: 2021-05-18 04:25:02
We have 1 supplier for this product
For pickups, choose the closest location to you. Otherwise, choose the cheapest or one that is in stock
Supplier 1
Product Name: GVT-2001
Price 1: NZ$161.92 inc GST
Stock: 2
Available at: Albany, Auckland
Price & stock last updated: 2021-05-18 04:25:02
+Price History:
| Date: | Price: |
| --- | --- |
| 2019-06-11 | NZ$134.72 |
| 2019-09-03 | NZ$142.07 |
| 2020-01-16 | NZ$146.74 |
| 2020-01-28 | NZ$142.07 |
| 2020-01-29 | NZ$140.07 |
| 2020-01-31 | NZ$139.40 |
| 2020-03-03 | NZ$146.61 |
| 2020-03-22 | NZ$153.82 |
| 2020-04-21 | NZ$161.92 |
Doolz ID:
321
Every effort is made to ensure the image(s) and/or product details are correct, but we cannot guarantee that they are. You should always check with us FIRST if you have specific requirements.
Info
RJ-45, SC, 10/100/1000BASE-T, 550 m, MMF, 420 g
LevelOne RJ45 to SC Gigabit Media Converter, Multi-Mode Fiber, 550m. Maximum data transfer rate: 1000 Mbit/s, Converter input interface: 10Base-T,100Base-TX,1000Base-T, Converter output interface: 1000Base-LX,1000Base-SX. Fiber optic connector: SC, Connectivity technology: Wired. Maximum transfer distance: 550 m, Wavelength: 850 nm, Fiber mode structure: Multi-mode. LED indicators: Activity,Link,Power, Product colour: Black, Country of origin: China. Input voltage: 5 - 12 V, Input current: 2 A
Description
The GVT-2001 MMF SC media converter is able to convert network signals between copper and fiber-optic based networks. The converter provides a 10/100/1000Base-T RJ-45 port, supports full duplex and half duplex switch connectivity and 10Base-T, 100Base-TX and 1000Base-T auto-sensing. Used in multi-mode with fibre-optic cabling, this can extend a network range up to 550m. The device features built-in Dip switches for easy converter configuration, which function on the Smart LFP (Link Fault Pass-through), allowing the converter to monitor both the fiber and copper ports for signal loss, as well as cut through and smart pass through mode. The GVT-2001 is able to operate in temperatures from -10- up to 55- Celsius. The converter can be used as a standalone unit or as a slide-in module to the CHV-2000 19- converter rack, which can accommodate up to 14 units for use in a central wiring closet.
Specs
| | |
| --- | --- |
| Maximum data transfer rate | 1000 Mbit/s |
| Converter input interface | 10Base-T,100Base-TX,1000Base-T |
| Converter output interface | 1000Base-LX,1000Base-SX |
| Networking standards | IEEE 802.3,IEEE 802.3ab,IEEE 802.3u,IEEE 802.3x,IEEE 802.3z |
| Ethernet interface type | Gigabit Ethernet |
| Ethernet LAN data rates | 10,100,1000 Mbit/s |
| Jumbo frames support | Y |
| Jumbo frames | 9000 |
| Flow control support | Y |
| Auto MDI/MDI-X | Y |
| Auto-negotiation | Y |
| Store-and-forward | Y |
| Duplex system | Full |
| Link Loss Carry Forward (LLCF) supported | Y |
| Link Loss Return (LLR) supported | Y |
| Cable types supported | Cat5,Cat5e |
| Fiber optic connector | SC |
| Connectivity technology | Wired |
| Ethernet LAN (RJ-45) ports | 1 |
| Fiber ports quantity | 1 |
| DC-in jack | Y |
| Maximum transfer distance | 550 m |
| Wavelength | 850 nm |
| Fiber mode structure | Multi-mode |
| Internal | N |
| LED indicators | Activity,Link,Power |
| Product colour | Black |
| Country of origin | China |
| RoHS compliance | Y |
| Certification | CE, FCC |
| Input voltage | 5 - 12 V |
| Input current | 2 A |
| Width | 94 mm |
| Depth | 70 mm |
| Height | 25 mm |
| Weight | 420 g |
| Operating temperature (T-T) | -40 - 75 -C |
| Storage temperature (T-T) | -10 - 55 -C |
| Operating relative humidity (H-H) | 5 - 90% |
| Package width | 235 mm |
| Package depth | 125 mm |
| Package height | 55 mm |
| Package weight | 530 g |
| Package type | Box |
| AC adapter included | Y |
| Quick installation guide | Y |
Other Multimedia
Some of these may not exist; we do not manage these files
Lifetime Hits: 55 Doolz ID: 321 Price is subject to change without notice. Price and Stock last updated 18 May 2021