Netgear GS752TX Managed L2/L3 10G Ethernet (100/1000/10000) Black Power over Ethernet (PoE)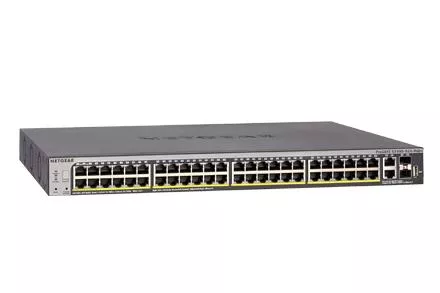 Manufacturer: NETGEAR
Category: Network Switches
Short Description: Netgear GS752TX, Managed, L2/L3, 10G Ethernet (100/1000/10000), Full duplex, Power over Ethernet (PoE), Rack mounting
Get it now
GS752TX-100AJS
Our Price: NZ$1,682.98 inc GST
Stock at this price: Out of stock!
No ETA available
Ships from: Albany, Auckland
Log in to use Stock Alerts
Price & stock last updated: 2022-05-19 08:20:02
We have 1 supplier for this product
For pickups, choose the closest location to you. Otherwise, choose the cheapest or one that is in stock
Supplier 1
Product Name: GS752TX-100AJS
Price 1: NZ$1,682.98 inc GST
Stock: Out of stock!
No ETA available
Available at: Albany, Auckland
Log in to use Stock Alerts
Price & stock last updated: 2022-05-19 08:20:02
+Price History:
| Date: | Price: |
| --- | --- |
| 2019-06-11 | NZ$1,464.80 |
| 2020-01-16 | NZ$1,512.94 |
| 2020-01-28 | NZ$1,464.80 |
| 2020-01-29 | NZ$1,444.17 |
| 2020-01-31 | NZ$1,437.29 |
| 2020-03-04 | NZ$1,513.00 |
| 2020-04-21 | NZ$1,592.64 |
| 2021-05-17 | NZ$1,633.12 |
| 2021-06-09 | NZ$1,707.35 |
| 2021-06-18 | NZ$1,633.12 |
Doolz ID:
291
Every effort is made to ensure the image(s) and/or product details are correct, but we cannot guarantee that they are. You should always check with us FIRST if you have specific requirements.
Info
48 GE ports, 4 10G ports, PoE+, 5.54 kg
Netgear GS752TX. Switch type: Managed, Switch layer: L2/L3. Basic switching RJ-45 Ethernet ports type: 10G Ethernet (100/1000/10000), Basic switching RJ-45 Ethernet ports quantity: 48. Full duplex. MAC address table: 16000 entries. Networking standards: IEEE 802.1D,IEEE 802.1Q,IEEE 802.1ab,IEEE 802.1as,IEEE 802.1s,IEEE 802.1w,IEEE 802.1x,IEEE.... Power over Ethernet (PoE). Rack mounting
Description
The Most Cost Efficient 10G Connectivity for SMB The ProSAFE- S3300 Series are a new generation of Gigabit Stackable Smart Switches inclusive of 4 10G ports, which can be used for uplinks and/or stacking between other S3300 switches. Dependable switched LAN network design mandates an architecture that can both scale as organization networks grow-and be flexible enough to provide support for faster server and storage connections needs. As SMBs produce and consume more data, Gigabit to the desktop increasingly needs to be underpinned with 10GbE connectivity to the core to ensure a consistent, seamless user experience. This new generation of switches provides SMB customers with the most cost-effective 10G connections between the access and aggregation layer of the network. Setting New Standards for a Future Proof Network The ProSAFE S3300 Smart Stackable Series is the blueprint for a dependable future-proof network. From greenfield network requirements to network refresh projects, the ProSAFE S3300 series sets new standards in defining flexibility and choice for SMBs looking to leverage reliable, future proof technologies at affordable price points. Packed with rich enterprise-class feature sets and advanced security measures, it is the only advanced smart switch platform to offer both dedicated 10GBase-T and SFP+ uplink and stacking connectivity in both PoE+ and non PoE configurations - a combination that delivers an unrivalled and powerful interconnect solution for access to core connectivity. Powerful Platform to Support Demanding Applications With a choice of 24 or 48 port models, these switches can deliver on demanding tasks such as data replication and backup, video on demand and high volume transaction processing. Up to 6 switches across the series can be stacked for a total of 288 network ports, with 40Gbps stacking bandwidth and full redundancy for unsurpassed reliability. Add in the ability to deliver PoE+ to every port with supplemental RPS and application diversity is readily supported from PTZ IP camera surveillance solutions through to high powered wireless access points and VoIP phones. The inclusion of 10GBase-T uplink capability as standard ensures an affordable way to leverage existing copper installations - if Gigabit speeds and link aggregation meets current requirements, simply migrate to 10GbE connectivity at a pace and time to suit your needs. With lifetime warranty, lifetime NBD and lifetime online technical chat to back you up, you-ll have access to an extensive support service to help protect your investment and reduce downtime risk over the long term.
Specs
| | |
| --- | --- |
| Switch type | Managed |
| Switch layer | L2/L3 |
| Basic switching RJ-45 Ethernet ports quantity | 48 |
| Basic switching RJ-45 Ethernet ports type | 10G Ethernet (100/1000/10000) |
| SFP+ module slots quantity | 2 |
| Networking standards | IEEE 802.1D,IEEE 802.1Q,IEEE 802.1ab,IEEE 802.1as,IEEE 802.1s,IEEE 802.1w,IEEE 802.1x,IEEE 802.3,IEEE 802.3ab,IEEE 802.3ad,IEEE 802.3i,IEEE 802.3u,IEEE 802.3x |
| 10G support | Y |
| Port mirroring | Y |
| Full duplex | Y |
| Flow control support | Y |
| Link aggregation | Y |
| Broadcast storm control | Y |
| Rate limiting | Y |
| Spanning tree protocol | Y |
| VLAN support | Y |
| MAC address table | 16000 entries |
| Latency (10 Gbps) | 4.107 -s |
| DHCP features | DHCP client |
| Access Control List (ACL) | Y |
| MAC address filtering | Y |
| SSH/SSL support | Y |
| Rack mounting | Y |
| Stackable | Y |
| Product colour | Black |
| LED indicators | Y |
| Noise level | 40 dB |
| Power consumption (typical) | 1484.12 W |
| Power over Ethernet (PoE) | Y |
| Operating temperature (T-T) | 0 - 50 -C |
| Storage temperature (T-T) | -20 - 70 -C |
| Operating relative humidity (H-H) | 0 - 95% |
| Storage relative humidity (H-H) | 0 - 95% |
| Operating altitude | 0 - 3000 m |
| Non-operating altitude | 0 - 3000 m |
| Width | 440 mm |
| Depth | 345 mm |
| Height | 43 mm |
| Weight | 5.54 kg |
Lifetime Hits: 111 Doolz ID: 291 Price is subject to change without notice. Price and Stock last updated 19 May 2022