GS716T-300AJS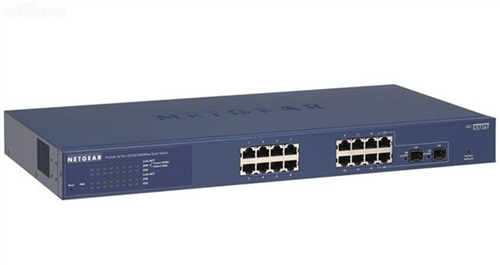 Manufacturer: NETGEAR
Category: Uncategorized
Get it now
GS716T-300AJS
Our Price: NZ$307.75 inc GST
Stock at this price: 2
Ships from: Albany, Auckland
Price & stock last updated: 2022-05-19 08:20:02
We have 2 suppliers for this product
For pickups, choose the closest location to you. Otherwise, choose the cheapest or one that is in stock
Supplier 1
Product Name: GS716T-300AJS
Price 1: NZ$307.75 inc GST
Stock: 2
Available at: Albany, Auckland
Price & stock last updated: 2022-05-19 08:20:02
+Price History:
| Date: | Price: |
| --- | --- |
| 2019-06-11 | NZ$235.15 |
| 2020-01-16 | NZ$242.88 |
| 2020-01-28 | NZ$235.15 |
| 2020-01-29 | NZ$231.84 |
| 2020-01-31 | NZ$230.74 |
| 2020-03-04 | NZ$242.75 |
| 2020-04-21 | NZ$255.53 |
| 2021-05-17 | NZ$261.86 |
| 2021-06-09 | NZ$273.76 |
| 2021-06-18 | NZ$261.86 |
Doolz ID:
299
Supplier 2
Product Name: NETGEAR GS716T PROSAFE 16-PORT GIGABIT SMART SWITCH
Price 2: NZ$309.01 inc GST
Stock: Out of stock!
ETA is the 1st January 1970
Available at: Highbrook, Auckland
This product is not currently available while out of stock. Subscribe to Stock Alerts below to get notified when it is available
Log in to use Stock Alerts
Price & stock last updated: 2022-05-19 05:05:08
+Price History:
| Date: | Price: |
| --- | --- |
| 2019-06-11 | NZ$351.63 |
| 2020-01-17 | NZ$363.18 |
| 2020-01-29 | NZ$351.63 |
| 2020-01-30 | NZ$346.67 |
| 2020-02-01 | NZ$345.02 |
| 2020-04-21 | NZ$363.18 |
| 2020-07-08 | NZ$246.68 |
| 2020-10-16 | NZ$273.86 |
| 2021-06-10 | NZ$286.31 |
| 2021-06-19 | NZ$273.86 |
Doolz ID:
168087
Every effort is made to ensure the image(s) and/or product details are correct, but we cannot guarantee that they are. You should always check with us FIRST if you have specific requirements.
Info
Network Protocol and Standards Compatibility
IEEE 802.3 10BASE-T Ethernet
IEEE 802.3u 100BASE-TX Fast Ethernet
IEEE 802.3ab 1000BASE-T Gigabit Ethernet
IEEE 802.3x full-duplex flow control
Interfaces
16 RJ-45 connectors for 10BASE-T, 100BASE-TX and 1000BASE-T (Auto Uplink on all ports)
2 Dual Personality SFP slots for fiber Gigabit Ethernet modules
Administrative Switch Management
IEEE 802.1D Spanning Tree Protocol
IEEE 802.1W Rapid Spanning Tree Protocol
IEEE 802.1S Multiple Spanning Tree Protocol
Auto-voice VLAN*
SNMPv1, v2c, v3
RFC 1213 MIB II
RFC 1643 Ethernet Interface MIB
RFC1493 Bridge MIB
Jumbo Frame Support (up to 9KB)
IEEE 802.1Q Tag VLAN
GS716T: 128 Static VLANs
GS724T: 128 Static VLANs
IEEE 802.1p (Class of Service)
DSCP - L3 QoS
Port-based ingress/egress rate limiting
IEEE 802.3ad static or dynamic link aggregration (LACP)
DHCP client function
Broadcast storm control
Port mirroring (many-to-one)
Port setting
Green features: Power saving by cable length (<10m). Power saving by auto power when link down
IGMP snooping v1/v2
IEEE 802.1x (RAIDUS)
Access control list (ACL) - MAC, IP
SNTP
IEEE 802.1ab LLDp
Protected ports**
HTTP and HTTPS
Auto denial-of-service (DoS) prevention
Syslog
Ping & traceroute
Web-based configuration, anywhere on the network
Smartwizard Discovery Utility program auto discovers devices (up to 254 agents/switches); set system configuration to each agent
Configuration backup/restore (easy to configure more than one switch)
Password access control
Firmware upgradeable
Support of Ehternet audio/video (EAV)*
Active Flow Control
Full-duplex IEEE 802.3x pause frame flow control
Half-duplex back-pressure control
Performance Specifications
Forwarding modes: Store-and-forward
Bandwidth: 32 Gbps
Network latency:
Average latency 4.5 us for 100 Mbps with 64 bytes
Buffer memory: 512 KB embedded memory per unit
Priority queues: 4
Priority queuing: Weighted Round Robin (WRR)
Address database size: 8,000 media access control (MAC) addresses per system
Addressing: 48-bit MAC address
Mean time between failures (MTBF): 401,205 hours
Acoustic Noise: 33 dBA
LEDs
Unit: Power
Per port: Link, activity, speed, duplex
Power Supply
Maximum Power Consumption:
- GS716T - 16.5W
- GS724T - 21.5W
100-240V AC/50-60 Hz universal input
Physical Specifications
Dimensions (h x w x d): 43 x 440 x 205 mm
Weight: 2.56 kg
Environmental Specifications
Operating temperature: 32° to 131°F (0° to 55° C)
Storage temperature: -4° to 158°F (-20° to 70° C)
Operating humidity: 90% maximum relative humidity, non-condensing
Storage humidity: 95% maximum relative humidity, non-condensing
Operating altitude: 10,000 ft (3,000 m) maximum
Storage altitude: 10,000 ft (3,000 m) maximum
Electromagnetic Compliance
CE mark, commercial
FCC Part 15 Class A
VCCI Class A
EN 55022 (CISPR 22)
EN 55024 (CISPR 24)
C-Tick
Safety Agency Approvals
UL listed (UL 1950)/cUL
IEC 950/EN 60950
CE mark, commercial
CUL 60950 (Listed)/EN 60950 (Low Voltage Directive)
CB
CCC
Description
802.1p-based prioritization
Layer 3-based prioritization
Rate-limiting
Easy-going and Durable
Simple to set up and simple to use for effortless network monitoring and troubleshooting.
Made to last, this sturdy switch is housed in a 17-inch metal box and comes with a rack-mounting kit
NETGEAR's family of Prosafe Gigabit Smart Switches is purposely designed for SMB customers with high performance, SMB-oriented features and easy management. With 16 or 24 10/100/1000 Mbps ports, each capable of powering 2000 Mbps of data throughput in full-duplex mode per port, plus two shared SFP ports, the GS716T-200 and GS724T-300 will enable SMB networks to support Voice over IP (VoIP), streaming media, multicasting, security, and many other bandwidth-intensive applications like ERP and large file transfers.
The GS716T-200 and GS724T-300 come with a comprehensive set of features, such as access control lists (ACL), 802.1x port authentication, enhanced QoS, rate limiting and IGMP snooping among others to provide a small and medium-sized business with a network that is geared for growth while ensuring performance and reliability.
In addition, an intuitive, Web-browser interface offers the simple Smart Switch management, making it a snap to monitor switch performance, configure ports, even set up port trunks, VLANs, and traffic prioritization. Alternatively, use SNMP-based software to manage your Smart Switch. Shipped ready for use straight out of the box, it delivers switching that's easy to set up and use. NETGEAR ProSafe Smart Switches are ideal for adding basic management to your unmanaged networks or extending your managed networks.
NETGEAR Green
Up to 70% power savings compared to the non-Green version
Auto power-down mode saves energy when port is unused
Cable length detection reduces power usage when network cable is shorter than 10 meters.
Intelligent
Smart Switch capability enables key management features for the value price of an unmanaged switch. Included are performance monitoring, port configuration, VLAN for traffic control, port trunking for increased bandwidth, and Class of Service (CoS) for traffic prioritization.
Enhanced Security
These Gigabit Smart Switches provide advanced features that provide more robust security to the SMBs. These include:
802.1x for authentication
ACL filtering to permit or deny traffic based on MAC or IP addresses.
Advanced Quality of Service (QoS)
Priority queuing ensures high-priority traffic gets delivered efficiently, even during congestion from high-traffic bursts. Companies implementing network telephony or video conferencing, for example, need to be able to prioritize such voice and video traffic and other real-time applications over less latency-sensitive traffic to ensure reliability and quality. The ability to prioritize traffic ensures quality of latency-sensitive services and applications despite increasing traffic loads. The ProSafe Gigabit Smart Switch provides an extensive set of QoS features:
**Use with NETGEAR ProSafe AGM731F 1000BASE-SX SFP GBIC module, ProSafe AGM732F 1000BASE-LX SFP GBIC module or ProSafe AGM733 1000BASE-ZX SFP GBIC.
Lifetime Hits: 141 Doolz ID: 299 Price is subject to change without notice. Price and Stock last updated 19 May 2022