GS108PE-300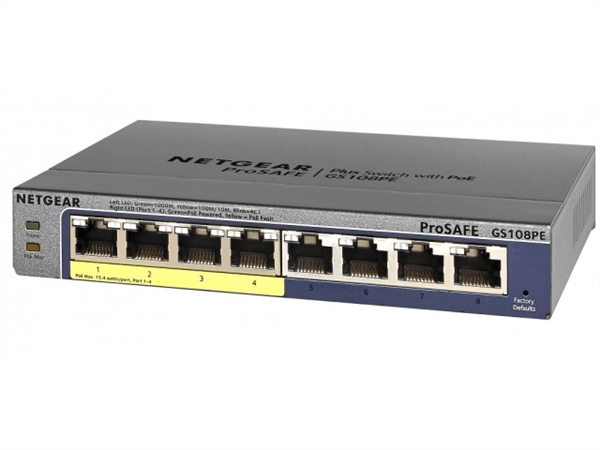 Manufacturer: NETGEAR
Category: Uncategorized
Get it now
GS108PE-300
Our Price: NZ$197.34 inc GST
Stock at this price: Out of stock!
No ETA available
Ships from: Albany, Auckland
This product is not currently available while out of stock. Subscribe to Stock Alerts below to get notified when it is available
Log in to use Stock Alerts
Price & stock last updated: 2021-10-18 20:10:01
We have 1 supplier for this product
For pickups, choose the closest location to you. Otherwise, choose the cheapest or one that is in stock
Supplier 1
Product Name: GS108PE-300
Price 1: NZ$197.34 inc GST
Stock: Out of stock!
No ETA available
Available at: Albany, Auckland
This product is not currently available while out of stock. Subscribe to Stock Alerts below to get notified when it is available
Log in to use Stock Alerts
Price & stock last updated: 2021-10-18 20:10:01
+Price History:
| Date: | Price: |
| --- | --- |
| 2019-06-11 | NZ$157.99 |
| 2020-01-16 | NZ$163.19 |
| 2020-01-28 | NZ$157.99 |
| 2020-01-29 | NZ$155.77 |
| 2020-01-31 | NZ$155.03 |
| 2020-03-04 | NZ$163.44 |
| 2020-04-21 | NZ$172.04 |
| 2020-07-07 | NZ$178.37 |
| 2020-07-15 | NZ$172.04 |
| 2021-06-09 | NZ$179.86 |
| 2021-06-18 | NZ$172.04 |
| 2021-09-23 | NZ$197.34 |
Doolz ID:
255
Every effort is made to ensure the image(s) and/or product details are correct, but we cannot guarantee that they are. You should always check with us FIRST if you have specific requirements.
Info
Control and Configure Beyond Plug-and-Play Connectivity.
Gigabit Ethernet Switch with 8 Ports
VLAN Support & Broadcast Storm Control
QoS and Bandwidth Management
Energy-Saving Features
Today's growing businesses rely more on their network to carry out missioncritical business activities. Deployment of VoIP and IP surveillance needs the network intelligence to separate the voice and video traffic from data, and prioritize them accordingly. However, companies do not necessarily have more money or advanced training to deal with complex managed switches.
The switch is the backbone of any business network and the ProSafe Plus 8-Port Gigabit Ethernet Switch from NETGEAR has the hardware needed to manage network traffic with ease. Each port found on this ProSafe Plus switch is capable of supporting up to 2 Gbps data throughput to ensure even the most bandwidth intensive tasks function virtually lag free, and with PoE compliant ports devices like IP cameras, VoIP equipment and more can be powered directly from the switch.
With plug-and-play setup, the switch can be integrated into an existing network quickly and efficiently thus reducing downtime. Once configured, the switch is capable of handling multiple VLANs, and offers various networking features such as enhanced Quality of Service functionality, IGMP Snooping, and much more. Furthermore, it is powered by an external 53W adapter.
Enable network configuration and management at the price point of Unmanaged Switches
Use the Netgear Configuration Utility or the switches web-GUI for management.
PoE total power budget of 53 Watts.
Gigabit connection delivers up to 2000 Mbps of dedicated, non-blocking bandwidth per port
Simple, yet useful network set-up on top of plug-and-play connectivity
Flexible management via PC-based utility tool
VLAN support for traffic segmentation
Quality of Service (QoS) for traffic prioritization
Auto "denial-of-service" (DoS) prevention
Troubleshoot connection issues via cable test
Loop detection and broadcast storm controls
IGMP snooping v1, v2 and v3 support for multicast optimization
Rate limiting for better bandwidth allocation
Port mirroring for network monitoring
Port trunking for bigger uplink bandwidth
Jumbo frame support
Energy Efficient Ethernet (IEEE802.3az) support for maxium power savings
Description
Gigabit Ports : 8
PoE ports : 4
Total PoE Power budget (Watts) : 53
Max MAC entries : 4K
Buffer size : 192KB
VLAN (Number Supported) : 32
Supported Mulitcast groups : 128
Max number of source ports allowed (many to 1) : 7
External Power
Input: 48V/1.25A
Max consumption (Watts) : 7.0W (no PoE) / 60.0W (w/PoE max)
FAN : No
Operating Temperature : 0° to 50° C
MTBF (hrs) : 1,242,394 hrs
Weight (kg) : 0.54Kg
Dimensions (WxDxH) mm : 158x101x29
Lifetime Hits: 132 Doolz ID: 255 Price is subject to change without notice. Price and Stock last updated 18 October 2021