LevelOne 5-Port Gigabit PoE Switch, 65W, 802.3at/af PoE, 4 PoE Outputs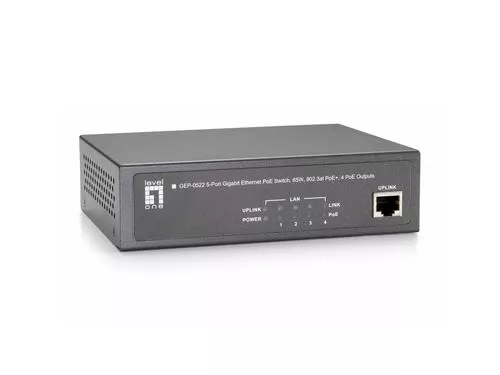 Manufacturer: LEVELONE
Category: Network Switches
Short Description: LevelOne 5-Port Gigabit PoE Switch, 65W, 802.3at/af PoE, 4 PoE Outputs, Gigabit Ethernet (10/100/1000), Power over Ethernet (PoE)
Get it now
GEP-0522
Our Price: NZ$163.19 inc GST
Stock at this price: 1
Ships from: Albany, Auckland
Price & stock last updated: 2022-05-19 08:20:02
We have 1 supplier for this product
For pickups, choose the closest location to you. Otherwise, choose the cheapest or one that is in stock
Supplier 1
Product Name: GEP-0522
Price 1: NZ$163.19 inc GST
Stock: 1
Available at: Albany, Auckland
Price & stock last updated: 2022-05-19 08:20:02
+Price History:
| Date: | Price: |
| --- | --- |
| 2019-06-11 | NZ$134.72 |
| 2019-09-03 | NZ$142.07 |
| 2020-01-16 | NZ$146.74 |
| 2020-01-28 | NZ$142.07 |
| 2020-01-29 | NZ$140.07 |
| 2020-01-31 | NZ$139.40 |
| 2020-03-03 | NZ$146.61 |
| 2020-03-22 | NZ$153.82 |
| 2020-04-21 | NZ$161.92 |
| 2021-04-10 | NZ$116.38 |
| 2021-06-09 | NZ$121.67 |
| 2021-06-18 | NZ$116.38 |
Doolz ID:
301
Every effort is made to ensure the image(s) and/or product details are correct, but we cannot guarantee that they are. You should always check with us FIRST if you have specific requirements.
Info
5 x 10/100/1000Base-TX RJ-45 PoE, 65W, MAC 2K, IEEE 802.3/u/ab/x/af/at
LevelOne 5-Port Gigabit PoE Switch, 65W, 802.3at/af PoE, 4 PoE Outputs. Basic switching RJ-45 Ethernet ports type: Gigabit Ethernet (10/100/1000), Basic switching RJ-45 Ethernet ports quantity: 5, Console port: RJ-45. MAC address table: 2000 entries. Networking standards: IEEE 802.3,IEEE 802.3ab,IEEE 802.3af,IEEE 802.3at,IEEE 802.3u,IEEE 802.3x. Power over Ethernet (PoE)
Description
- IEEE 802.3af/at PoE compliant to simplify deployment and installation - 10/100/1000Mbps wire speed transmission and reception - 9K jumbo frames to increase data transfer rates - Auto-detection and protection of non-standard PoE devices - IEEE 802.3x Flow Control protects against lost packets for reliable data transmission - Total PoE power budget: 65W, up to 30W per port - Internal power supply The GEP-0522 is a 5-port 10/100/1000M Gigabit Ethernet Switch with one uplink port plus 4 ports of Power over Ethernet capability. Per PoE port is power supply up to 30W. The total PoE power budget is 65W. It is an ideal solution where office and home users utilize a combination of PoE and non-PoE enabled devices. Four ports on the GEP-0522 are PoE enabled making it an ideal solution for most office users that have PoE enabled devices located around the office. These products can include a mixture of PoE IP Phones, PoE wifi APs and PoE IP Cam. It is the perfect answer for offices that are upgrading their office equipment and LAN infrastructure to include PoE capability. The switch automatically detects IEEE 802.3at/af standard device connected and provides power and data over a single cable to these devices. The GEP-0522 enables users to deploy a stable and reliable high-speed LAN environment, with store-and-forward switching architecture, packet error filtering and non-blocking packet forwarding. The 802.3x and backpressure flow control mechanisms work respectively for full and half duplex modes. This device supports N-way auto-negotiation protocol that automatically detects networking speed and duplex modes. For instant error detection, the GEP-0522 is equipped with a full range of LEDs to help monitor and troubleshoot problems on the network.
Specs
| | |
| --- | --- |
| Basic switching RJ-45 Ethernet ports quantity | 5 |
| Basic switching RJ-45 Ethernet ports type | Gigabit Ethernet (10/100/1000) |
| Gigabit Ethernet (copper) ports quantity | 1 |
| Console port | RJ-45 |
| Networking standards | IEEE 802.3,IEEE 802.3ab,IEEE 802.3af,IEEE 802.3at,IEEE 802.3u,IEEE 802.3x |
| 10G support | N |
| Copper ethernet cabling technology | 10BASE-T,100BASE-TX,100BASE-T,1000BASE-T,1000BASE-TX |
| MAC address table | 2000 entries |
| Store-and-forward | Y |
| Jumbo frames support | Y |
| Jumbo frames | 9000 |
| Packet forwarding rate (1 Gbps) | 1480000 pps |
| Packet forwarding rate (100 Mbps) | 148000 pps |
| Packet forwarding rate (10 Mbps) | 14880 pps |
| Product colour | Gray |
| LED indicators | Activity,PoE,Power |
| Country of origin | Taiwan |
| Buffer size | 128 KB |
| Power supply included | Y |
| AC input voltage | 100 - 240 V |
| AC input frequency | 50 - 60 Hz |
| Input current | 2 A |
| Power consumption (max) | 65 W |
| Power protection features | Over current,Short circuit |
| Power over Ethernet (PoE) | Y |
| Power over Ethernet (PoE) ports quantity | 4 |
| Power over Ethernet (PoE) power per port | 30 W |
| Total Power over Ethernet (PoE) budget | 65 W |
| Operating temperature (T-T) | 0 - 50 -C |
| Operating relative humidity (H-H) | 10 - 90% |
| Storage relative humidity (H-H) | 10 - 90% |
| Width | 122 mm |
| Depth | 44 mm |
| Height | 160 mm |
| Weight | 800 g |
| Cables included | AC |
| Quick start guide | Y |
| Package type | Box |
| Package width | 145 mm |
| Package depth | 80 mm |
| Package height | 235 mm |
| Package weight | 1.1 kg |
| Master (outer) case width | 31 cm |
| Master (outer) case length | 25.2 cm |
| Master (outer) case height | 42.2 cm |
| Master (outer) case weight | 12.5 kg |
| Quantity per master (outer) case | 20 pc(s) |
Other Multimedia
Some of these may not exist; we do not manage these files
Lifetime Hits: 139 Doolz ID: 301 Price is subject to change without notice. Price and Stock last updated 19 May 2022