EVERKI Atlas Laptop Backpack 13'~17'. Adjustable laptop compartment. Checkpoint friendly design. Quick access magazine pocket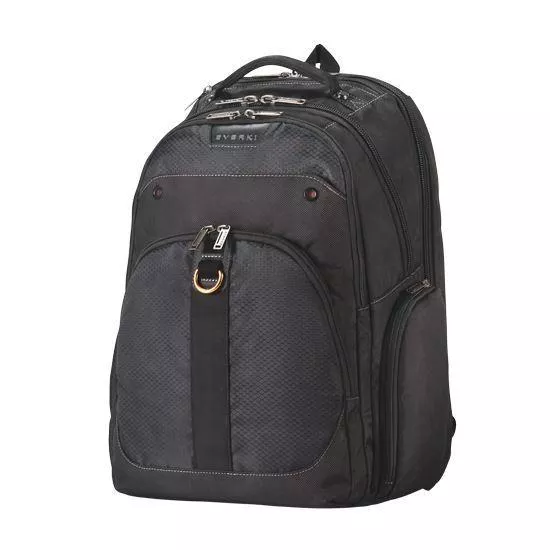 Product Code: EKP121
Manufacturer: EVERKI
Category: Uncategorized
Get it now
EKP121
Our Price: NZ$176.85 inc GST
Stock at this price: 9
Ships from: Albany,Auckland
Price & stock last updated: 2022-06-28 12:05:09
We have 2 suppliers for this product
For pickups, choose the closest location to you. Otherwise, choose the cheapest or one that is in stock
Supplier 1
Product Name: EKP121
Price 1: NZ$176.85 inc GST
Stock: 9
Available at: Albany,Auckland
Price & stock last updated: 2022-06-28 12:05:09
+Price History:
| Date: | Price: |
| --- | --- |
| 2019-10-21 | NZ$110.06 |
| 2019-11-01 | NZ$137.56 |
| 2020-01-17 | NZ$142.08 |
| 2020-01-28 | NZ$137.56 |
| 2020-01-29 | NZ$135.63 |
| 2020-01-31 | NZ$134.98 |
| 2020-04-21 | NZ$137.41 |
| 2020-04-22 | NZ$144.64 |
| 2020-05-25 | NZ$661.60 |
| 2020-07-01 | NZ$115.12 |
| 2020-08-03 | NZ$144.64 |
| 2020-11-05 | NZ$661.60 |
| 2020-11-05 | NZ$144.64 |
| 2020-12-29 | NZ$115.71 |
| 2021-01-05 | NZ$144.64 |
| 2021-04-07 | NZ$150.42 |
| 2021-06-09 | NZ$157.26 |
| 2021-06-18 | NZ$150.42 |
| 2022-04-28 | NZ$0.00 |
Doolz ID:
52233926
Supplier 2
Product Name: EKP121
Price 2: NZ$176.85 inc GST
Stock: 7
Available at: WOOLSTON CHRISTCHURCH
Price & stock last updated: 2022-06-28 12:00:10
+Price History:
| Date: | Price: |
| --- | --- |
| 2019-10-31 | NZ$110.06 |
| 2019-11-01 | NZ$137.56 |
| 2020-01-17 | NZ$142.08 |
| 2020-01-28 | NZ$137.56 |
| 2020-01-29 | NZ$135.63 |
| 2020-01-31 | NZ$134.98 |
| 2020-04-21 | NZ$137.41 |
| 2020-04-22 | NZ$144.64 |
| 2020-05-25 | NZ$661.60 |
| 2020-05-26 | NZ$144.64 |
| 2020-07-01 | NZ$115.12 |
| 2020-08-03 | NZ$144.64 |
| 2020-11-05 | NZ$661.60 |
| 2020-11-05 | NZ$144.64 |
| 2020-12-29 | NZ$115.71 |
| 2021-01-05 | NZ$144.64 |
| 2021-04-07 | NZ$150.42 |
| 2021-06-09 | NZ$157.26 |
| 2021-06-18 | NZ$150.42 |
Doolz ID:
56363681
Every effort is made to ensure the image(s) and/or product details are correct, but we cannot guarantee that they are. You should always check with us FIRST if you have specific requirements.
Info
EVERKI Atlas Laptop Backpack 13'~17'. Adjustable laptop compartment. Checkpoint friendly design. Quick access magazine pocket
Description
If travelling for business is your thing, then this laptop bag is the ideal companion. From its subtly stylish, handsome exterior to its thoughtfully organised interior, the Atlas backpack is designed to meet the expectations of even the most serious travelling professional. In addition to featuring a Checkpoint Friendly design that makes passing through airport security a breeze, this bag also debuts Everki's innovative adjustable laptop slot - three separate panels that allow the user to set his or her desired size and secure using sturdy hook & loop strips. This pocket holds a 13" Ultrabook just as snugly, safely, and easily as it does a 17.3" laptop, making the Atlas a versatile backpack suitable for any situation.
Like many of Everki's bags, the Atlas comes equipped with a multitude of useful, highly-functional features, including a felt-lined iPad/Kindle/tablet pocket, a trolley handle pass-through slot, and a convenient newspaper/magazine pocket, to name just a few. Combine these with lightweight construction, durable, high-quality zippers, numerous well-organized compartments and slots, a key ring buckle, high-contrast orange lining, and lots of leftover interior space, and you've got everything you can possibly ask for in a laptop bag.
A quick look through the Atlas reveals that Everki created this bag with organisation in mind, with a dedicated spot for virtually everything the traveller needs to bring along for the ride – headphones, peripherals, files and documents, water bottle, and plenty more. What's more, its soft lumbar pad and ergonomic five-point balance strap system properly distribute weight to ensure that the wearer is comfortable, even when the bag is fully loaded.
The Atlas series of laptop bags
As a mobile professional, you know the demands of business travel; and you know that each leg of the journey comes with specific challenges. That's why we designed the Atlas Series of bags to handle all of travel's complexities, and loaded each bag with solutions to help make your trip streamlined and efficient. Every bag in the Atlas series is rich with flexible functionality and offers a multiplicity of organizational features that really work hard for you, while the intuitive design makes organizing a breeze. You'll find meaningful details throughout to meet your travel needs, like dedicated spaces to pack multiple devices including your laptop and tablet. So whether you're looking for a traditional style backpack or a wheeled solution; EVERKI's feature-rich Atlas Series of bags are the ideal choice.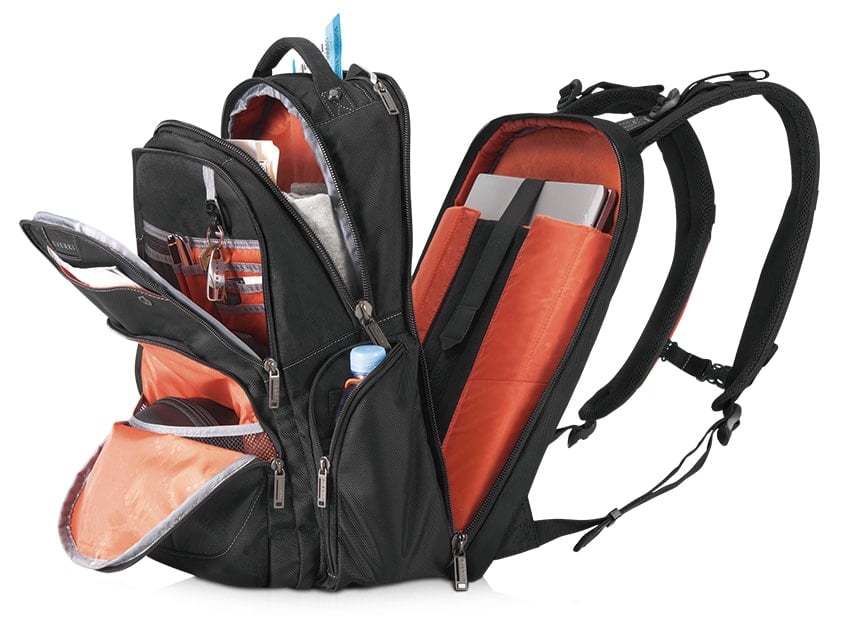 The perfect business-travel companion
We've crafted the Atlas 17.3-inch laptop backpack with thoughtful details for all your traveling needs, like our 5-point balance strap system to lighten the load, and the quick-access top pocket for a boarding pass or phone. The dedicated technology compartment safely and securely stores up to a 17.3-inch laptop as well as your tablet, while the main compartment is large enough to carry whatever you need for an overseas flight from check-in to landing. Also, you'll find the Checkpoint Friendly design makes passing through security a breeze. Your business cards, magazines and accessories each have designated spots; and when you arrive at your destination, you're ready to step right into the business meeting. The Atlas – finally, the ideal traveling companion.

Travel friendly
The fully adjustable and padded laptop pocket adapts to snugly secure a slim 13-inch Ultrabook or a large 17.3-inch laptop. Simply customize the size of the pocket from the bottom and both sides, then secure the strap at the top. Both laptop and tablet will remain safe in their extra padded and super soft, felt-lined pockets. And since they are housed in a dedicated technology compartment, removing them for screening is a breeze without rummaging through the rest of the bag.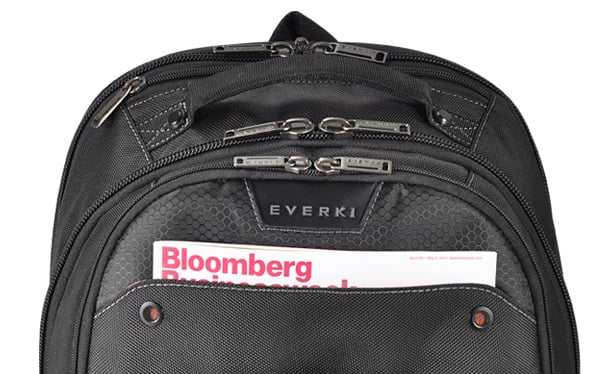 Quick-access magazine/newspaper slot
It's always nice to have something to read while waiting for a flight, but it can be somewhat hectic to store your reading material when the flight is called. We designed the Atlas with a quick-access magazine slot to easily slip your reading material right back into the bag. The slot is placed at the front of the backpack so you can stash your magazine when boarding, and quickly retrieve it again when you're seated. Thoughtful details throughout the Atlas help to make your travel more enjoyable.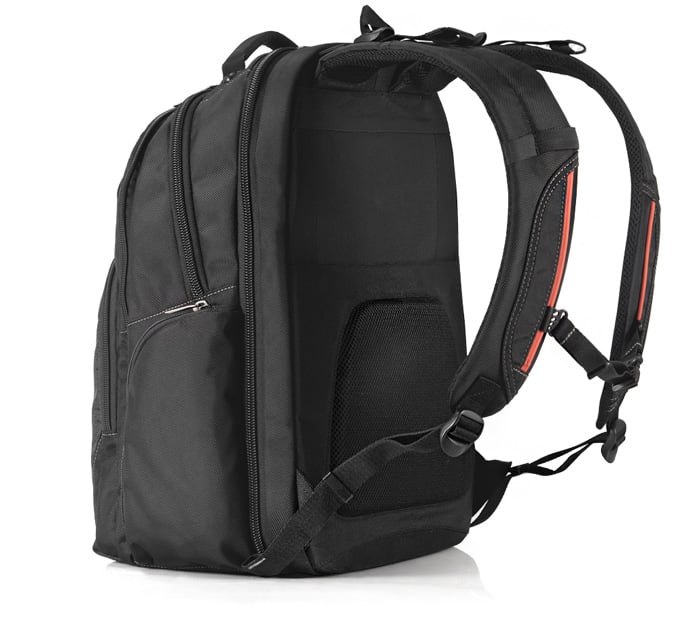 Ergonomically designed
When your backpack is fully loaded it can get heavy, so we engineered a 5-point balance strap system to ergonomically distribute the weight and reduce muscle strain. With two pillow-soft straps adjustable at the shoulders, two quick-slide straps at the bottom and one across the chest, you have total control over weight distribution. This allows for balanced comfort, even when the backpack is full. The Atlas' ergonomically designed carry system also has a padded lumbar support with mesh padding to provide maximum air circulation for breathability. The Atlas: highly functional, cool comfort.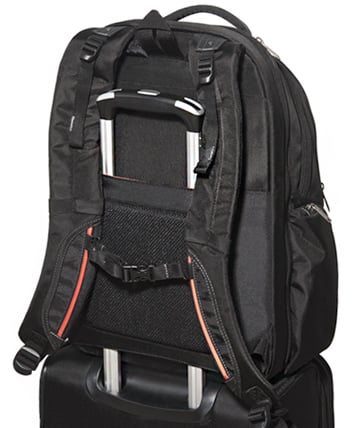 Trolley handle pass-through
When traveling with many bags, the trolley handle pass-through on the back of the Atlas allows you to double your efforts. Simply slip the Atlas onto the handle of your luggage and you're ready to wheel through the airport.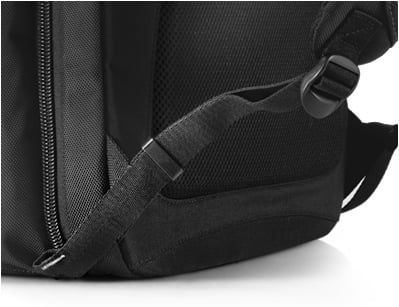 Easy-adjust strap management system
Don't let dangling straps make you look disheveled. The strap-management system we designed for the Atlas allows you to adjust each strap to just the right length, and slide the strap clip to keep the straps from dangling, keeping you looking neat and professional.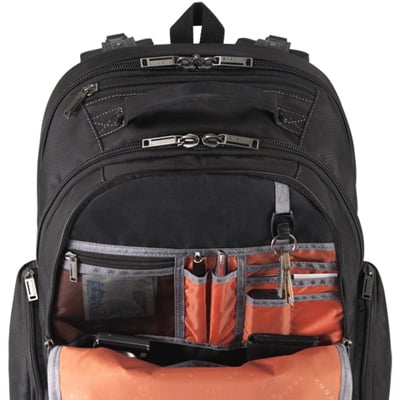 High-contrast lining
All EVERKI interiors are stylish, high-contrast orange because we know how frustrating it is to mistakenly leave a compartment unzipped, and how difficult it is to organize against a black background. Savvy and Stylish.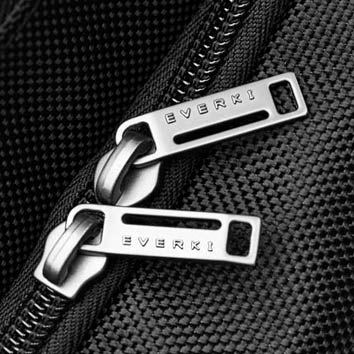 Large zippers and metal pulls
Have you ever broken a zipper on your favorite bag? We have. That's why we designed the Atlas using heavy duty zippers with extra large metal pulls. So your favorite bag can remain your favorite bag.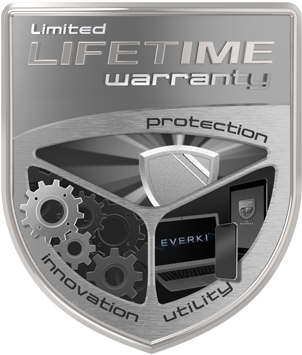 Peace of mind
EVERKI makes products of value because we value our relationships. Every product EVERKI makes comes with our Limited Lifetime Warranty which covers manufacturing defects over the entire life of the product. EVERKI. We give you peace of mind.
Specifications
UPC Code
874933002246
Fits Laptops up to
43.94cm
Laptop Compartment
28 x 3.81 x 41.9cm
External Dimensions
34 × 23 x 47.8cm
Capacity
32L
Bag Weight
1.72kg
Lifetime Hits: 154 Doolz ID: 52233926 Price is subject to change without notice. Price and Stock last updated 28 June 2022